Home Dialysis Central Video Challenge
Tell your home dialysis story and inspire others! And get a chance to win a copy of Help, I Need Dialysis! (Book winners randomly selected from submitted videos). To enter, upload your video on one of our topics below to YouTube AND complete the video release form. Email the completed form to us at info@homedialysis.org.
Video Topic List
My fears about home dialysis at first, and how I overcame them
Most rewarding thing or biggest surprise benefit about home dialysis
Biggest secret about home dialysis (if people only knew…)
Why home dialysis works for me and my family
Home dialysis on the road-show dialysis or travel
How to organize a home dialysis space
How Home Dialysis Central helped me to get home dialysis
How I take care of my PD catheter, fistula, or graft, and set up my machine
How I divide up tasks with my care partner-or how I go it alone
Positive ideas and technical tips for others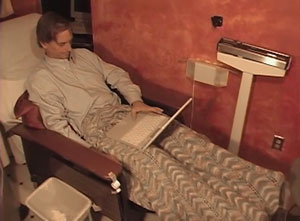 YouTube Information
Go to http://www.youtube.com.
Click on the "Sign In" button in the top right corner.
If you have an account with Google or Gmail, you can use it to sign in. If you have never used a Google service, click on the "Create an Account" link.
Once you have signed in, click the "Upload" button at the top to upload.
Tips for Taking Great Video:
Learn your camera - Many have built-in features that improve photo and video quality.
Hold the camera still - Use a tripod or set the camera on a flat surface at the right height.
Use sunlight if you can - Indoor lighting can be tricky.
Limit background noise and movement - Close doors, turn off cell phones, etc.
Record at the best quality you can - Minimum for standard video is 640x480. Most digital cameras can do this. High definition will look better: 1280x720 or 1920x1080.
Rules for Home Dialysis Central videos:
Keep it PG-rated!
No longer than 5 minutes-on a topic related to home dialysis.
MEI reserves the right to edit videos for length or not use them if they are not appropriate.
Participants must be on dialysis or helping someone on dialysis.
MEI may use participant's first name and last initial.