Hemodialysis eGFR Equivalence: Why More—and More Often—Matters
This blog post was made by

February 2, 2017.

on
In a recent post, I compared the weekly volume of blood presented to two normal kidneys with the blood volume presented to a dialyser for a composite 3 times weekly dialysis. In highlighting this, I compared the exquisite evolutionary physiology of two healthy, no-fuss, subliminally functioning kidneys with our as yet far-from-perfect efforts to emulate the intricacies of nature: my code for Shakespeare's "what a piece of work is a man."
But, there is much more to native kidney function and to the mechanical models we have devised to attempt to mirror that function than simply to contrast the available volume of blood delivered for "processing" over any given time period. Stark as the differences in volume are, it is how that presented volume is then modified, processed, and converted to an output that truly determines the end efficiency of the "nature versus man" model.
The conversion of blood flow (volume) to clearance (cleansed volume) is a far more complex masterpiece again…and one we still fall far short of emulating. But, dazed by self-satisfaction in our seeming ingenuity, our very human tendency to over-promise outcomes can lead to significant consumer disappointment as our imperfect models under-deliver.
We must learn to better fess up to the users of all dialysis systems that dialysis will help—to a point—but it is still far from the real deal. Understanding and acknowledging this from the outset might place both provider and consumer on a more empathetic footing, each for the other. The treatment "giver" will better understand and can temper unrealistic expectations in the receiver, while the receiver can be more mindful of the limitations of the giver as that treatment is administered.
But, I digress. Let me get back to clearance.
First, what is a filter? In its simplest interpretation, a filter is a separator.
The air filter of a car is a separator: it traps the dust as it lets the clean air through.

A coffee filter is a separator: it traps the grounds while the water and the coffee flavor pass through.

A fly-wire screen is a separator: it keeps the flies and mozzies out, even as the air passes on through.
Filters get "stuffed up" in one of three ways. Take the fly-wire screen as our example:
Punch holes in the screen? The air still freely passes back and forth but now, some of the flies and mozzies will too. The filter leaks—as kidneys do when they leak stuff they shouldn't, like protein.

Paint the fly-wire with paint? Now nothing gets through—air, flies, or mozzies. The filter is blocked, as happens when the kidneys fail to remove the wastes they should, like in renal failure.

Do a bit of both? Then the filter will both leak and poorly filter—a classical case being diabetic nephropathy.
So it is with the human kidney: diseases that we neither expect nor want will cause the filter systems of the human kidney—the glomeruli—to succumb to either or both of these injuries.
Thus, even though the blood volume delivered to the kidneys may not change, the capacity to filter and modify it does change, progressively, as more and more damage is done by whatever disease process is underway. At the end of the day, while the disease process does matter, especially as it may or may not be variably treatable, it is the progressive loss of filter function that really counts.
So, what is that function, and what models can we use to demonstrate "function" as we seek to replace it? For now, forget about all the other magic stuff the kidneys do:
The release of renin and subsequent cascade of substances that modify blood pressure control

The manufacture of erythropoietin (EPO)

The conversion of vitamin D from its inactive to active form

The manufacture of vasodilatory prostaglandins
The list goes on, and each is important in its own right, but for now, let us think only about the control of waste and volume. And, as we think of waste and volume, let us think about how we have sought to artificially replace these functions by dialysis. Clearly, both matter. And, both—to an extent—depend on different factors.
First: Think Solutes
Waste(s), the by-product(s) of daily cell metabolism, must be excreted – removed. This is an imperative of kidney function.
Of these wastes, many are small and relatively easy-to-remove – like urea, potassium, and to a lesser extent but in the same group, creatinine. Of course, there are hundreds of others, but these will do as examples.

Other wastes – the so-called "middle molecules" – include beta-2 microglobulin (B2M) and phosphate, the latter of which is a small molecule that behaves more like a much larger one due to a firmly-adherent coating of water molecules that slow its filtration progress up.

Finally, there are complex, large wastes, many of them bound to protein, that filter very slowly indeed.
Small solute clearance is "modeled" by the example of urea. Urea "clearance" across a dialysis membrane can be determined mathematically by assessing the amount that appears in the dialysis fluid from a known quantity of urea in the blood as dialysis progresses. A complex mathematical concept and equation (we know it as Kt/Vurea) is used to estimate the amount of urea removed (K) in a given time (t) from a known volume of urea (V). Then, depending on the number of repetitive dialysis sessions in a week, a graph emerges that pictorially represents urea removal, per session, and per week relative to the number of sessions provided in that week.
Study the graph below. Accept—for now—that a Kt/Vurea of 1.3 is regarded as "adequate" clearance for any one session. Then, follow upwards the Kt/V line of 1.3, effectively the amount of urea removed (vs. renal clearance) for 1x, 2x, 3x, etc. sessions per week. This graph from the work of Casino and Lopez(1), which I have adapted for this blog by adding some colored annotations, should help to show you the cumulative effect of more and more sessions/week on urea removal for any given Kt/Vurea.
The cumulative removal of urea is—in effect—the renal urea clearance (the vertical axis on the left) and represents the effective GFR generated over a week by each equal treatment, simply by the application of more treatments.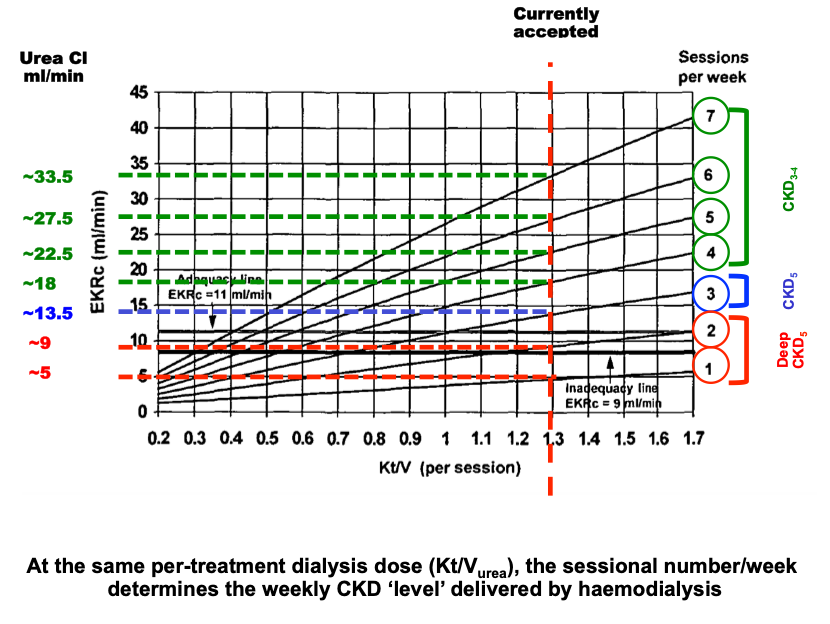 In essence, what this graph is saying is that if a Kt/Vurea of 1.3 (the "adequate" urea removal target for any one session) is achieved once a week, this will provide an equivalent clearance of ~5 ml/min (= deep CKD5).
With 2 sessions, this increases to ~9 ml/minute.

With 3 sessions, weekly equivalent clearance is ~13 ml/min = still well inside CKD5.

The more sessions per week, the greater the weekly urea clearance, such that with 7 sessions, a weekly GFR equivalent of ~33ml/min (i.e., borderline CKD3-CKD4) is achieved.
Now, while this is a stylized representation, it is nonetheless likely close to the truth. And, as it applies to small solute clearance, sessional number to a standardized clearance per session governs dialysis efficacy.
So, what the Casino and Lopez study means is that more is better.
What, then, of middle molecular clearance? Here, let me use phosphate as the example. Many years ago, Gutswiller et al(2) performed a careful study of phosphate clearance that still provides our model for phosphate removal. Oddly, though, phosphate behaves quite differently to urea when it traverses a dialyser membrane. Phosphate does pass moderately well, to begin with, but then its appearance time in the dialysis fluid quite rapidly slows, after an hour or so of steady dialysis, from a "quick whoosh" to a "slow ooze." And from that point on, it just keeps oozing.
The following graph (adapted from Gutzwiller et al) shows this clear "switch" from quick mover to slow oozer.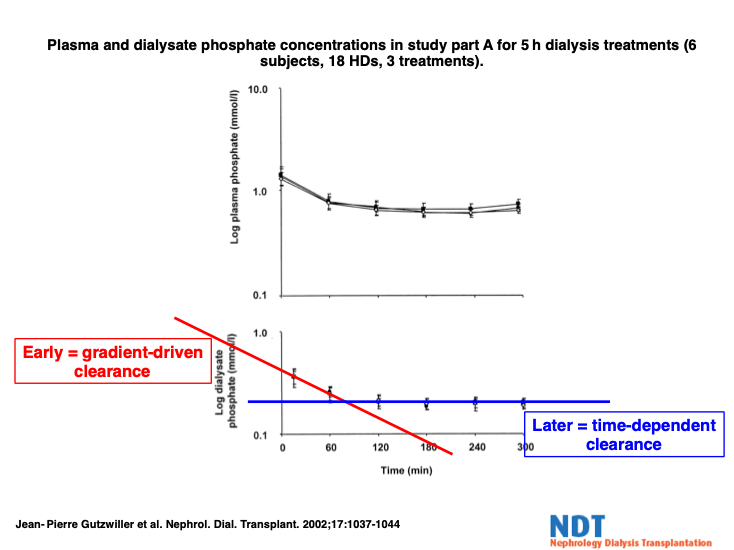 This suggests strongly, and is borne out in reality, that phosphate removal—as with other middle molecules—is governed by dialysis duration. The longer each dialysis treatment, the more efficient is the removal of phosphate and other similarly-duration-dependent middle molecules.
So, what the Gutzswiller study means is that longer is better.
Next: Think Volume
Here comes the now-familiar thread of several of my previous posts at this blog-site: volume. I have often previously blogged about volume in an effort to raise awareness that volume control is at least the equal of—or, in my view, is an even greater immediate threat to—the health and survival of dialysis patients than is solute control. I have often spoken of McIntyre's seminal work in this area – especially of the impact of the rate of volume change through ultrafiltration while on dialysis. Rather than reiterate this again in detail here, can I refer you back to some of my previous volume blogs:
And … perhaps most of all …
What these all show are that—just as for solute removal—both duration and frequency matter…again! Thus … what McIntyre's studies mean is that both more AND longer are better. I hope, by now, the penny has dropped!
I hope that this blog (among a wealth of research and evidence along these same lines) will begin to make providers think more carefully about the shortcomings of short and/or infrequent dialysis, and to better appreciate the failure of current practice to provide a cumulatively appropriate block of therapy per week. Short dialysis, infrequent dialysis, and worst, the combination of short and infrequent dialysis is simply selling our patients short.
Current 3 x weekly dialysis to a Kt/Vurea of 1.3 simply holds patients in CKD5. It holds them at the level at which they entered the dialysis pathway. It is a CKD5-equivalent. It also simply sustains them at the same level of health they had when we told them they would need dialysis. It hasn't "delivered" anything. It hasn't improved their lot. It hasn't fulfilled the promise: it has simply perpetuated the problem.
We can do better. We know we can. We have the ability. We have the tools. We have the practices.
While many now seem able to accept a "false fact" as fact in politics, we in medicine should not stoop so low. We should resolve to stop telling our patients the false fact that "current dialysis is as good as it gets." It isn't.
There is better, and it is our responsibility—as providers—to provide it.
References
1. Casino FG, Lopez T. The equivalent renal urea clearance: a new parameter to assess dialysis dose. NDT 1996 Aug; 11(8): 1574-1581
2. Gutzwiller J-P, Schneditz D, Huber AR, Scindler C, Gutzwiller F, Zehnder CE. Estimating phosphate removal in haemodialysis: an additional tool to quantify dialysis dose. NDT 1992 17(6): 1037-1044