Dialysis Clinic, Inc.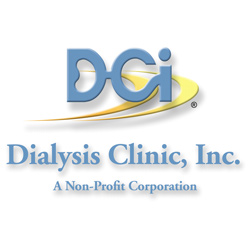 The non-profit concept is the cornerstone of the philosophy of Dialysis Clinic, Inc. The organization was conceived in 1971 to meet our individual patients' needs. We do this by becoming acquainted with our patients as a people and seeking to understand their problems and needs—physical, emotional, spiritual, and social—to achieve our goal of complete patient rehabilitation.
To meet the needs of the community, we make our services available wherever needed, support research in all phases of ESRD treatment—including dialysis, organ procurement, and transplantation—and promote professional and public education.
Dialysis Clinic Inc. Clinics: See all Dialysis Clinic Inc. clinics that offer home dialysis therapies.
Contact Info
Dialysis Clinic, Inc.
1633 Church St, Suite 500
Nashville, TN 37203
Phone: 615-327-3061
Website: www.dciinc.org
Dialysis Clinic, Inc. has been a sponsor of Home Dialysis Central since 2004
News and Info
Spotlight Archive
Do you have a question for Dialysis Clinic, Inc.? Fill out the form below completely. Be sure to include important information like your name, your phone number, relevant contact information, and a detailed description of the reason for which you are making contact.