My Transplant Journey
This blog post was made by

June 7, 2018.

on
As a child, I was in and out of the Mater Children's Hospital in Brisbane. I used to get bad UTI's and was diagnosed with chronic reflux at the age of 6 and a half. I had my first major surgery at 7 when I had my ureters re-implanted, as the valves did not work properly and urine would back up into my kidneys. The pressure in my bladder was also very high, so this did not help. After years of backwards and forwards trips to the Mater (I think one year I was there a total of 6 maybe 7 months, the nurses all knew me and I knew all them by first name. 
At 16, I got the news that one day my kidneys would fail and I would have to go on renal dialysis. From that day, I lived my life to the fullest and did some pretty crazy things, which included run-ins with the local police. 
At 23, my kidney function dropped off quickly and as we all know, the end result was dialysis. I dialysed in Sydney first, and then was lucky enough to get a spot at the Tamworth dialysis unit. I eventually went home with my machine after spending 8 weeks in Sydney at the Dame Edith training centre. I dialysed at home for 18 months before moving to Brisbane to be with my girlfriend (now lifelong partner), and was one of the original Redcliffe Hospital Unit members. We were amazingly blessed with 2 beautiful baby boys while I was on dialysis at Redcliffe (I know a miracle, twice) and after 7 long years on dialysis, I received the ultimate gift of life, a transplant. 
Fourteen years of being able to live a pretty full life is amazing, thanks to the amazing gift that comes from organ donation. On one hand was the elation of being able to function without the treatment and then on the other, the realisation that a family had to say goodbye to a loved one so that I could live a full life once again. Fourteen years, 3 amazing kids, a wife that is so much stronger than I can ever be, and so many people in my life that changed my life for the best—and then the inevitable happened. I got very sick at the beginning of 2017. I had a blood infection and it was either get sicker and possibly not come home from hospital or take a hit on my kidneys and smash the infection with stupid amounts of very strong antibiotics which in the end took my kidney function down very low and I had to go back on dialysis. After a short stint at the hospital, it was back to do a refresher course, then back home again with my machine.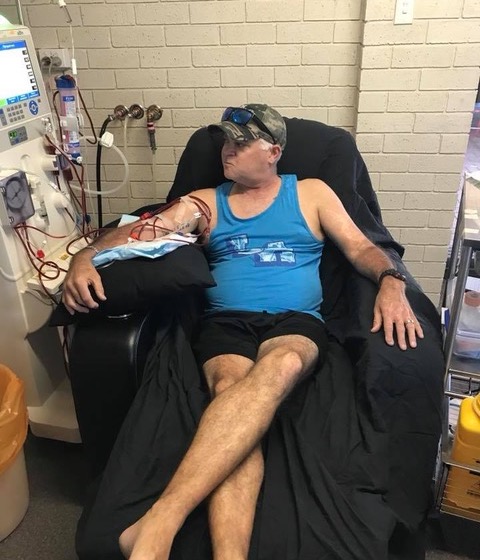 For all those people who have just kicked off on the home dialysis journey, I know there are a lot of things that go through your head but it gets easier, believe me. My first home dialysis wasn't very successful because I was younger and wasn't dedicated to my treatment, and because of this I was hospitalised many times. Doing short hours and missing days doesn't do you any favours and in the long term almost killed me. Be strong, do the time and your quality of life can be great. 
Cheers Rusty.