Loss of a Home Dialysis Icon – Goodbye, Bill Peckham
This blog post was made by

January 24, 2019.

on
It's hard to even fathom the loss of a dialysis advocate as passionate and articulate as my friend Bill Peckham, but we must. After 29 years on dialysis, Bill's body finally gave out, and we lost him on January 18th. A celebration of Bill's life is planned in Seattle, WA, on Sunday, Feb. 24th.
I first "met" Bill online in 1998, 8 years after he first started dialysis. We were both members of the "Dialysis Support" email listserv, where, in true Bill style, he mentored other dialyzors on such vital life topics as employment…
"I remained unemployed for the first five years of dialysis getting by on help from family and renting out rooms in my house.  I felt my job prospects were dim.  The thought of interviewing for job made me queasy. I kept imagining the questions about the holes in my resume.  I lacked the confidence to give a good interview.  I just wanted a chance to work. I didn't want to beg for a job, and the jobs offered paid less than $10 per an hour with no benefits.  I felt the better paying jobs were withheld because of the insurance liability I presented.  Also I wanted a job that was just part of my life not its focus.  That is when I joined a union."
Travel…
"I think you will have a great time visiting Paris and London.  If you are going to London I hope you've planned to dialyze at the London Clinic.  The London Clinic is a private clinic that cost the same as those that are part of the National Medical Service but the London Clinic is much nicer.  In Paris I always go to the same clinic which is near the Rue Clair neighborhood.  While the staff speak some English much, much better than my French, I've always found there to be a doctor or nurse who speak fluent English close at hand.  I think that you will have a wonderful trip.  Just think of dialysis as another type of tourist experience.  While on dialysis you will get an insight into another culture. BTW, I received my tickets last week for my around the world tour which will kick off in October.  Starting in Amsterdam, then Nice, on to Capetown, out of Johannesburg for Perth, then Sydney, Cairns, Wellington and last stop in Auckland before returning to the States and Christmas in Chicago. Around the world in 81 days."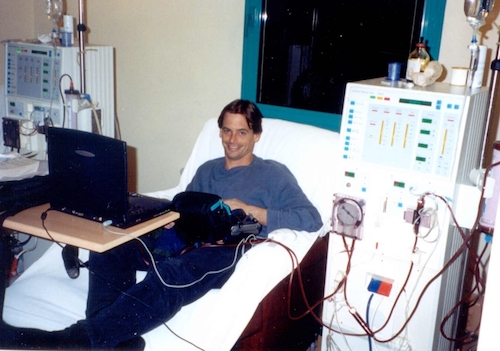 Dialysis improvement…
"There appears to be a mystery developing.  We have all heard how well patients feel that are able to dialyze 5, 6 or 7 times a week.  It seems clear to me that frequent dialysis is better for you and makes you feel better.  Well, here's the mystery.  Daily dialysis patients have approximately the same lab values as someone who dialyzes 3 times a week.  The lab values are good but still they are in the same ranges - KT/v, Creatine, Bun - as mine. So what are we missing?  It appears to me that the traditional measures of adequate dialysis are not measuring the right thing.  There must be some difference between me and someone who dialyzes 6 times a week, on the chemical/blood value level.  What is it?  And shouldn't this mystery substance be the measure of dialysis efficiency?" [The mystery substance? Water. Dr. Agar has blogged about the vital importance of slow, gentle ultrafiltration here and here and here and here...]
Self-cannulation…
"I've stuck my right forearm fistula for 12 years now; I'm right handed.  I do not believe there are any physical issues to self-sticking, right or left handed, there are of course psychological issues.  It helped me to visualize the procedure, going through the resistance of the fistula wall but in control so that once the wall gives way you stop, so that you do not penetrate the opposite wall. I finally established a buttonhole site when I went to more frequent dialysis.  I now have two button holes that I use every treatment, cannulating myself with MediSystem's buttonhole needles.  There are many advantages of buttonholes but one is that they make inserting the needles a breeze."
And, advocacy for his fellow warriors…
"Here's my thinking - keeping in mind neither KCP or KCC is going to mention more frequent dialysis during their discussions with CMS about expanding the bundle. The least defensible aspect of reimbursement is the mandatory two days without dialysis. I don't have the language or the arguments quite figured out, but that has to be the weakest point. We should probe the weakest point. There are studies that indicate a mortality risk - more deaths occurring after 2 days off - and if the routine ceiling was raised from 156 payments a year to 183 for every other day hemodialysis, that would be good. It would increase funding of home dialysis by over 16%. What we really need to do is bring more money into the program, more money for dialysis. This would do that.  The cost to Medicare would be about $3,400 a year, per patient, assuming 80% of $155 per treatment. CMS should base reimbursement for home modalities at 183 payments. Then you'd be talking about 10% of the census immediately being eligible for 183 payments - I would include PD."
At some point in the '90s, AAKP held a meeting in Phoenix, where I was able to meet Bill in person, and find out for myself what an engaging, bright, compassionate person he was. During a road trip from Seattle to Chicago, he stopped at my home in Madison, WI with Cairny, his beloved Australian Shepherd.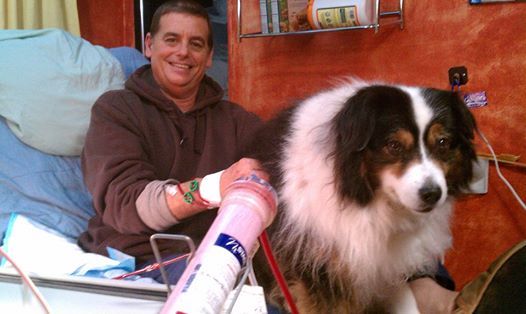 When I visited Seattle, we always had dinner. Bill was gracious enough to agree to be featured in our home dialysis DVD, where he continues to inspire those who see it. We spoke together on several panels over the years, including NN&I's Kidney Disease Economics Conferences and his Northwest Kidney Centers Expos, and spent an afternoon at Disneyland riding roller coasters after a conference for Kaiser Permanente. Bill's return visit to Burning Man in 2009 inspired my husband and me to go in 2010—a life-altering event that led to us moving to MD in 2011. He invited us to join him on his epic raft trip down the Colorado river, unfortunately not with enough lead time for us to fit that in.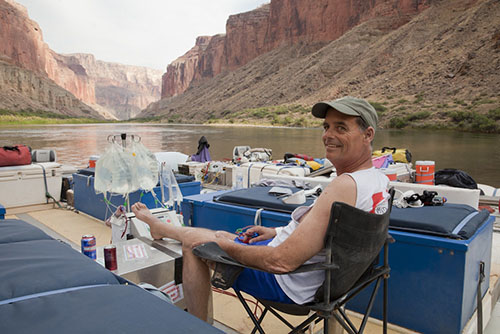 I recall an exchange between Bill and "Epoman" (Bill Halcomb, founder of I Hate Dialysis) in the Home Dialysis Central forums. Bill H. posted a thread that was an ad for his site. I deleted it, as we did not permit that, and when he wrote back wondering where it had gone, explained that he was welcome to include a link in his posts, but had to contribute to our discussion. Bill P. and others engaged him in a conversation about life on dialysis and how much better he felt dialyzing daily than he had getting three treatments per week. Within months, Bill H., who had been adamantly opposed to more than three treatments per week started training and went home on daily HD (after 12 years in-center that put him in a wheelchair)—and considered his better life "like a vacation," compared to how he felt before. Sadly, Bill H. contracted an unrelated infection and died far too young, but he experienced better treatment and a better life first—because of Bill Peckham.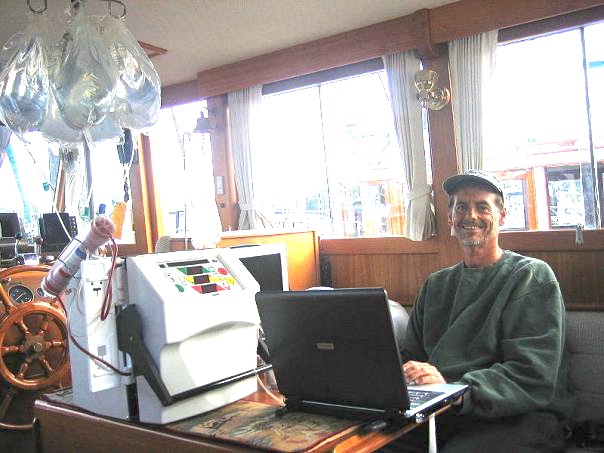 One of Bill's fellow warriors had this to say about him,
"Bill Peckham was not just an inspiration, he was my lifeline after 8 years of in-center dialysis and no hope. He gave me a bucket list where none had existed. He lit a path and showed me how to have a FULL and ADVENTUROUS life on dialysis by being open about his life and his adventures and not believing in the word 'can't.' Bill, you will be missed. Thank you for giving my kids their mom back, for being so much to so many of us just by living your life. I'd say Rest in Peace, but I know you would want to be doing anything BUT resting!! We all need a Bill in our lives!!!"
I will leave you with Bill's thoughts about life, as the positive attitude he fought his way toward guided his choices. Bill seized life—grabbed it with both hands and wrung out every joy he could. He knew what his priorities were, and never let dialysis stop him from living as fully as possible and helping others to do the same. Whether or not your kidneys work, we can all learn from his example.
"What's fun about getting old?  How about the opportunity to see how the challenges of today play themselves out.  How about having the opportunity to enjoy the fruits of your labors.  How about having more time to improve the world.  How about the opportunity to enjoy another sunset and then another sunrise. An eternity without want?  Pass.  I enjoy the struggle.  My idea of heaven is an imperfect world complete with great needs and great opportunities to effect change.  I want to use my body and mind to achieve, and there should be a price for failure.  There is nothing wrong with life being hard, it always has been and if it was up to me it always would be; some of the least happy people I know are those without challenges in their lives.  They take up golf to invent a challenge for themselves. What would make me happy?  I'd happily take another shot at this mortal struggle.  Reincarnate me as an infant with kidney failure and I'll be happy.  Being able to pee and as result needing to play golf three times a week would be okay too.  The important thing would be to stay in the game."