A Whisky Primer: Every Day Should Begin with a Distillery Tour
This blog post was co-authored by

September 24, 2020.

on
Authors' note:This is the 5th of a series of blogs about our adventures traveling in Europe together in 2019. They will appear here on the fourth Thursday every month, and will eventually be compiled into a book entitled:Taking Chances, or How to See the World Living with Chronic Illness.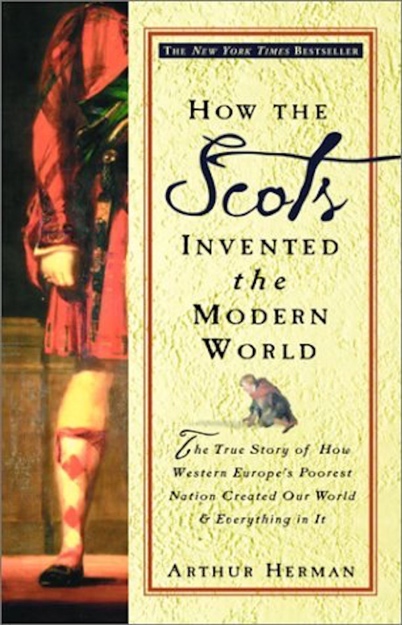 David
What does drinking the local spirits have to do with travelling with chronic illness?
Well...everything, especially when you are touring Scotland. You see the Scots are an inventive, thrifty people, very independent-minded and intelligent, with a biting sense of humor. (I recommend a fine book called How the Scots Invented the Modern World: The True Story of How Western Europe's Poorest Nation Created Our World & Everything in It—a non-fiction book written by American historian Arthur Herman.)
For starters, the Scots invented universal primary education, the free-trade doctrine, the game of golf, paved roads and, last but not least, single malt whisky. Scots clansmen are known to be excellent swordsmen, highly proficient at hand-to-hand battle. The Romans never bothered to conquer them as they had done with the rest of Britain. They built Hadrian's Wall instead.
So, as they say, "When in Rome..." one must partake of the local delicacies and drink. Scotch whisky is often referred to as "Scottish central heating." It's often cold and rainy in Scotland, and sitting by a roaring fire having a wee dram is one of life's finer pleasures.
Now, I've always had a liking for Scotch blended whisky. I will admit it is an acquired taste, and it can put a fire in your belly when drunk neat (no ice). When I was on dialysis for almost seven years before my transplant, I asked my doctors if I might have a sip from time to time. They said yes, considering it was a clear, distilled beverage, but always in moderation. The kidney-safe diet is difficult, as many of our readers know, there being so many foods that are prohibitive or restricted. It's nice to know one doesn't have to give up everything one loves.
When we first visited Scotland in the late 1970s, single malt scotch was hardly known in America. Everyone here drank blended Scotch—whisky made from several single malts in closely guarded recipes known only to the still masters of each distillery. Single malts are very similar to vintage wine; small differences in taste, color and smell become important to connoisseurs, as does the aging process which follows the initial distilling.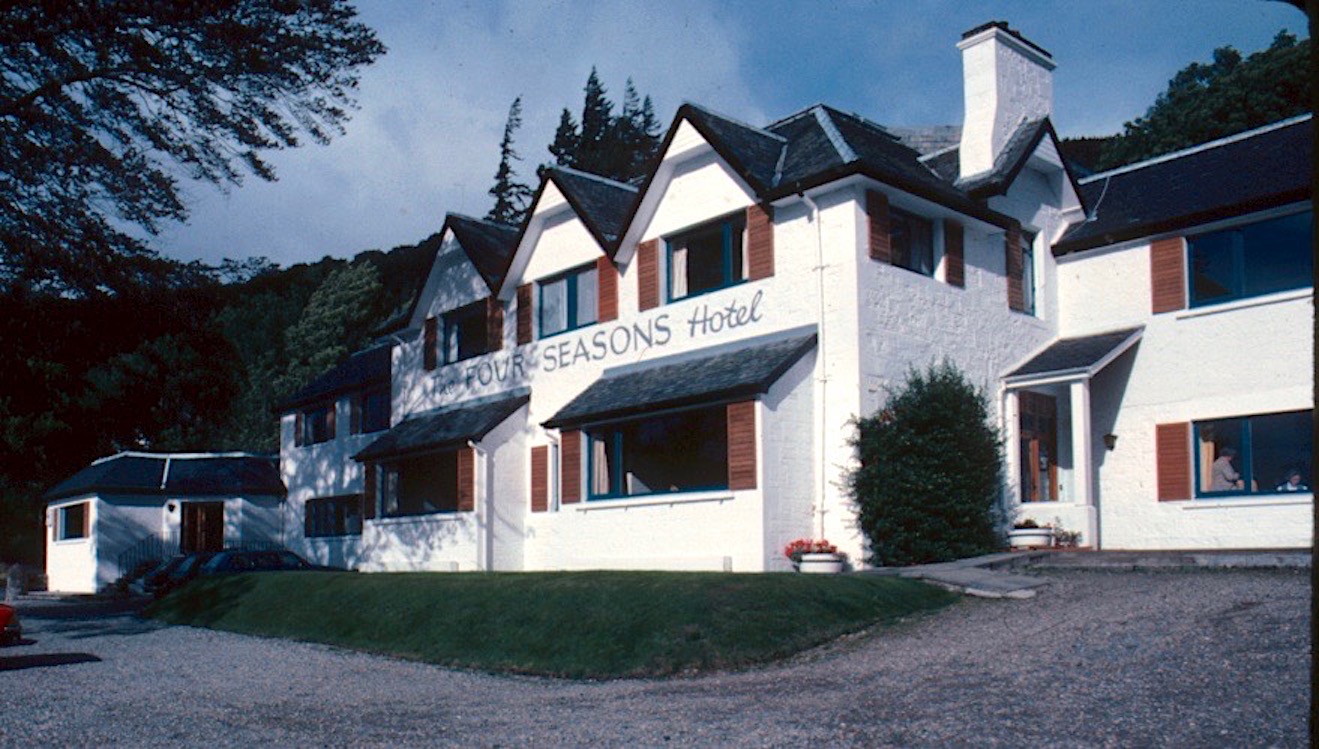 The Four Seasons Hotel, where I leaned about single malt scotch.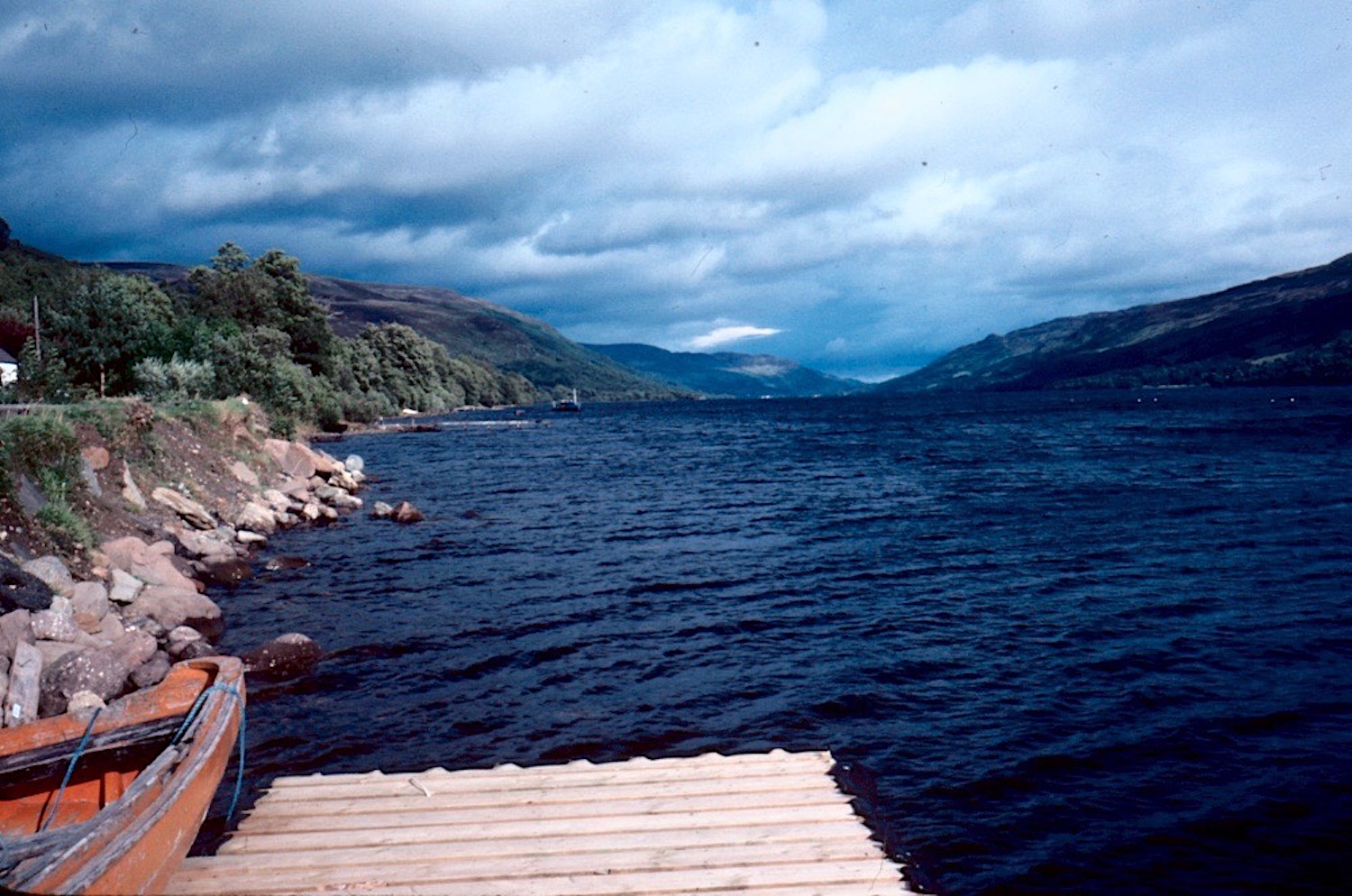 Loch Earn (loch = lake) seen from the dock at the Four Seasons.
On our trip in 1978, we stayed in a small, lovely hotel on Loch Earn in the town of St. Fillans, Perthshire. It's called the Four Seasons and is still open and highly recommended. At the time we were there, it was owned by Carlo Donetti, a handsome Italian then in his early 60s. He resembled the late Italian movie star Marcello Mastroianni. I will forever be indebted to Signore Donetti for introducing me to single malt whisky, and in particular to those from Islay, one of the Western Scottish Isles famous for its peaty malts.
Like all alcoholic beverages made from grain, beers and other whiskies included, Scotch is made from milled barley seed, which after it is harvested, is wetted down in large vats with the local spring water and allowed to sprout. This forces fermentation, which produces sugars and alcohol. It then must be dried or "malted," and since Scotland has very few trees, peat is often used. Peat is very prevalent in the Highlands and Western Isles—a brown, soil-like material composed of dead vegetable matter found in bogs and used in place of firewood. When burned slowly, it gives off a smoky or "peaty" odor, which often gives Scotch its distinctive smell (or "nose" as it is known). This is the first part of a long, laborious process which is the reason Scotch is a premium drink.
As the world has grown smaller due to greatly increased tourist travel, Scotland has become a much-desired destination, and single malts are now common in the U.S. Whisky trail tours are very popular today, especially in Scotland's abbreviated summer, during the months of July and August. Wanting to avoid these bus tours, I sought out distilleries that were small and out of the way. (I have a strong dislike for bus tours unless I'm the guide; a job I had in my college years.)
Looking at the map of Aberdeenshire and the adjacent Spey River Valley, the home of many distilleries, I noticed Glendronach, Linda's favorite single malt, just a half-hour's drive from our hotel in Inverurie. Glendronach is not really anywhere. It is sort of near a small town called Forgue-by-Huntly. You might actually miss it if you are driving too fast. It's off the road in a small, lovely hollow through which runs the Dronach burn, or stream. Each single malt whisky gets its distinct taste from the trace minerals in the local spring water it uses.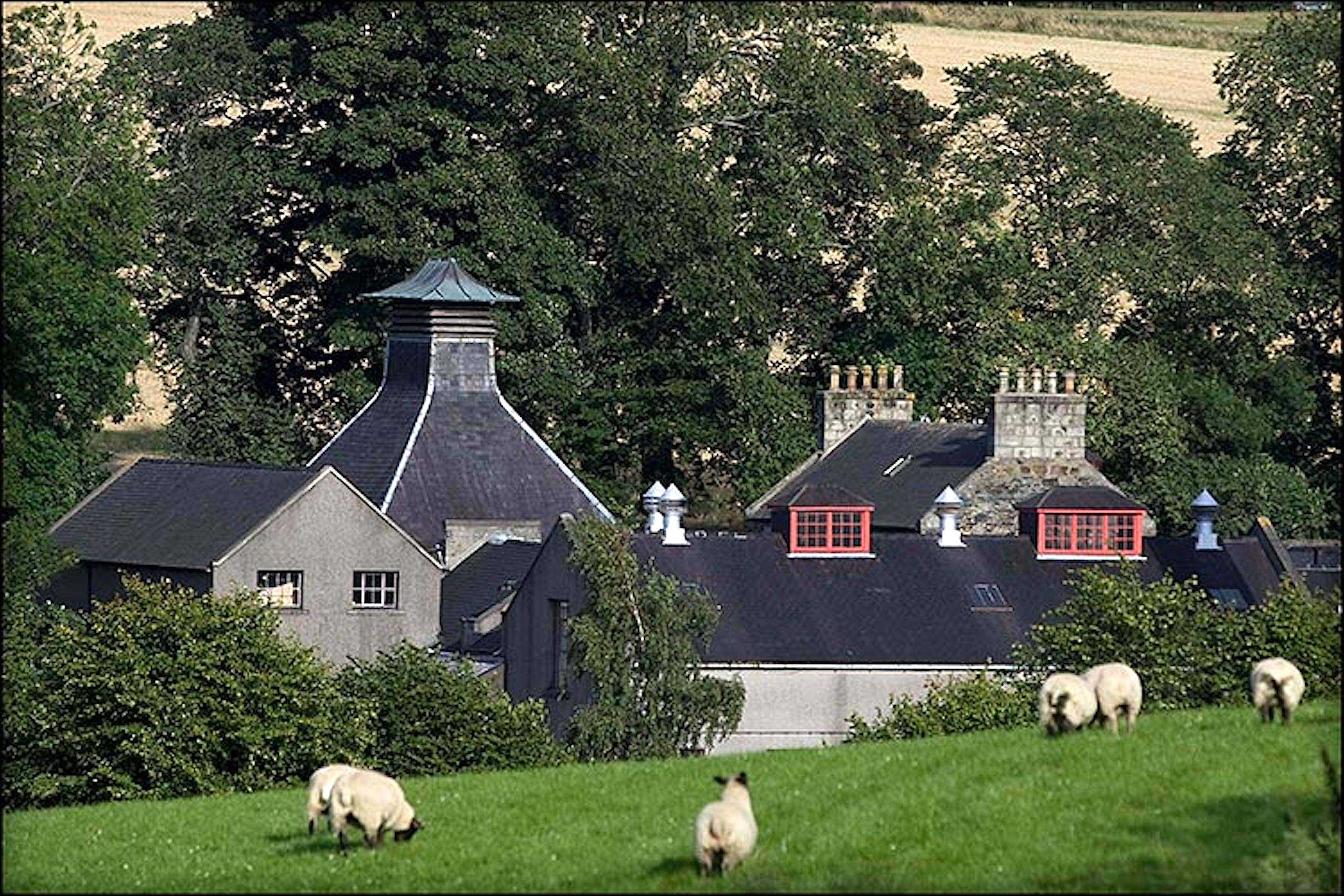 The malting house at Glendronach.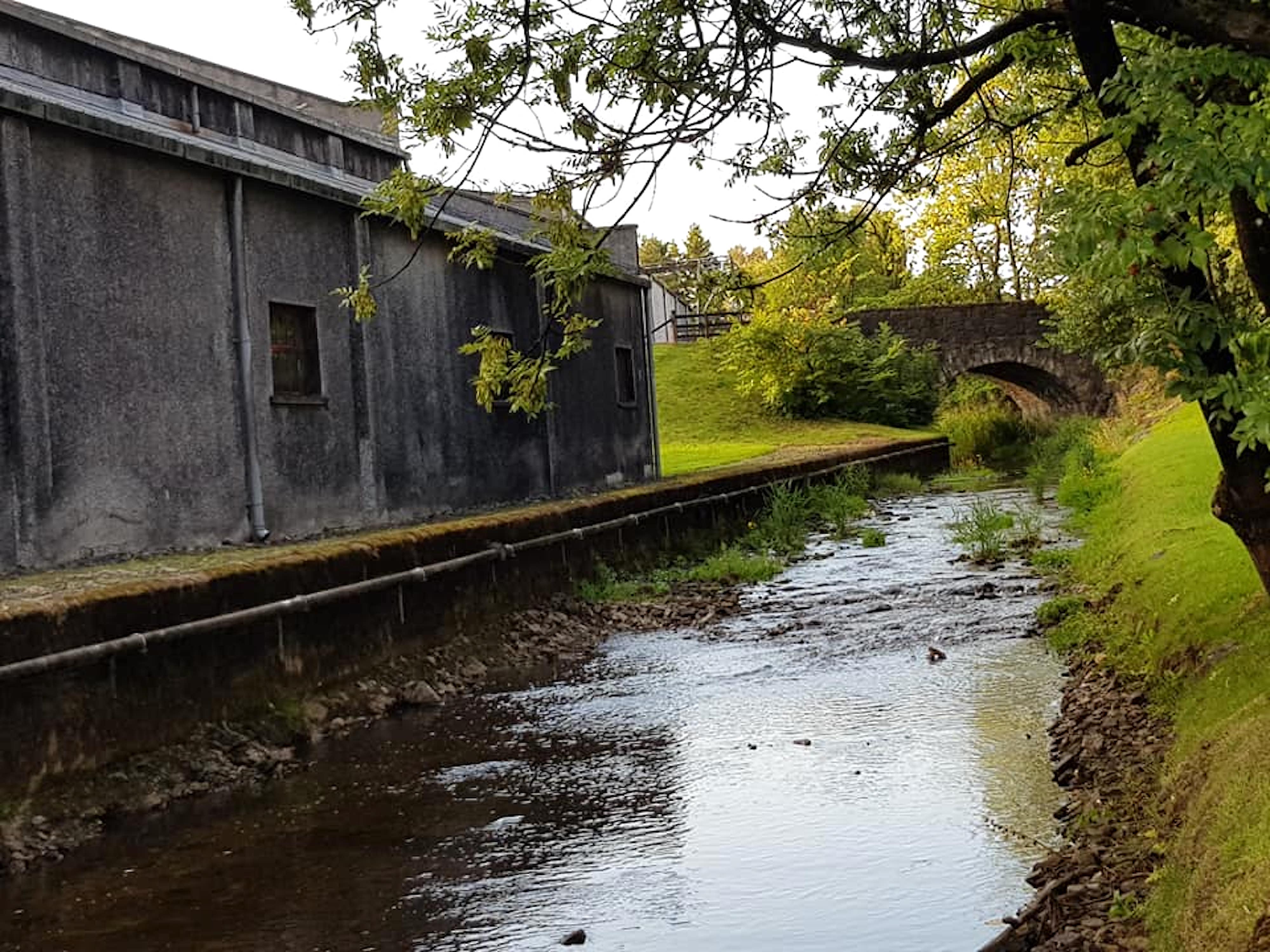 The Dronach Burn (or creek). Its water goes into the making of Glendronach.
I had made reservations for a distillery tour, and we were the only guests there that morning. It was very special. We had the place to ourselves. Our guide was an ebullient, very knowledgeable young woman who took great joy in sharing her love and knowledge of single malt whiskey.
The black stone buildings dated from 1826. One had been the home of the tax man, an uncommon occurrence at such places. Like many whisky distilleries, Glendronach had been moved by its original owners in the early 1800s, from the Campbelltown region south of Glasgow to Speyside in more remote, northern Scotland to avoid the collection of taxes on whisky production. The remote Spey River Valley, with its hidden glens and caves, was ideal for hiding out from the tax men. However, the new owner of Glendronach decided to be above board and invited the tax man onto his property. "Pay the tax and be done with it!" was his attitude. Little has changed since. The malting of the barley, the fermentation and distilling processes—much of which remains secret—is the same as it was in the 1820s. And, the quality is unsurpassed. The stone buildings of Glendronach date back to the 1820s.
We spent two enchanting hours at Glendronach, and refused any tasting as we were driving. Instead, our guide gave us a to-go package for later sampling in our hotel.
A few days later when we had moved into the mountainous Highlands just north of Inverness, I began searching for another distillery to visit when I discovered that Glenmorangie was a few miles south of Dunrobin Castle, our destination on the west shore of Dornoch Firth. We all had heard of and drunk Glenmorangie, founded in 1843. It's not as popular in America as Glenfiddich, but it's world famous and very drinkable. Not the peaty medicinal taste I prefer, but smooth and on the sweet side thanks to aging in sherry casks and with caramel added for color. It's a very nice whisky, mild and very drinkable, neat or with water. Glenmorangie distillery with a view of Dornock firth (firth = bay).
At first glance one, sees the stone buildings and, on further inspection, a view into the distilling room with its shiny copper stills. But, one also notices the tour buses full of Americans milling around in the distillery shop and waiting for their tour to begin. If one is naturally curious, like me, they wander around behind the charming old stone buildings to discover a large, modern industrial plant with huge stainless holding tanks like an oil storage facility. Clearly, this is not Glendronach. It's big business, with heavy advertising promoting the brand. We did, however, learn that the logo on their label dates from the 8th century, a Pictish symbol from an ancient stone indicating the interconnectivity of earth, fire and water, a perfect reflection of single malt whisky.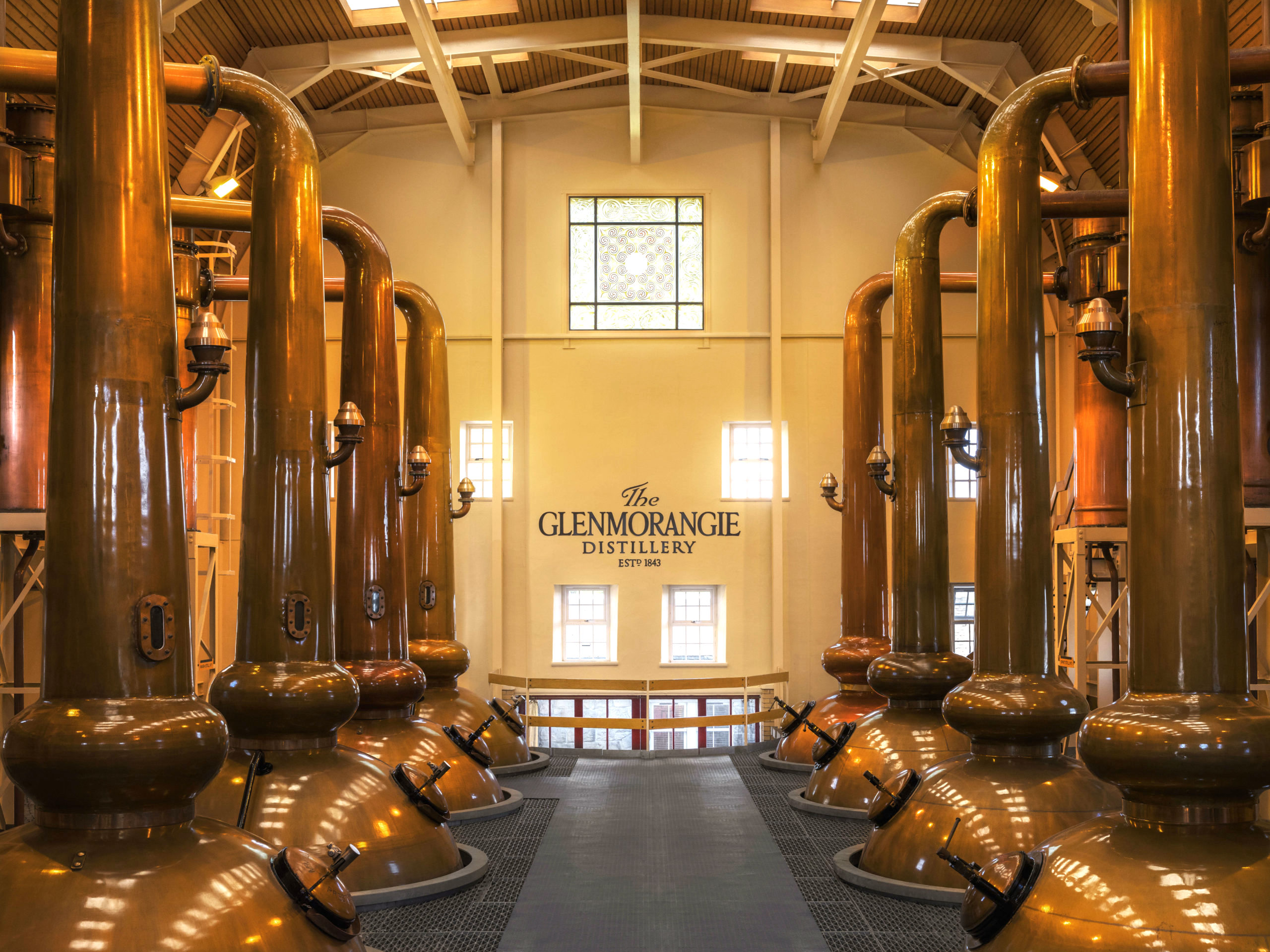 The magnificent copper pot stills used in all Scotch whisky distilleries.
Nevertheless, the visit was worth the stop. Never let preplanning stop you from having a serendipitous experience along the way. Speaking of which, it was now a few hours past lunchtime. Scottish weather makes you hungry, and when you have a chronic illness, missing meals is a bad idea. You don't want your blood sugar to drop too low. Or, if you take immune suppressing medication, like I do, you need to have food in your system before doing so. It's not a good idea to take strong medication on an empty stomach.
On the route to Dunrobin, I noticed signs for Royal Dornoch, one of the legendary links golf courses where the British Open, the U.K. national annual golf championship is played. We took a side road, followed the signs to the Royal Golf Hotel, which abuts the course and went inside. A local men's club was meeting in the bar, and the dining room was empty. That didn't phase the maitre d', who seated us and served us the best sirloin burgers imaginable. It was an unexpected feast. We all felt immensely satisfied after such a repast and a fascinating day. And of course, Henning and I each toasted with a wee dram of my single favorite malt, Lagavulin.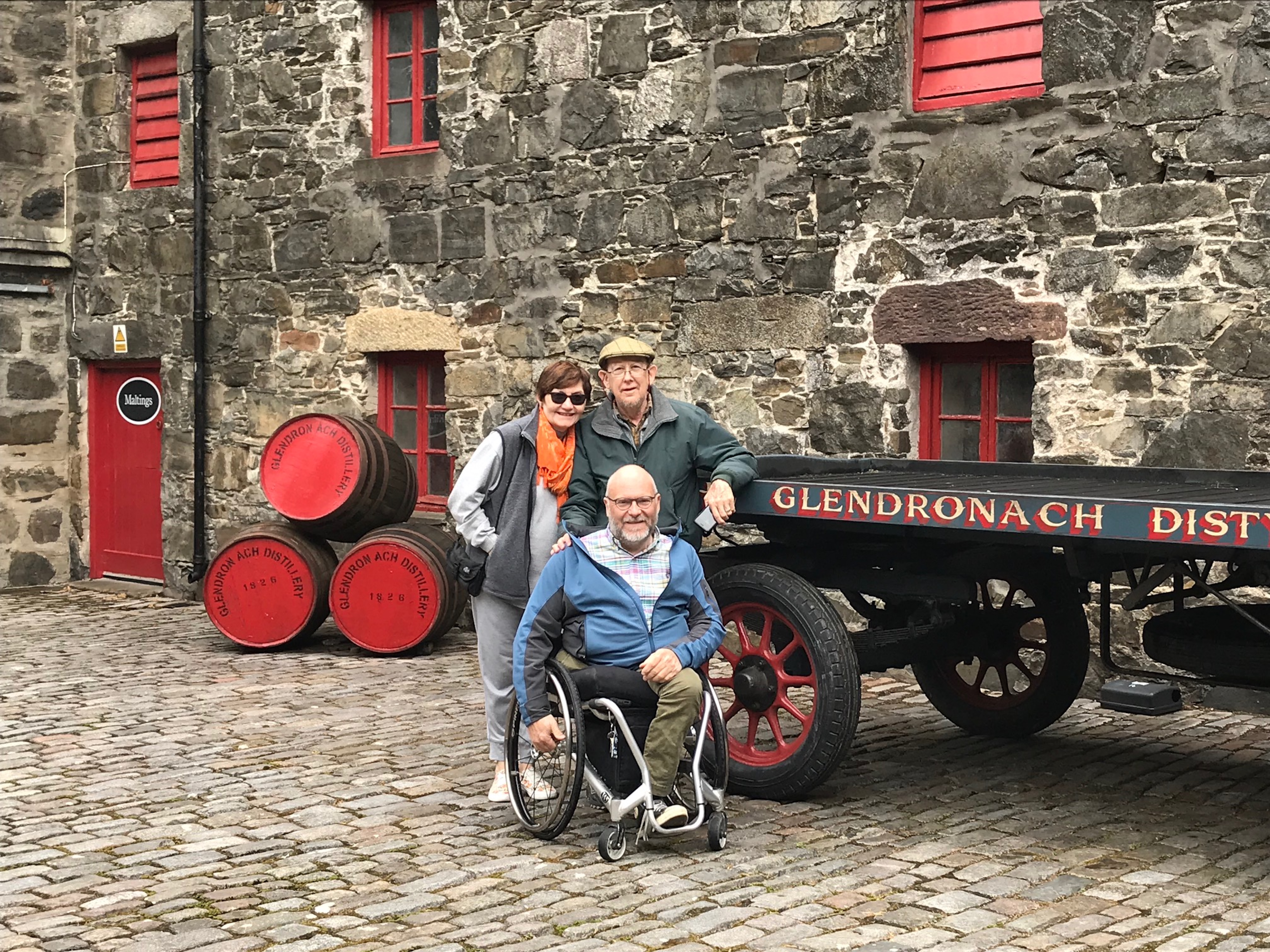 Three good friends at Glendronach - Linda, David and Henning.