A new Kid(ney) prepares to blast off - the Quanta SC+
This blog post was made by

January 15, 2015.

on
By John Agar (who is on the Quanta Medical Advisory Board)
On the 6th January, 2015, Quanta Fluid Solutions, a company based in Warwickshire (UK), put out a press release to announce the success of their application for CE mark approval for their new portable home dialysis system; the Quanta SC+.
So, what does a CE mark mean, and not mean?
A CE mark on a product is a manufacturer's declaration that the product in question, in this case, the Quanta SC+, complies with all/any of the essential "product directives" that may be required by European health, safety and environmental protection legislation.
The "product directives" include both certified "performance standards" and "harmonized standards" – the latter indicating the technical specifications of the equipment.
Any equipment bearing the CE mark must conform to both sets of standards. These standards are set and supervised by the European Committee for Standardization (CEN) and the European Committee for Electro-technical Standardization (CENELEC).
A product bearing a CE mark indicates to governmental officials from any country within the European Union (EU) that the product may be legally placed on the market in their country.
A CE mark on a product ensures the free movement of the product within countries of the European Free Trade Agreement (EFTA) and the EU, a single market comprising a total of 28 countries.
While a CE mark does not guarantee approval by regulatory bodies outside the EU—for example, the FDA in the USA or the TGA in Australia—the acquisition and attachment of a CE mark does confer a significant advantage to any equipment being submitted to these regulatory bodies, and assists the passage of equipment through their approval processes.
The Quanta SC+ press release can be found at: http://www.quantafs.com/news-events/press-releases/
This press release is well worth reading. It describes a machine that is small (37 x 45 x 48 cm, or 14.5 x 18 x 19 inches). This is similar in size to the NxStage machine (38 x 38 x 46 cm, or 15 x 15 x 18 inches), though in contrast to the NxStage system, The Quanta SC+ employs standard and conventional single-pass dialysis techniques.
The innovative step in the Quanta SC+ is the disposable cartridge system , which incorporates four pneumatic pump chambers that externalise both the blood and dialysate flow pathways and drive their flow mechanisms (see picture below: courtesy Quanta SC+). Those who will be attending the ADC in New Orleans later this month will be able to inspect the Quanta SC+ and hear it presented at Bob Lockridge's regular New Technology session (Sunday 2.00-4.00 pm).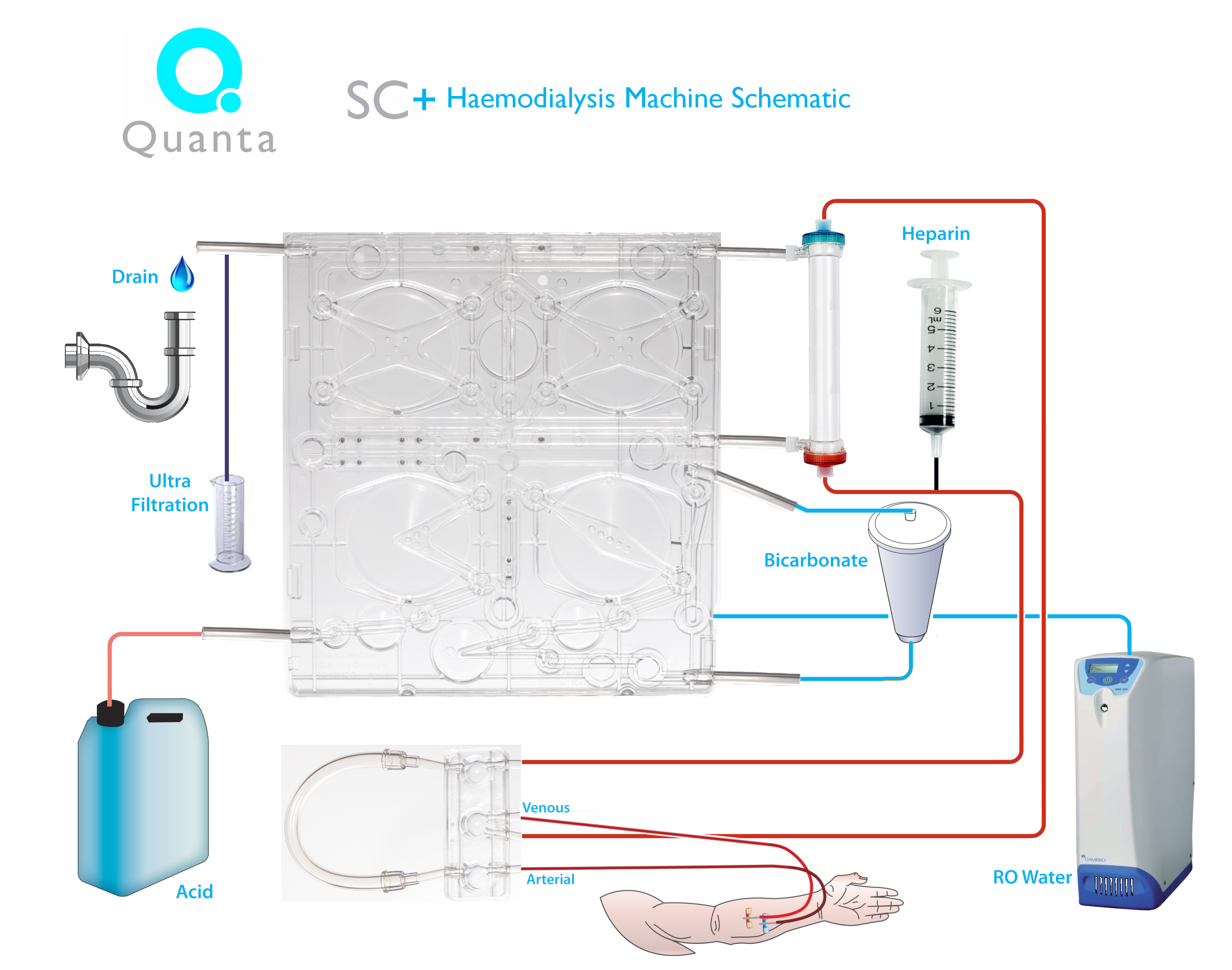 This picture shows the drop-in cartridge with the 4 x pneumatic pumps
If comparing the Quanta SC+ with the NxStage system, it is important to consider the two prime appeals of NxStage: (1) portability, and (2) reverse osmosis (RO) independence.
As regards portability, the Quanta SC+ certainly offers a comparable portable option . While both systems are similar in dimension (see above), the Quanta SC+ is a little lighter, weighing ~30 kg (66 pounds) compared to the NxStage ~34 kg (75 pounds). This places both systems in an aircraft-suitable luggage range.
But, as regards the dialysate, unlike the NxStage system, the Quanta SC+ still requires RO for water preparation. While on the face of it, this may seem to confer a disadvantage to the Quanta SC+, the SC+ provides "as-we-know-it", single-pass, on-line, high-flow, bicarbonate dialysate with dialysate flow rates up to 500 ml/min—a rate familiar to all dialysis services. The Quanta SC+ thus permits the usual ratio of dialysate flow (Qd) to blood flow (Qb): a Qd:Qb ratio of 2:1.
On the other hand, the dialysate volume of the NxStage system is much more "limited": the maximum available dialysate volume being 30L (if using System One with bagged dialysate) or 60-80L (if using an on-line PureFlow™ dialysate generator). In either circumstance, Qd is significantly restricted and the usual Qd:Qb ratio must be reversed to a ratio of 1:2 or even 1:3. In turn, this demands blood to be drawn from and returned to the AV access (Qb) at 400 ml/min or more, flow rates that are often unattainable, and may even be harmful to the servicing vasculature of the AV access, whatever its anatomical site.
Dialysis must have dialysate in one form or another. While conventional systems use RO to purify tap water prior to the creation of the dialysis fluid—usually now called the dialysate—the NxStage system circumvents this problem by providing "travel bags" of pre-formed dialysate (usually 5 or 6 x 5L bags per treatment, or by adding an online (but not portable) dialysate generator, the PureFlow™. However, sourcing or transporting 30L of bagged dialysate if "on the road", while doable, is still a hassle.
While clearly the Quanta SC+ still needs RO, quiet, small and relatively inexpensive individual RO systems are now available . While portable dialysis-grade RO systems are now available—the smallest I am aware of is the Aquaboss® (Eco)RO Dia 70 system = 50 x 39 x 19.5 cm (or 19 ½ x 15 ½ x 7 ½ inches), weight 35 kg (77 pounds)—it is clear that even smaller and more portable RO systems could soon eventuate. This would allow realistic, on-the-go, facility-grade, single-pass dialysis paired with a truly portable RO. In the meantime, if a home-based patient primarily seeks to dialyse at two sites (e.g. home and a weekender cabin), two individual RO systems could be quite cheaply installed —one at each dialysis venue—with the dialysis machine then being transported between them.
One significant advantage for the Quanta SC+ lies in its use of conventional, well understood, facility-grade dialysis principles. This means that wherever dialysis is undertaken, the same machine, familiar to all—both staff and patients alike—can be seamlessly used across all site platforms. This negates additional training, translation of (and potential confusion with) dialysis principles, and minimises maintenance costs. As regards the latter, the Quanta SC+ is a "dry" system, and the machine maintenance that goes with de-scaling, sterilisation etc. is averted.
To summarise, the Quanta SC+ holds out the promise of providing a seamless space-saving dialysis option—both in-centre and at home—while using dialysis principles and flow rates that are familiar to all, and providing clearance profiles consistent with best-practice dialysis without the need for staff or patient re-training .
While the Quanta SC+ is yet to be brought to the commercial market, and further live testing and fine-tuning will be essential before this machine can be offered to dialysis providers for general patient use, the acquisition of the CE mark is a huge step along the way to the Quanta SC+ becoming an exciting new addition to our dialysis "furniture".