February 27th, 2013

Vol.10, No.2, February 2013
Have you read reports that daily HD is "bad"?
A recent study of international registry data found that daily HD patients had a higher death rate than matched patients on standard in-center HD. This finding has been misinterpreted in a number of media stories. The study was not about daily home HD. All of the patients received in-center treatments. In-center daily HD is a rescue therapy in some countries, so these daily patients may have been very ill and more likely to die (cause of death is not known). The daily HD group also had more grafts—and far more missing access data (they may have had more catheters). The FHN daily trial—also in-center, but randomized—showed better outcomes for more frequent HD.
If you take Omontys, talk to your doctor
Supplies of the new anemia drug Omontys have been recalled due to safety concerns. A number of anaphylactic reactions have occurred in those taking the drug for the first time. Read about the recall.
Fresenius offers WetAlert alarm for home HD
When doing HD at home, a sensor placed on the venous needle that detects blood, stops the blood pump, closes the venous clamp, and sounds an alarm can help you stay safe—and that's just what the new WetAlert can do for you. Read the article.
Europe beats the US FDA to approve NxStage nocturnal HD and single needle HD
With CE Mark approval, NxStage can now market the System One for nocturnal HD to countries that belong to the European Union and European Free Trade Association. NxStage also has CE Mark approval for OneSite, a single-needle system that makes home HD even safer, with a built-in alarm for needle dislodgement.
Share YOUR story of getting home HD
NxStage is seeking stories to help Medicare see that people with kidney failure have the right to choose a treatment option that fits their lives. Share your story here.
What's new in dialysis research
Each month, we gather recent research abstracts for home dialysis. Visit our journal watch to learn more: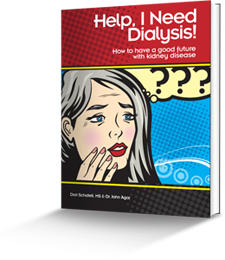 Featured Link: Help, I Need Dialysis!
MEI is celebrating our 20th anniversary—and National Kidney Month in March. Get one FREE book with every order of Help, I Need Dialysis! (U.S. only). Order here!