Arranging Your Life When Dialysis Comes Home
Article by Linda Gromko, MD
We had very little warning when my husband, Steve Williams, plummeted into acute renal failure in September 2007. His creatinine rose from about 4.0 to 10.0 in only 2 weeks! With his long history of diabetes and high blood pressure, we knew that it was only a matter of time before Steve's kidneys would fail; we just didn't anticipate that a perfect storm of bronchitis, sinusitis, and a dental abscess would tip the balance so fast.
Steve needed urgent renal replacement therapy. A transplant was not an option in the short run, so we welcomed the opportunity for home dialysis. We were trained to do five runs per week using the NxStage machine.
Storing Supplies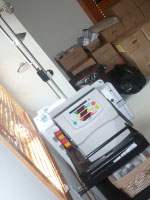 The nurses at the Northwest Kidney Center prompted us to evaluate our home's storage capacity, but nothing could have prepared us for the arrival of sixty boxes of dialysate solution! The resulting "wall of boxes" occupied sixty cubic feet: about one-fifth the area of a typical bedroom.
Several months after our maiden voyage, Steve and I decided to sell our home. We knew that the dialysis machine, and the boxes of dialysate and other supplies wouldn't be a selling feature. So, we hired Jane McClure, an interior designer who often "staged" homes to prepare them for the competitive real estate market to help us camouflage the "elephant" living in our bedroom.
Jane worked magic. In a budget-conscious makeover, she found storage solutions. She screened the dialysis machine, hiding it discreetly from potential buyers while keeping it available for our 5-days-a-week treatments. She used a variety of low-cost designer tricks to make the place look more attractive, and more welcoming.
Jane and I discovered that:
Bringing medical equipment into the home can change the family dynamic. You can move easily from the role of partners to caregiver and patient.
Visible medical equipment says "disease is the theme of my life."
Children, especially teenagers, may find the medical equipment frightening or embarrassing.
The bedroom evaporates as a place of intimacy and becomes a "high tech sick room"!
With good planning, we restructured our whole experience. After the inexpensive re-do, we found that:
Dialysis joined our family, but didn't define it.
Steve's renal failure required attention, but didn't have to take over our lives completely.
Teenaged Brita could bring her friends home without feeling self-conscious.
The bedroom returned to a place of respite and intimacy—especially important when life is already in the blender!
| | | |
| --- | --- | --- |
| After: Bedroom with machine screened and boxes in the reorganized closet | Before: A small hall doubles as a home office and storage for medical supplies | After: The bookshelf is moved next to the desk and out of the sight-line; drapery panels hide boxes of medical supplies |
Planning for a Life Change
A light went on for all of us. People spend far more time planning for the arrival of a new baby than we did for bringing dialysis home. Granted, a new baby represents a happier time. And certainly, we were busy and stressed by Steve's medical urgency. But what a difference Jane's makeover would have made had we done it in advance!
We thought, "Wouldn't it be helpful if space planning was part of the process of taking dialysis home?" Suppose, for example, a "Design Team" got to work when home training began—and the home dialysis space was truly ready when home dialysis started?
Arrange2Live
Jane and I became so enthusiastic about the impact of our project that we formed a non-profit organization, which you can find at Arrange2Live.org. Our intention is to combine the disciplines of medicine and design to make life more livable for those on home dialysis or dealing with other medical conditions in the home.
Our first book, Arranging Your Life When Dialysis Comes Home: The "Underwear Factor", was released in August 2009. The subtitle, 'The Underwear Factor', is a term coined by Seattle nephrologist Smiley Thakur, MD, who noted that home dialysis allowed patients the ultimate comfort of dialyzing in their boxer shorts if they wanted to!
A Home Dialysis Central Webinar was held on Wednesday, January 27, 2010. Topics addressed were:
Why do home dialysis, anyway?
Are you personally cut out to do home dialysis?
Setting up your own home dialysis center: the basics
How a designer thinks
Selecting your dialysis room and designing your furniture layout
Color and lighting tricks designers use
Storage solutions
Privacy: "hiding the elephant"
Where designers shop: finding the real bargains!
Finishing touches: cost-conscious designer secrets
Arranging Your Life When Dialysis Comes Home is available in paperback through Arrange2Live.org ($15.00). Paperback and Kindle editions are available on Amazon.com.