Making the Most of Your Square Footage for Dialysis
By NxStage Medical
If spring cleaning was on your to-do list, chances are you've already started (or finished) some of those bothersome chores. But for home dialysis patients, there's never a bad time to think about ways to plan, improve, or organize your therapy area and supplies. We did a bit of legwork and checked in with current and former patients to track down some tips and ideas that may put a spring in your step.
So, whether you're considering home dialysis, transitioning to a new home modality, or a veteran dialysis warrior, read on and make the most of your space and time!
Your Treatment Space
Considering the hours you spend dialyzing each week, when creating, updating, or organizing your treatment space you should think about the kind of environment that will make your experience as pleasant as possible. Ask yourself … What will make me feel the most comfortable, confident and calm? Would I prefer privacy (if solo), or to be with family members or a care partner? Is there a room or location that I can "make my own?" What items or furnishings will make therapy easier or more relaxing? Wherever and whatever you decide, your treatment area will need the following:
A comfortable chair (or bed, for nocturnal patients)
You'll be sitting, reclining or laying down for extended periods, and need to feel as cozy and relaxed as possible. The right piece of furniture can help you get there.
When we set up our treatment room, we made it comfortable because we would be spending 3 to 4 hours a day in there. Keep things simple, don't overthink. It is your space, make it work for you.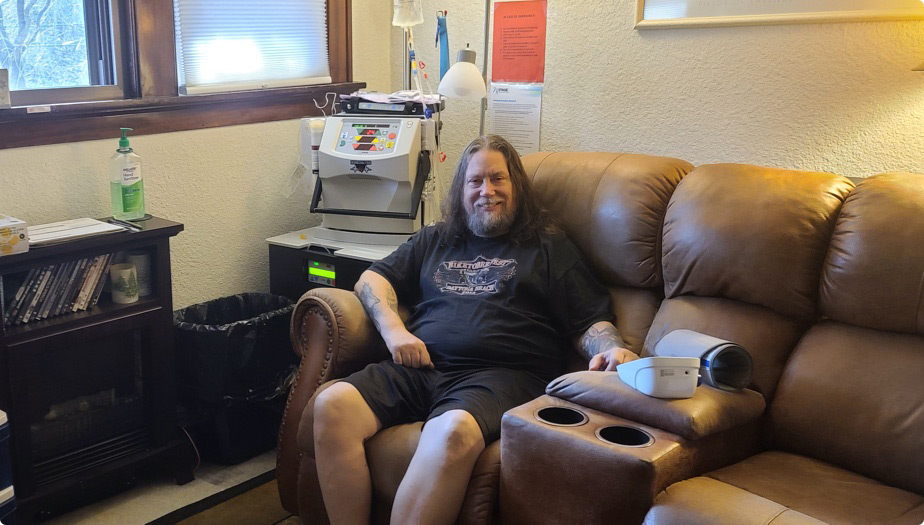 Good lighting
The right amount and type of lighting can make a big difference in how you see and feel during treatment. You want it bright enough to ensure clear vision while prepping and dialyzing, but soft enough to prevent glare or eye strain.
A nearby drain
A sink, toilet or other type of drain will do, as long as it enables you to drain waste fluids throughout treatment.
A sturdy stand, table or cart
If you're using hanging bags instead of the Pureflow machine, make sure you have a strong table to put your cycler on. A small side table is also convenient to hold your ancillary supplies.
My best advice would be a dolly (or utility cart) to put the machine and PureFlow on. That way it's easy to move around the house.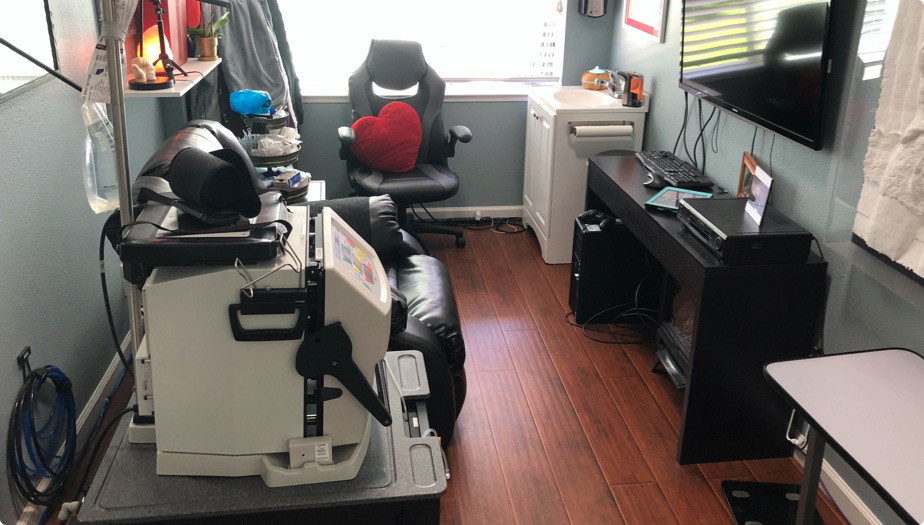 Convenient electrical outlet(s)
Having an outlet nearby allows you to power your cycler and other equipment without the mess or possible trip hazards of extension cords.
A water source
You can use a simple faucet or under-sink connection to supply water to your Pureflow system.
Other suggestions
Music, reading material, TV, etc.
Make the most of your time. Binge on your favorite shows, finish that book on your nightstand, or listen to your favorite singer.
I use hands-free smart devices to play music, set timers and reminders, even turn on the lights. That way you don't have to touch things.
A phone, laptop, and/or tablet
Talking with friends and family, either by phone or video, can be a pleasant way to pass the time, as can keeping up on social media pages or playing a round of solitaire!
Additional comfy seating
Don't forget about care partners, family members, or friends who may wish to keep you company during treatments.
Plants, flowers, artwork
To brighten up your space (and your day) decorate with things that bring you joy and please the eye.
A nice soft and/or warm blanket
Again, it's all about the cozy!
Room dividers
Not enough closets or storage? Get creative with a decorative divider to hide supplies out of sight and add a bit of style to the room.
Storage and Organization
Unpack supplies from boxes
Boxes take up more room than what's inside, so cut down on volume, recycle your packaging, and store appropriate supplies in drawers or on shelves where they are more accessible.
Store small supplies in stackable storage drawers
Drawers on wheels will help move supplies closer to you or tuck them away when not in use.
I find it helpful to have a space dedicated solely to treatments. Plenty of storage space is needed. I invested in two storage carts, as well as large plastic containers for cartridges and saks.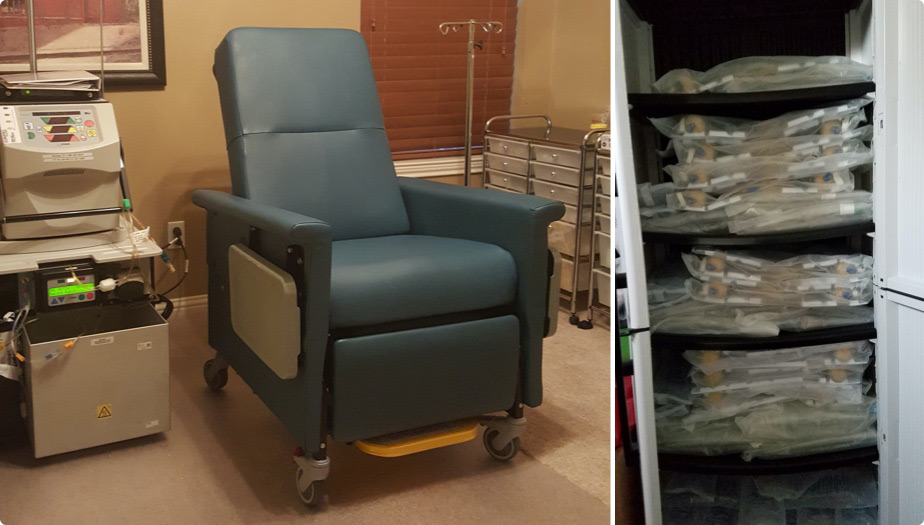 Think small(er), more frequent shipments (if possible)
Fewer boxes at one time makes storage less of a problem. If space is a challenge, work with your care team and customer service to find out if updating your shipment quantities and schedule is possible.
If a new patient is really limited on space, they should ask their nurse if having delivery every two weeks instead of monthly is possible, to reduce the amount of on-hand supplies at home.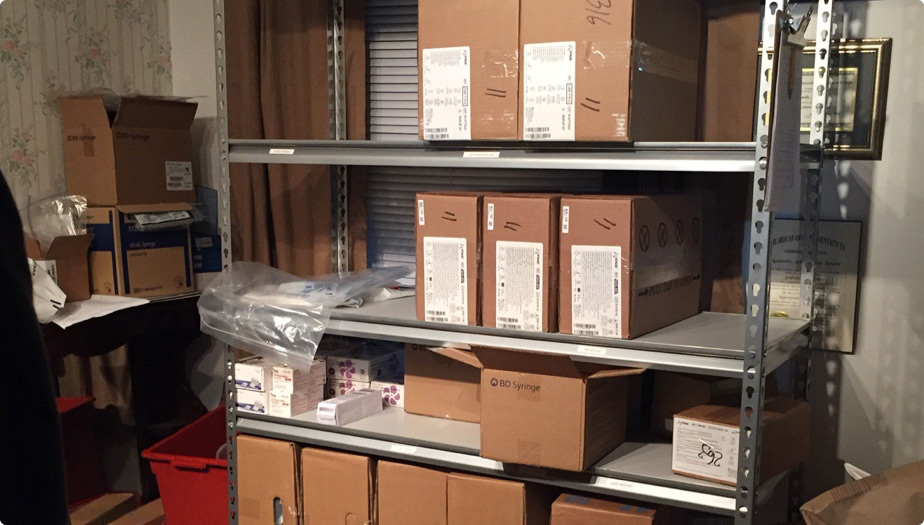 Consider stacking up, under, or over
Think about ways to maximize unused storage spots and keep your living area uncluttered. Examples include under the bed stashes and vertical stacking in closets or other areas (make sure it's stable).
Keep a tally
Know how much of everything you have so you don't overdo (or underdo) it.
Make a checklist of the instructions (and supplies) for treatment and post it on the wall above the machine. We checked them every time we started treatment. We don't have to look at them anymore but still have them posted just in case.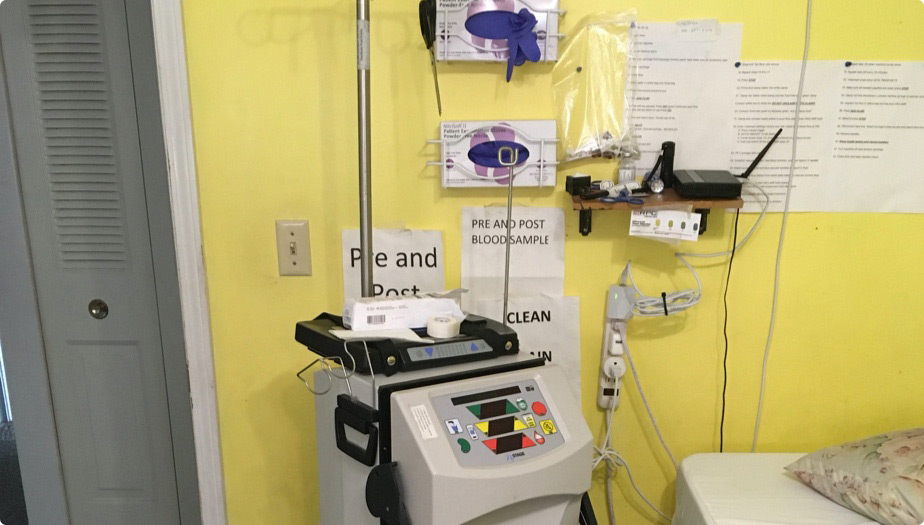 One of the most exciting parts of home dialysis is the fact that you get to do it in the comfort of your own home. That also comes with challenges, like finding a place for your equipment and supplies, and a spot where therapy works best. With a bit of help from your care team, our customer service team, and your own creative side, you can make the most of the space you have.