Self Cannulation: A Sticking Point
This blog post was made by

January 26, 2017.

on
With a background in Biology and endless bloody dissections I came to HD with little aversion to needles and began self-cannulating during my first week of training. My clinic teaches solely the ladder technique in the belief that the 4% increased infection potential with buttonholing is not worth the risk.
In spite of great care I had several infiltrations in those early days with attendant bruising causing widespread discoloration of my arm (below), persisting after many months.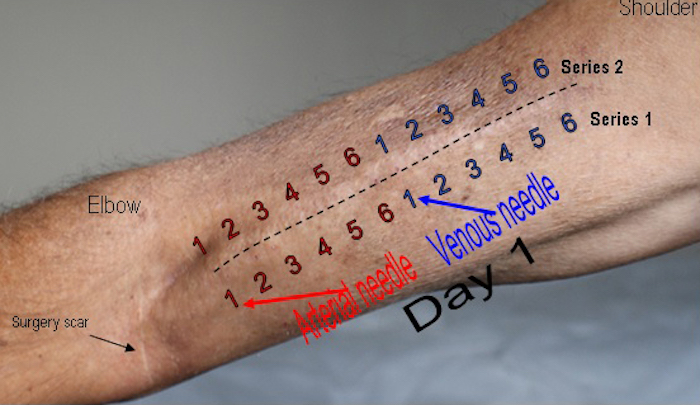 Those of us who use ladder needling have been advised to spread the sticks as widely as possible over the length of the fistula to avoid what has been unimaginatively termed "one-site-itis,"- the outcome of the weakening of the vessel wall due to repeated penetrations in one spot. Places of damage often lead to aneurisms. Proper needle site rotation is essential to ensure even development of fibrous tissue along the fistula's length so that there are no weak spots. Early in training my renal nurse advised the vessel should be cannulated from the sides (Series 1 and 2 in the image) as well as on top along the median to greatly expand the number of sticking sites.
How to space the needling? A scan of the literature suggests 6.3 mm minimum between successive entry points and 70 mm between arterial needle entry and venous needle entry on any given session. To maximise the entire fistula length, especially in the case of my shorter upper arm one, I plotted a "sticking map" to convince myself I had plenty of room to avoid the dreaded "one-site-itis."
A stick is done at each number: lower red "arterial 1" is matched with lower blue "venous 1". Then on to the "twos" By the time blue venous 6 is reached red arterial 6 is closing in on blue venous 1's earlier entry point and its time to move over to the other side of the fistula (Series 2) where the sequence is repeated.
The dashed line shows the fistula median and marks further access for six sessions in the same manner. So in all that's 18 tx sessions (@ 4 sessions per week), or at least 4 weeks before a needle re-enters a previously cannulated site.