Why to NOT Ask "Have You Thought About Home Dialysis?"
This blog post was made by

May 10, 2018.

on
Something I hear over and over again among passionate home dialysis advocates is that they approach prospective PD or home HD candidates by asking, "Have you considered a home therapy?" Or, "You should do PD!" (I hear the same thing from dialyzors.) The problem with this approach—however well-meaning—is that it puts the modality first, as if the home treatment is a goal. But, it isn't. Any modality is just a means to an end, not an end in and of itself.
As I've mentioned before, it took me a VERY long time of listening to dialyzors of every age, gender, and background to realize what now seems glaringly obvious: no-one wants any kind of dialysis. What they want is to turn back the clock, to take the pill that will cure their ailing kidneys, to have this not be happening. Wouldn't you?
Denial, I strongly believe, is fueled by fear. Why don't people get an access in plenty of time before they start treatment? Why do about half of American dialyzors each year crash into treatment emergently—even though many knew they had diabetes, hypertension, or both (what I call the "double whammy"? Fear. No one wants their lives to change in dramatic, scary ways. Instead, far too many wait, not believing the diagnosis and/or hoping it will go away, until the symptoms become too much to take and they end up in an emergency room needing a catheter. When we use a modality-first approach—"Which do you want, PD or HD?" for people who are scared, the answer is easy: Neither! Get me out of here! (I always picture the "See no evil, hear no evil, speak no evil monkeys." Lalala, I can't hear you!) As I pointed out in a previous post, fear makes learning impossible.
While denial is not a well-studied topic in nephrology, an interesting 2015 paper out of Poland (studies like these rarely seem to be done in the U.S.) compared coping strategies between 60 in-center HD and 55 PD patients. Not surprisingly, the in-center HD patients self-reported far higher levels of what the authors called "repressive coping strategies"—denial and avoidance—than the PD patients. 1 As in-center HD tends to be the default option used by people who don't make an active modality choice, this makes sense.
What helps people get past denial and fear? Hope. And, what gives people hope? Keeping what matters most to them in their lives. THIS is why we need to avoid coming at people with modalities first. Instead, if we ask "What matters to you?"—and tailor our options education to meet their needs instead of offering standard, generic information, we put dialysis in the appropriate role: a means to a better chance of feeling better, maintaining a better quality of life, and even living longer.
The always-inspiring Lori Hartwell often says, "People don't care how much you know until they know how much you care." Asking people what matters to them and giving them information that fits their needs is a way to show that you care. And, you can easily do this using My Life, My Dialysis Choice. Try it!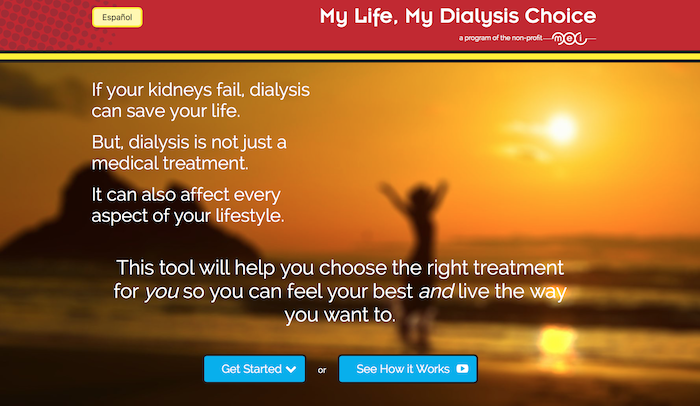 NowakZ, Wankowicz Z, Laudanski K.Denial defense mechanism in dialyzed patients.Med Sci Monitor.2015;21:1798-1805 ↩︎