Quanta SC+ HD Machine on the Horizon - a 2019 Update
This blog post was made by

April 4, 2019.

on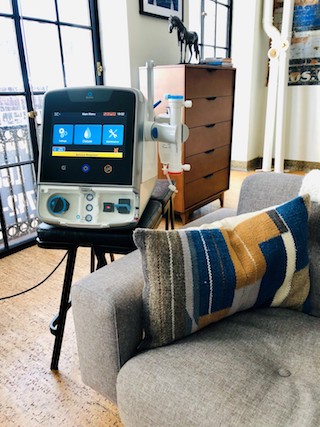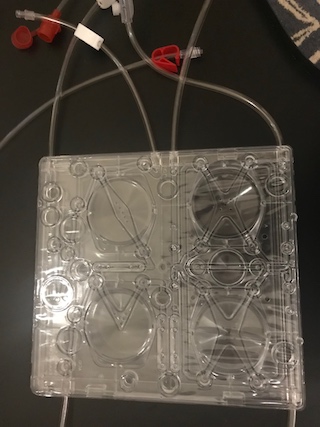 During last month's Annual Dialysis Conference in Dallas, I was fortunate enough to meet with the Quanta team-including CEO John Milad, CMO Dr. Paul Komenda, and Marketing Director Frank Herrmann—and had an opportunity to see the new and improved Quanta SC+. "Our mission at Quanta is to improve the lives of patients by using innovative design and cutting edge technology to provide affordable solutions in renal care," notes a brochure that can be downloaded from the website. SC+, which will launch in Europe later this year following successful completion of pilot studies in the UK and France, offers the possibility for flexible treatments—short, conventional, or long, in a clinic, for in-center self-care, or at home.
The modern design (recipient of an Industrial Product of the Year award from the Plastics Industry in 2018) reminds me a bit—in size and shape—of a biondi blue Mac computer I used to have. It looks friendly and approachable. Like the NxStage System One, it is small and unintimidating; about 17" deep by about 14.5" wide and about 19" tall. Unlike the NxStage, SC+ requires a separate reverse osmosis device, so unlimited volumes of purified water can be produced and mixed in a proprietary cartridge with acid and bicarbonate concentrates to generate standard, bicarbonate-based dialysate. There will still be ways to travel, though. Quanta's creative approach, like partnering with hotel chains or AirBnB to offer the SC+ already set up in rooms, or offering the machine in rental RVs could mean that patients can take vacations and business trips without the hassle of shipping and handling a machine and supplies.
Having seen a few dialysis machines in my years, I was easily able to identify the blood pump and air detector, at least, on the front of the machine, and the touchscreen seemed intuitive and easy to use. A holder on the side of the machine will take any dialyzer. What was really intriguing was how dialysate is handled in a disposable, closed cartridge that keeps the machine clean and dry internally. This is cool. The cartridge is about ½" thick, with a variety of chambers that align with functions on a "platen" inside the machine.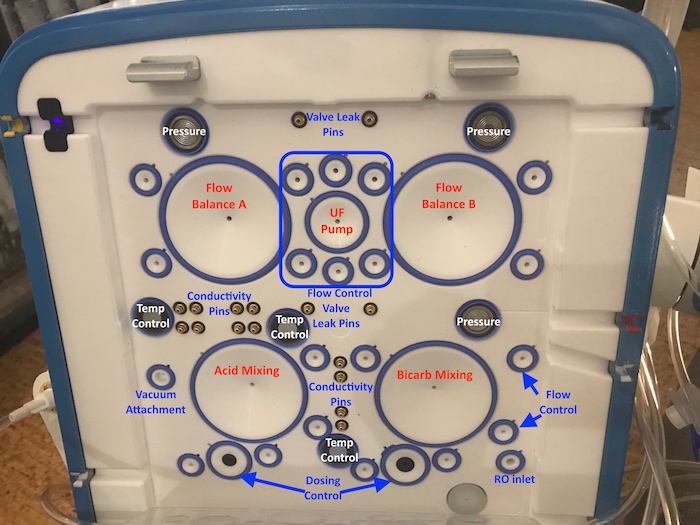 The cartridge fits into the machine like so: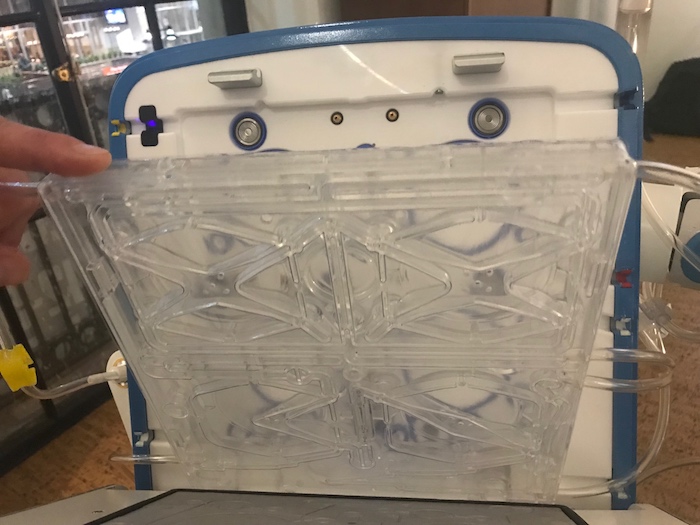 Needless to say, the Quanta team (and our own Dr. Agar) are excited about the potential for SC+. "From the beginning, our personal hemodialysis system SC+ has been designed to empower patients to take control of their lives by making self care and home dialysis more accessible," explains John Milad. "We have had excellent experience with patients in the UK using SC+ both in dialysis clinics and at home, and we look forward to bringing this over to the US once we have obtained FDA clearance."
Dr. Komenda adds, "We are finally on the cusp of offering patients real choices in the market for how they want to do home hemodialysis. SC+ is a unique, state of the art machine with features designed from the ground up, with patients and self care in mind. I am hopeful that this will help more patients choose home hemodialysis and unlock all of the benefits that go along with it."
The Quanta SC+ is not available in the U.S. yet—but Quanta is aiming to obtain FDA approval in mid 2020.