Coping with Death in Dialysis
This blog post was made by

August 1, 2019.

on
Recently I moderated a patient panel for a social work meeting, and a panelist who is on in-center dialysis referred to other patients as "foxhole buddies." Others on the panel nodded. When I worked in dialysis as a social worker, I was surprised that when I talked with staff about patient coping, some told me they didn't think patients thought about death. The "foxhole buddies" label should help staff understand that patients are well aware that untreated kidney failure is terminal. Many patients have a love-hate relationship with dialysis and dialysis equipment and supplies. Dialysis keeps them alive—but at what cost?
Symptoms of kidney disease and dialysis can be debilitating.

Fluid and food limits can be frustrating.

Remembering to take all their drugs as prescribed is hard when you must take some with food, others without food, and still others not near the time you take other drugs.
When another patient dies in front of them or they hear about that death, it's a reminder to patients that they too are at risk. When a patient dies in the in-center or home clinic, the death must be addressed with other patients. It's important that dialysis staff take the time to help patients come to terms with what they saw and heard.
What Does Research Tell Us About Patient Coping with Other Patients' Deaths?
When I began researching, I assumed I'd find research discussing how dialysis patients cope with the loss of other patients. I found nothing. Considering that kidney failure places patients at a higher than average risk of dying, you'd think someone would have studied patients' reaction to the death of a patient who sat in a nearby chair or who was always at their home dialysis clinic appointment. Is our aging and death denial so strong that we choose to close our eyes and shut down our emotions to the deaths of patients we have known and treated—in some cases for decades? Do we use the HIPAA privacy rule as an excuse to avoid having difficult emotional discussions with our surviving patients?
How Do Staff Deal with Patient Deaths?
There is limited information about how dialysis staff deal with dying patient. A meta-analysis of several studies described how nurses deal with deaths of patients in various settings, including hospitals, oncology, hospice, renal, and community settings. Findings were that nurses' fear of death was not high for most working in these areas. However, nurses under age 40 reported higher death anxiety and that anxiety negatively affected their attitude related to caring for dying patients. The research also found that educating these nurses reduced their death anxiety.1 Could educating dialysis staff about death and communication around this sensitive topic help nephrology staff talk more effectively with patients about advance directives, palliative care and hospice, and help staff help their patients cope with the loss of other in-center and home dialysis patients who were their friends and "foxhole buddies?"
What Does the HIPAA Privacy Rule Tell Us?
Healthcare providers are naturally cautious about releasing information about their patients to others out of fear of violating the HIPAA privacy rule. This rule prohibits sharing a patient's protected health information (PHI) without their permission in most cases. PHI is permitted to be shared in the following situations:
"To the Individual (unless required for access or accounting of disclosures);

Treatment, Payment, and Health Care Operations;

Opportunity to Agree or Object;

Incident to an otherwise permitted use and disclosure;

Public Interest and Benefit Activities; and

Limited Data Set for the purposes of research, public health or health care operations."2
The privacy rule allows providers to share PHI with relatives and friends who were involved in the deceased patient's care and paying for care.3 Healthcare providers routinely share their privacy policy with patients and allow them to agree or object. Providers may prefer to ask patients for permission to share certain things, like the patient's status when s/he is not there. Permission doesn't have to be in writing, but a provider may feel more comfortable having written permission.4 If your clinic or company doesn't have a release, see Resources below for where to find such a release that your patients can sign. The release needs to be signed yearly. It could be reviewed, discussed and signed during the annual reassessment.
How Do Some Dialysis Clinics Address Dialysis Patients' Deaths?
In my last dialysis clinic, when a patient died, we put a flower in the waiting room. If we had an obituary, we put it with the flower. As patients were admitted, we took their picture. We put those pictures in stars on our Christmas tree to help us celebrate the living and remember the deceased. Other clinics may have other ways of celebrating their deceased patients.
A 9-page manual5 was created by a committee from Baystate Medical Center with funding from the Robert Wood Johnson Foundation that provides tips to plan and conduct a memorial service for dialysis patients who died during the year. This could be a respectful way to include family, friends, patients and others who knew the deceased and want to acknowledge their lives and deaths. When my brother died 17 years ago, the funeral home conducted a memorial service in early December for all those who had died in 2002. It was very moving. They created angel hanging decorations with the names and birth and death dates of the deceased. I was touched then and am still touched today.
Remembering Patients at a VA Hospital
Sarah Stevenson, social worker at Providence VA Medical Center, responded to me when I asked social workers on NKF's CNSW listserv what they did for other patients when patients died. She provided some really touching evidence of what they do. She said, "We have a very small unit, only about 30-35 patients. It's also a VA hospital which means that the bond and camaraderie amongst the patients is particularly potent – not only are patients connected because they are Vets, they are also connected as being dialysis patients in a small unit. Marines also connect with other marines, Vietnam Vet with Vietnam Vet, etc.
When a patient passes away, I speak to the family first and ask them if it's ok to alert other patients to the death. If there's no family involved, I will still go ahead and make the announcement. I usually round on the patients to tell them individually, then put up a display which I've attached here – it's an "in memory of" sign that includes what branch the Vet served in and this is placed in a frame, on a table draped in red with the American Flag and the Flag representing the branch of service the Vet served in."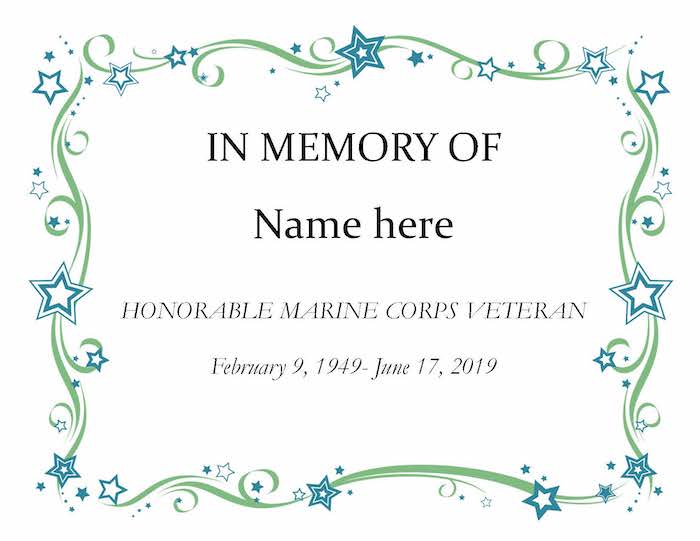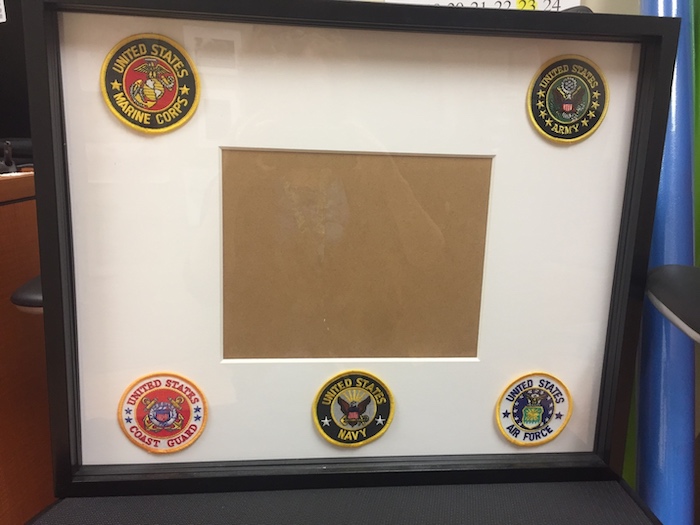 "Over the next month I then solicit staff members to provide me with fond stories or memories they recall of the patient. I put this together in what I call a "remembrance" of the patient. This is then sent to the family along with some resources for grief/bereavement support."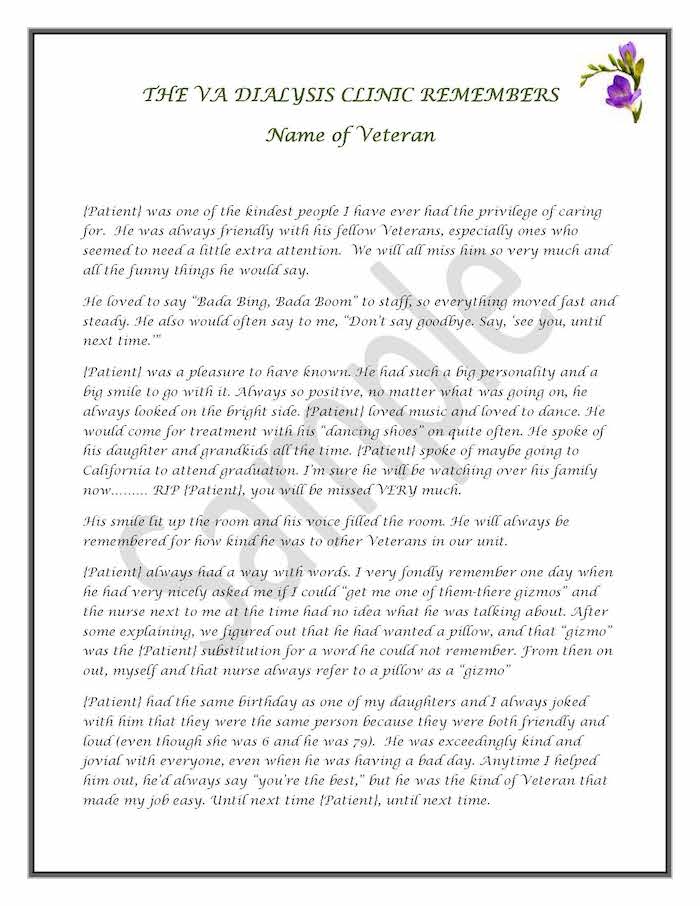 Conclusion
It's important for dialysis staff to establish a positive and trusting relationship with their in-center and home dialysis patients. Our patients need to feel cared for, safe and secure. Because of their diagnosis, they are especially vulnerable to deaths of patients they've known. If staff ignore the death, patients may believe they didn't care for that patient and may not care about them. They may wonder if anyone who treated them will remember them. None of us knows when our time on earth will end. Help your patients as live fully as possible each day but encourage them make plans for the future, no matter how hard that future may be to think about.
Resources
The patients working with the ESRD National Patient and Family Engagement Learning and Action Network (PF-LAN) developed a Health Status Release Form that allows patients to check what they want shared. as well as a Memorial Card and In Memory Posters for in-center and home dialysis programs to inform other patients about the death of a patient's who gave written or verbal authorization. You can find these under Patient Selected Topic Infinity Group. https://esrdncc.org/en/npfe-lan/
The Coalition for Supportive Care of Kidney Patients has a guide to help people with kidney disease prepare for their future care. It has multiple resources for staff to provide education about hospice and palliative care, a curriculum to teach staff how to discuss advance care planning with patients, and much more. https://kidneysupportivecare.org/Home.aspx