How to Support Home Dialysis Patients During a Pandemic
This blog post was made by

March 19, 2020.

on
As the novel coronavirus (COVID-19) spreads, the world is learning what it is like to live through a pandemic instead of watching one at the movies or on TV. Our real-life experience points out things we need to do to protect ourselves and others and identifies areas where improvement is needed. I have to admit that a pandemic was not on my radar screen, so I didn't do what the CDC recommends before an outbreak occurs, like planning with my family and neighbors. From what we know about this particular virus, anyone over age 60 or with a compromised immune system—including those on dialysis—is at a greater risk from COVID-19.
Protection from Infection
Home dialysis patients need to know how to protect themselves as much as possible from being exposed. This includes:
Washing hands with soap and water often and correctly for at least 20 seconds ("happy birthday" twice). The World Health Organization's short video shows ten steps to clean hands thoroughly. Commenters said to also remove jewelry, and wash wrists too.

Using an alcohol-based hand gel with at least 60% alcohol when soap and water aren't available, patients should use —but hand sanitizer is in short supply.

Using 60+% alcohol, 0.5% hydrogen peroxide, or 0.1% sodium hypochlorite1 to clean and disinfect often-touched surfaces, including doorknobs, in addition to disinfecting the prep area for PD or home HD.

Disinfecting cell phone screens regularly.

Covering coughs and sneezes – preferably with a tissue that is immediately thrown away, but at least into an elbow.

Staying at least 6 feet away from anyone who is ill.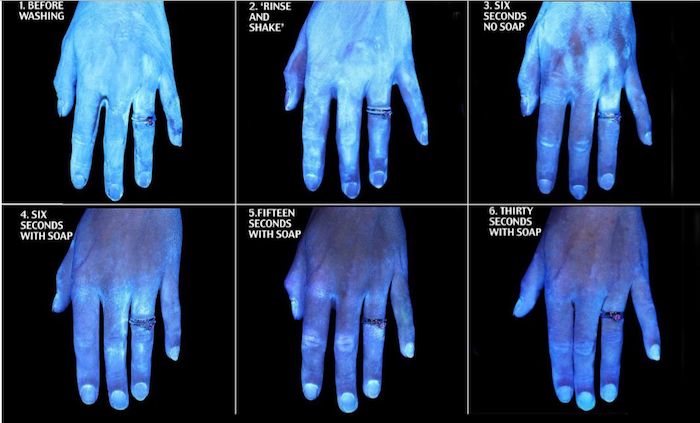 Symptoms of the Virus
COVID-19 is a respiratory virus and can be transmitted:
From person to person within 6 feet

From contact with viral droplets on surfaces that are transferred from the hands to the face (mouth, nose, and eyes).
Symptoms show up 2 to 14 days after exposure. Common ones include:
A fever over 100.3

A sore throat

A dry cough

New shortness of breath.

Other symptoms may include fatigue, headache, and occasionally diarrhea.
If patients or staff have symptoms, they need to know what to do, including when and where to get tested to see if they have this virus.
An hour-long American Society of Nephrology recorded conference call on March 11, 2020 included Suzanne Watnick, MD, FASN and Liz McNamara, MN, RN of the Northwest Kidney Center who shared their experience with the COVID-19. A patient at NKC was the first known U.S. COVID-19 death. They suggested this algorithm for patient screening: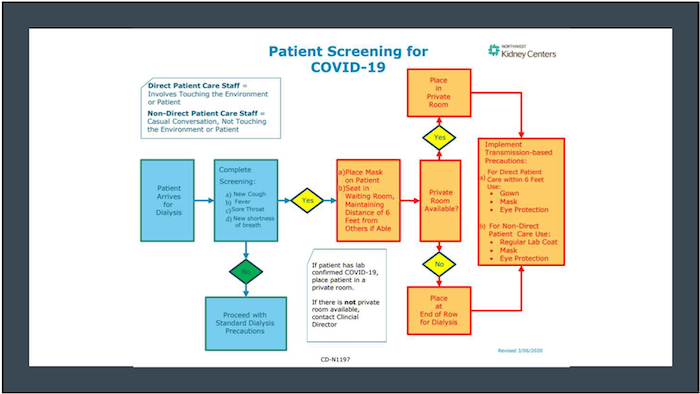 They suggested this algorithm for screening staff: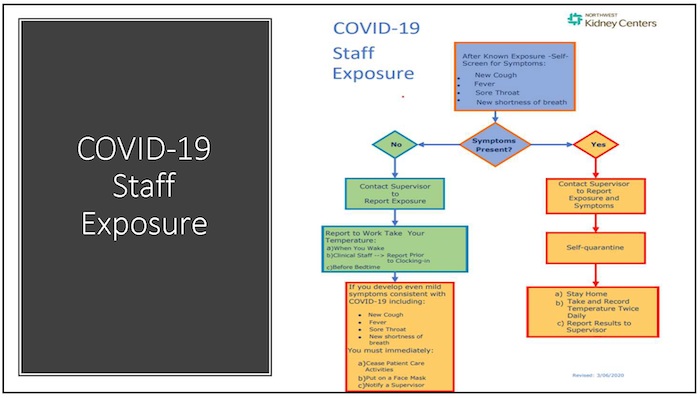 Clinic Visits
Dialysis clinics and nephrologists can help limit the risk to home patients by doing clinic visits for stable patients by telehealth. The ESRD Conditions for Coverage state that home patients should be seen monthly2. The physician monthly capitation payment (MCP) allows a nephrologist to see patients using telehealth for two out of three quarterly visits after the first 3 months of home dialysis.3
COVID-19 led the president to expand access to Medicare coverage of telehealth services during this Public Health Emergency using real-time interactive audio and video visits with patients in their homes.

The emergency rule also waives enforcement of HIPAA related to apps like FaceTime and Skype.

Providers can bill for telehealth services starting March 6, 2020 and can waive collection of Part B coinsurance during this emergency.4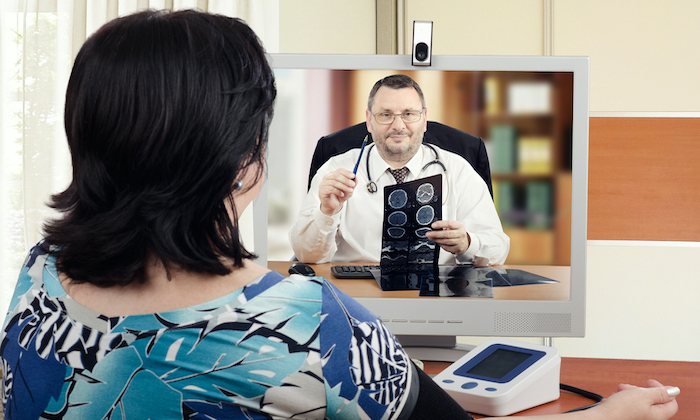 There are times when a patient will need or want to see a clinician in person, such as:
Assessment of an HD or PD access that might be infected or not functioning correctly

Assessment of other symptoms/problems

To have labs drawn (more likely with PD patients)

To get an IV or injectable medication that can't be done at home

For retraining
When a home patient comes to clinic, apply the CDC recommendations that address care for in-center HD patients:
Identify patients with signs and symptoms of respiratory infection (e.g., fever, cough) before they enter the treatment area.

Instruct patients to call ahead to report fever or respiratory symptoms so the facility can be prepared for their arrival or triage them to a more appropriate setting (e.g., an acute care hospital).

Have patients inform staff of fever or respiratory symptoms immediately upon arrival at the facility (e.g., when they check in at the registration desk).

Have patients with symptoms of a respiratory infection put on a face mask at check-in and keep it on until they leave the facility.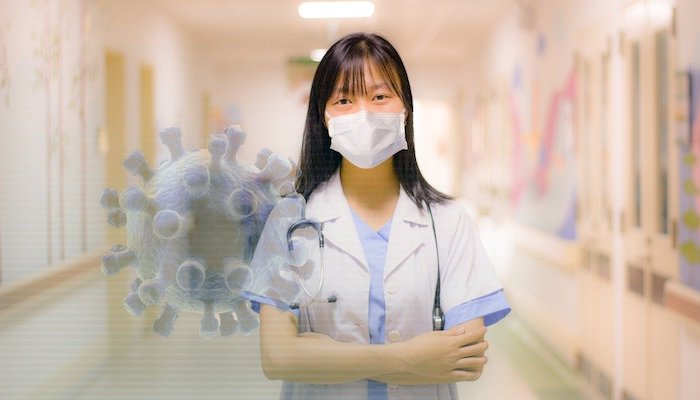 Other ways to help protect home dialysis patients include:
Ask symptomatic home patients to contact their primary care doctor to find out where to be seen and get the test.

Encourage stable home patients to use telehealth services when possible, and teach those who don't know how to do this.

Schedule in-person appointments for home patients who can't use telehealth throughout the week, so as few patients are present in the home training area at the same time as possible.

Ask home patients to notify the home training staff when they arrive at the clinic and have them wait in their vehicle or outside (weather permitting) until called to enter the clinic if a separate entrance and waiting room are not available.

Advise home patients not to walk through the in-center treatment area or use the in-center restroom if another restroom is available for their use.

Keep the time any home patient has to be in the clinic to a minimum.

Disinfect door handles and surfaces any patient may touch frequently between patients, including chair arms in waiting room as well as chair arms and surfaces in the room where home patients are seen.

Keep a hand sanitizer dispenser, tissues and waste baskets near the entry/exit door and be sure patients know how to use hand sanitizer and cover coughs and sneezes.
Supplies & equipment
Home patients require regular supply deliveries, and may worry that COVID-19 will hamper them getting the supplies they need to live. Let them know what changes to expect, if any:
Will supplies be delivered on the day they're expected?

If not, how can they find out when supplies will be delivered?

Will supplies will be delivered inside their home? This is especially important for those unable to move heavy boxes.

Will delivery drivers wear a mask or gloves?

Are any of the drugs or supplies they need in short supply?

What is your clinic doing to assure that patients will get all the supplies they need to do dialysis safely?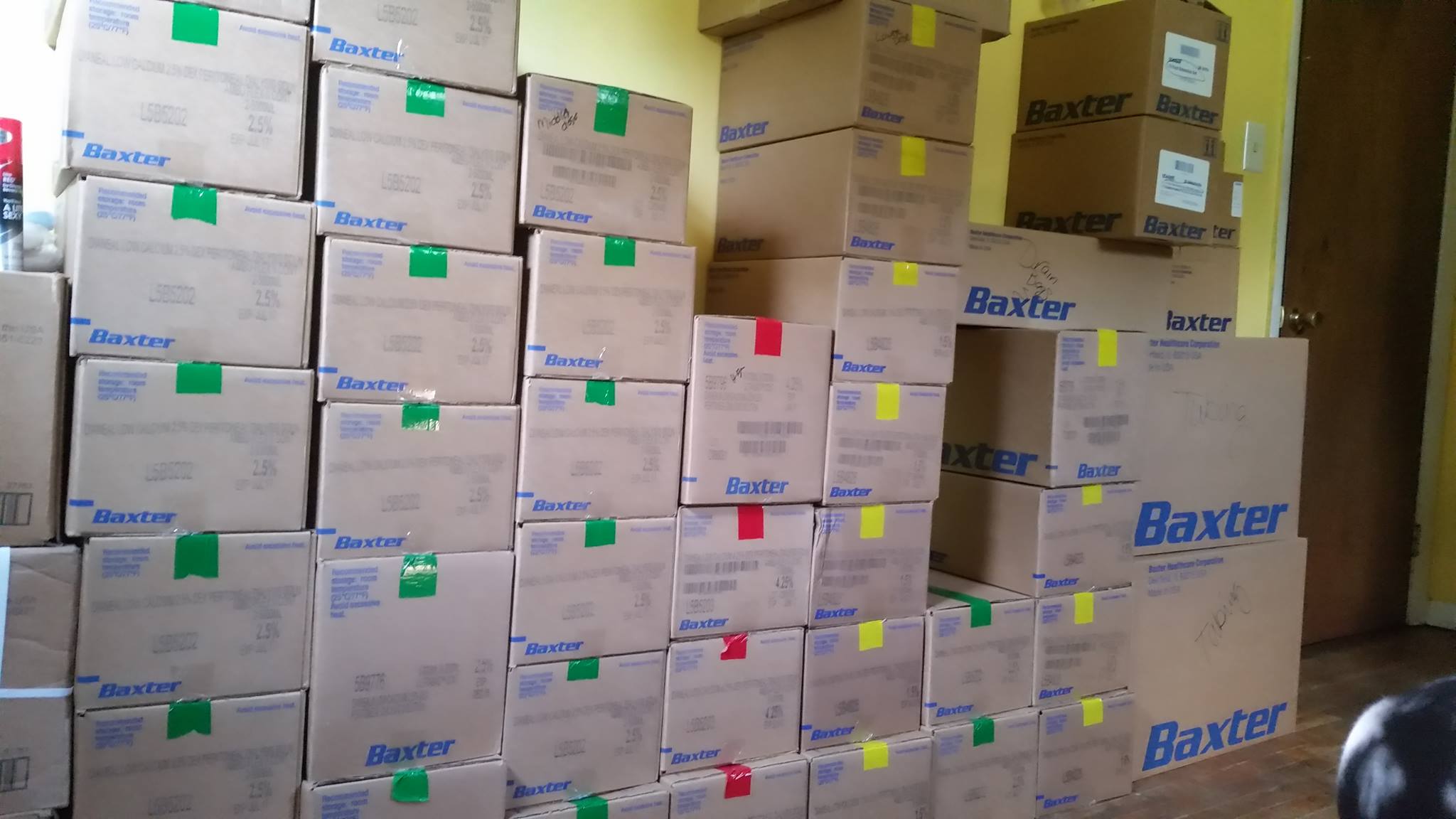 Patients should be able to get masks, gloves, hand gel with their supplies, but shortages have been reported. Unfortunately, homemade hand sanitizer recipes may not be safe. If 99% isopropyl alcohol is overpriced or not available and 70% alcohol is diluted with aloe vera gel, the final product could have less than 60% alcohol, and can promote a false sense of security. Vodka and other spirits are not a substitute. Soap and water is the best alternative, and the state of New York and various distilleries are starting to make and distribute hand sanitizer.
As always, patients need to know how to place a supply order and confirm that a vendor has received and shipped their order. They need to know which company will deliver their supplies and how to contact that company to confirm a delivery schedule. They need to know how and when to wear a mask and gloves besides for dialysis. And, of course they need to know how to contact the company that makes their machine and when to call you or a company's customer or technical support.
Obtaining Basic Necessities
Dialysis patients who are at higher risk because they're 60 or older or have other health conditions like diabetes, heart disease, or high blood pressure, should limit trips outside their homes.
Some may be able to ask family, friends, or neighbors to pick up groceries or medicines.

Others may find they can order meals, groceries, drugs and supplies online and have them delivered to their home.

NOTE: COVID-19 can survive on surfaces, including cardboard, so it may be prudent to advise patients to wear gloves to open packages of any kind, discard empty boxes outside, and wash hands well when they are done.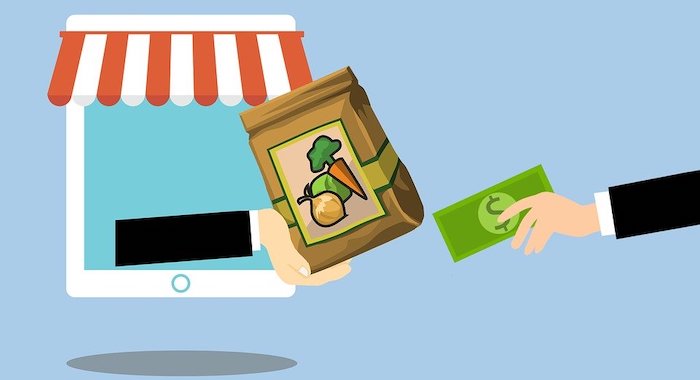 Maintaining an Income
Our patients may be having increasing financial stress as recommendations are handed down to work from home if possible, and stop going to restaurants, shops, etc. Patients or spouses may experience layoffs, terminations, or business closures. Those who work may fear for their jobs as our economy slows and business losses pile up. Most have bills to pay that take most of their income. This can put pressure on relationships between patients and care partners, which could risk home dialysis. In some cases, telework may be possible. Some states have expedited unemployment benefits for those whose jobs are affected by COVID-19: Google your state to find out.
Patients who are eligible may apply for disability based on kidney failure. Supplemental Security Income (SSI) can start faster because of ESRD if a patient meets eligibility guidelines for limited income and savings. There is a 5-month waiting period with no income while waiting for those who apply for Social Security Disability Income (SSDI), so a patient would not get a first check (paid for Month 6) until Month 7. Once a patient receives that check, s/he might consider applying for help with Vocational Rehabilitation (VR). VR can evaluate the patient for their work interests, skills and values. VR may be able to help your patients to further their education, get job training, job placement, and job retention. Working can help patients financially, socially, and emotionally.
Sources of help
With disruptions in daily life, including job changes such as work-from-home, layoffs, terminations, and school closures, patients may need to know where to turn in your community for help. Dialysis social workers can work with other staff to help educate home dialysis about community resources, such as but not limited to:
Trustworthy sites for health information and federal, state, and local virus updates

Local farmers or grocery stores that deliver

Pharmacies that deliver

Utility companies' contact information

Local organizations that provide financial help

National organizations, such as the United Way which has a 2-1-1 phone line and a website at http://211.org/services/covid19 for help during the coronavirus.

Childcare resources

Mental health hotlines and counselors that accept Medicare patients
Combatting fear and isolation
This virus is scary and new, and we don't know much about it yet. There is no vaccine and may not be for at least a year. As of March 18, 2020, more than 200,000 people worldwide have confirmed cases and 9,000 have died. In the U.S. more than 9,000 people have been infected and 150 have died,5 some of whom were on dialysis. As people stay home from school and work to protect themselves as well as others, loneliness joins fear. Some home patients like to think of themselves as independent "warriors," and may not readily reveal how lonely or fearful they are. Getting them to open up requires taking time to get to know them and to let them get to know you. Now may be a good time for the social worker to screen for depression and use the screening to provide tips to the patient for ways to overcome it.
At the same time, staff may be experiencing fear, but they may feel they have to push it down to take care of patients. Comagine Health (Networks 16 and 18) developed a fact sheet for dialysis staff to help them know how to cope with their emotions related to COVID-19.
Tips that can help staff and patients cope include:
Keep up with friends and family by phone, FaceTime or Skype if you can't visit in person

Use techniques that slow the brain's worry center like relaxation, meditation, and mindfulness

Cook and eat healthy meals

Stay physically and mentally active by exercising the mind and body

Resume an old hobby or start a new one

Play games in-person or online

Listen to music or watch movies to take your mind off the news

Limit the time that you watch or read news stories

Laugh to release endorphins

Reach out for help when you need it—the clinic social worker can help!
We are all in this together dealing with this pandemic. Although there have been pandemics in the not too distant past (1957-1958, 1968, and 2009), those didn't seem to cause as much fear as this one. Medical experts tell us that we need to flatten the curve so our healthcare resources can keep up. The social distancing necessary to do this is isolating and depressing. However, if we are successful by following the recommendations, we can possibly save tens or hundreds of thousands of lives, and our patients may be some of those lives saved. All we have to do is make a few sacrifices and work together to protect and support each other.
Resources