Traveling the U.S. with an RV and Home Hemodialysis
This blog post was made by

April 9, 2020.

on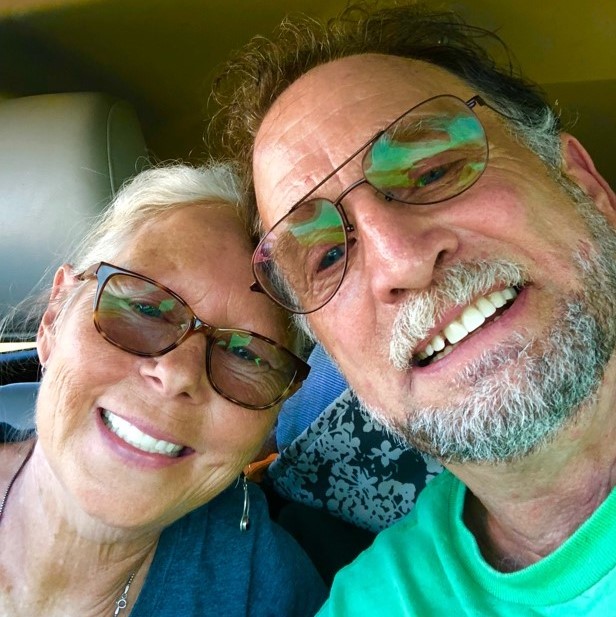 My name is Terry Clark, and I have Polycystic kidney disease. When my kidneys first failed, I started peritoneal dialysis at home, and during this time my husband and I purchased a motorhome—a used Newmar Dutchstar. We went to the factory in Napanee, IN to see how they were made first, then we found the perfect one on RV Trader and felt it was the right one right away. We are big fans of old westerns, so we named our RV Tumbling Tumbleweed!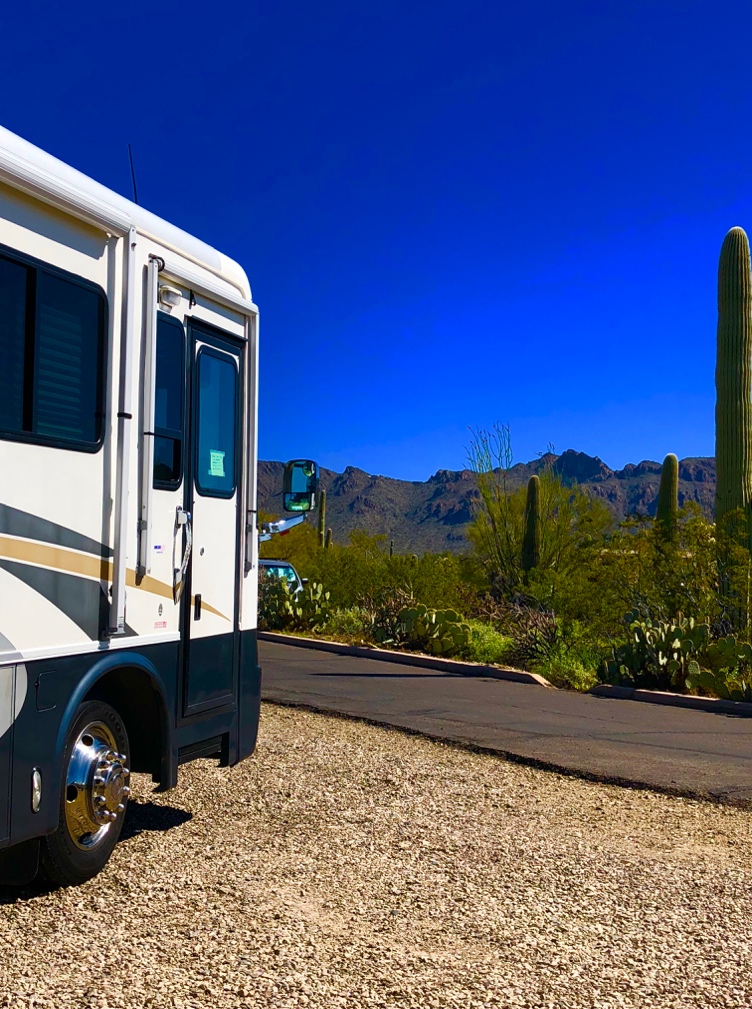 Right before we were to leave on our first trip, I had a second hernia and had to switch to in-center hemodialysis. My husband, Chet, said, "Guess we are not going anywhere," and I said "We sure are!" We traveled in our RV while I did in-center. On our first trip, we went to visit our son in Hendersonville, NC, stayed there for a while, then stayed a couple of weeks right outside of Savannah, GA, and after that we went to what has become one our very favorites—Ft Pickens National Seashore for another 2 weeks. After that, we headed to Las Cruces NM at the foot of the Organ Pipe Mountains and then to Tucson, AZ, which has become our winter spot.
While I was in center, I would call Fresenius Travel before we changed locations and let them know where I was going, and they set up dialysis centers for me. We always stayed at least 2 weeks in each place, and every third place we stayed for at least a month. This worked out well, and Fresenius was very easy to work with. I did this for 2 1/2 years. But, the last 6 months I started feeling weak and had to rest after dialysis—I didn't have much energy any more.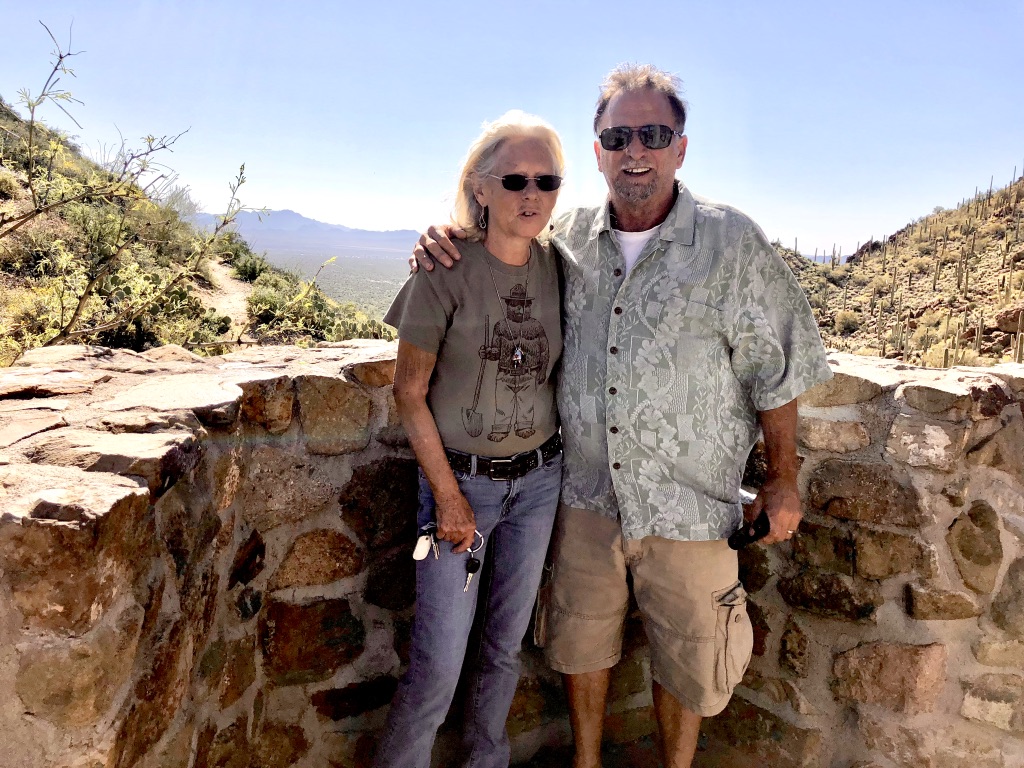 While we were in Pensacola, FL, Chet and I were invited to a dinner by Nxstage. At the restaurant, we saw a motorhome next door with NxStage written all over it. We knocked on the door, were invited in—and met Harvey Wells. Harvey told us how he travels in his RV and does home hemodialysis. We all thought that I could do this, too.
When we arrived in Arizona for the winter, I inquired about home hemodialysis and within a month we started training. Just a week before, I went to Walmart right after a treatment and had to sit down in the produce department, because I felt extremely nauseated, which freaked out the workers! But, after our first training day, I felt amazing and had so much energy. This was very different than in-center, where I felt weak and had no energy.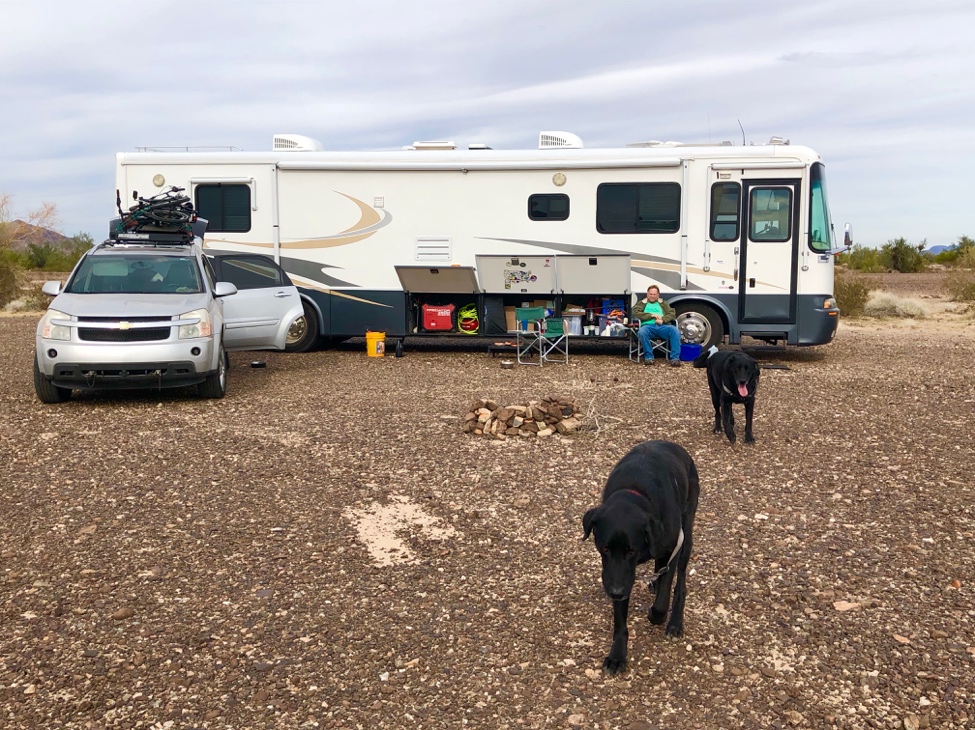 One year later on home hemodialysis, I still feel awesome and have so much energy. Chet and I hike and go on long walks with our two black labs. We still travel in our RV all over the country and we enjoy meeting people and seeing beautiful places. We also visit family and friends all over the country. We use a NxStage machine and hanging bags—it would be hard to use a Pureflow and test water at every place we stop. We store our supplies in our bays in the "basement" of our RV and get deliveries every 2 weeks. In fact, we received a delivery this morning of 24 boxes of hanging bags. We had 10 boxes already in our bay. We also received 1 box of warming lines and 2 boxes of cartridges. Most times we received 21 boxes—19 of hanging bags, 1 of cartridges, and 1 of warmers bags. Every few months we get a box or two of drain lines, too.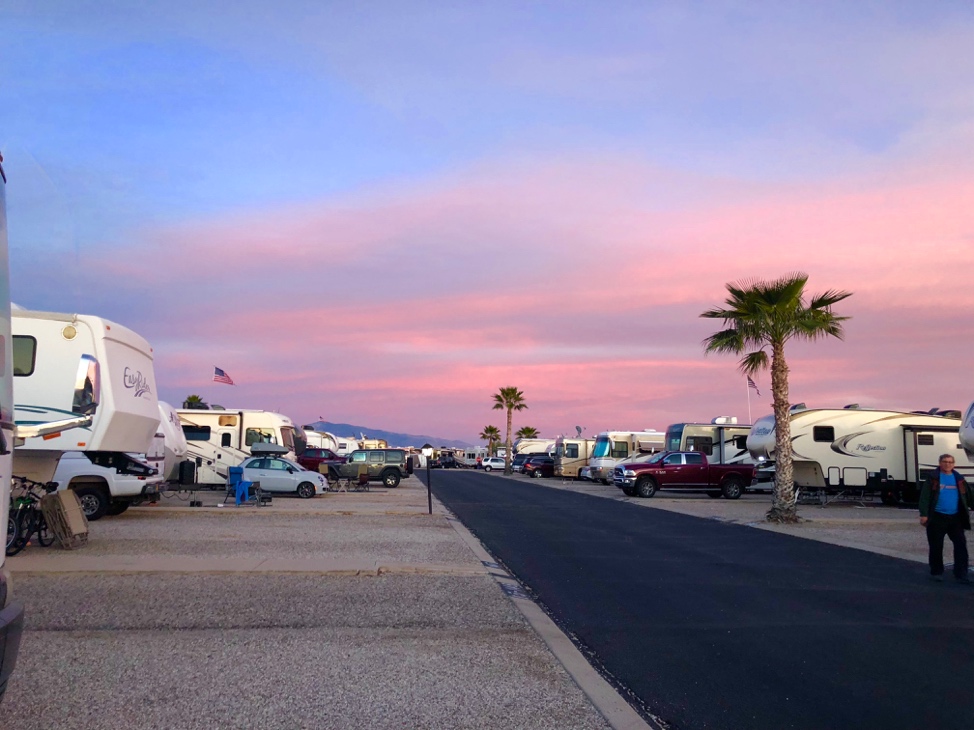 Every month, I give an inventory of what we have to Nxstage and tell them where we are going to be for that month, and they set up deliveries. We stay at private campgrounds and county parks. If we stay at a place where we cannot get deliveries, I ask the center I'm going to if they can accept delivery for me and we go to center to pick them up.
Every place we go we tell everyone we meet about home hemodialysis and the freedom it gives you and how it makes you feel so alive with tons of energy. We even bring our RV to centers and invite patients inside to watch me do my dialysis. We plan to try that more so in-center patients can see that you can travel and live your life!! I also tell everyone I meet that I am very grateful to Nxstage—they have given me my life back.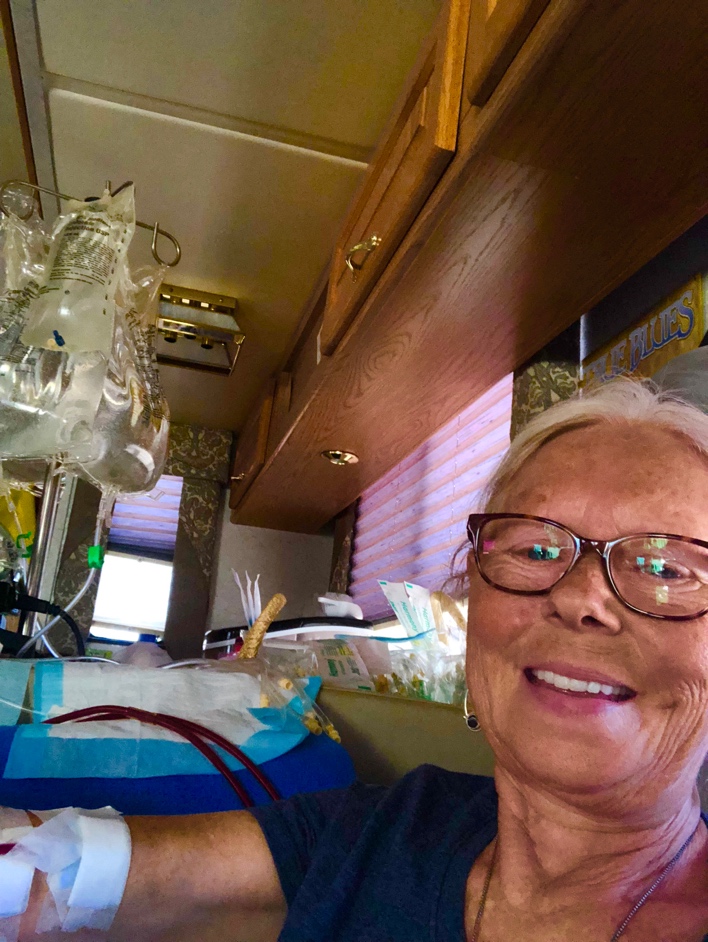 I love to tell other dialysis patients about home hemodialysis and how wonderful it will make them feel and how much more freedom they will have when they can travel, too. By telling my story if, I can influence at least one dialysis patient to go home, it's all worth it. I truly believe we must never give up and should enjoy each day and see the beauty everywhere!!!