Dunrobin Castle: 189 Rooms, No Elevator, and Gardens like Versailles!
This blog post was co-authored by

November 24, 2020.

on
Authors' note:This is the 7th of a series of blogs about our adventures traveling in Europe together in 2019. They will appear here on the fourth Thursday every month, and will eventually be compiled into a book entitled:Taking Chances, or How to See the World Living with Chronic Illness.
David
Some places have a powerful personal attraction, drawing us back time and again. Scotland is that special place for my wife Linda and me. This was our 3rd trip since first visiting in 1978. It's a magical land, never seeming to change, wild and untamed with natural beauty beyond description. It's possible to stand on a hillside in the Highlands and see no evidence of modern life. The light is highly directional since Scotland is so far north, on roughly the same latitude as Juneau, Alaska. The landscape is colored with deep forest greens, floral purples and golds, and ocean blues so dense you can feel their cold depth.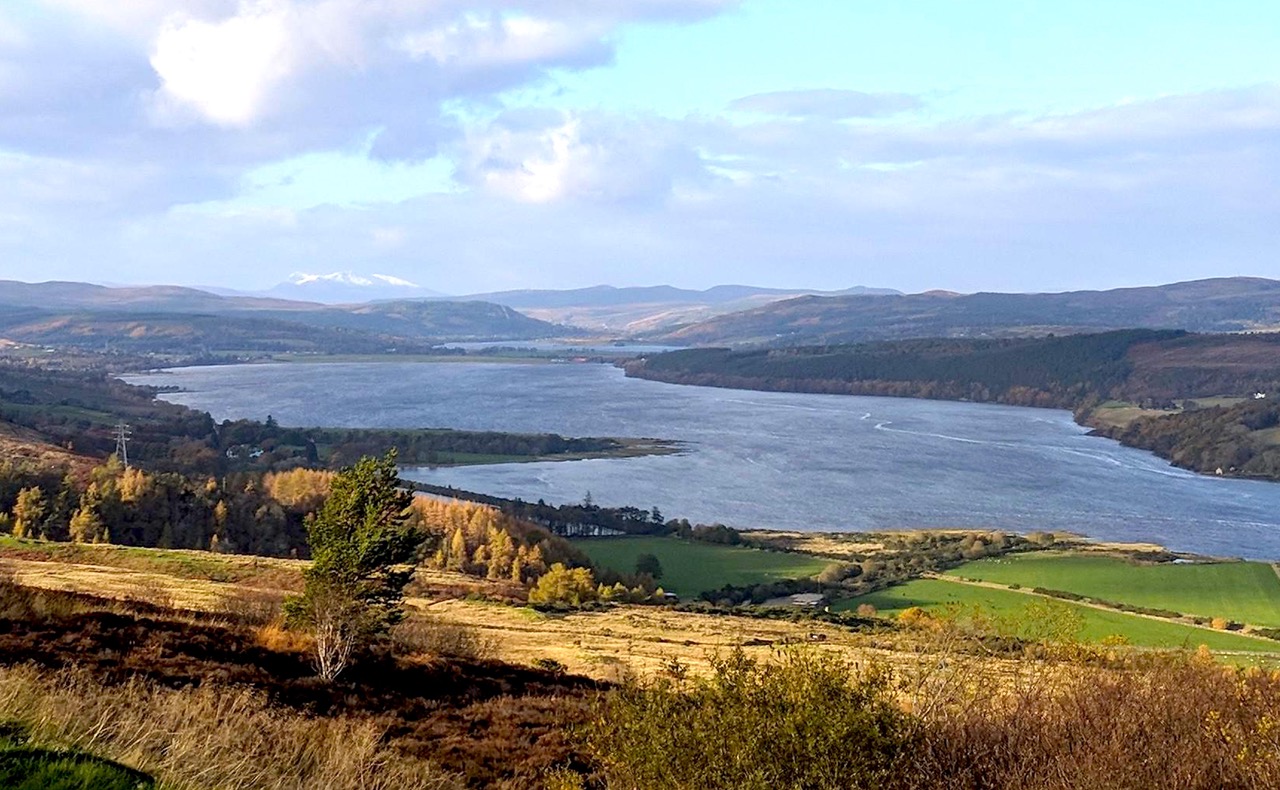 Dornoch Firth looking west into the Scottish Highlands.
The weather is harsh and changeable, even in the abbreviated summer season. Rain is normal, as are the glorious sunsets at day's end. You hike and eat and drink heartily, and the food is straightforward but delicious. You dress accordingly, in layers, and invariably come home with soft woolen sweaters designed by generations of skilled weavers to be light and warm.
And to see Scotland at its most dramatic, you venture into the Highlands. It was there that I wanted to take Henning, north along the A9, a mostly two-lane highway once you cross over Moray Firth on the stunning Kessock Bridge just west of Inverness.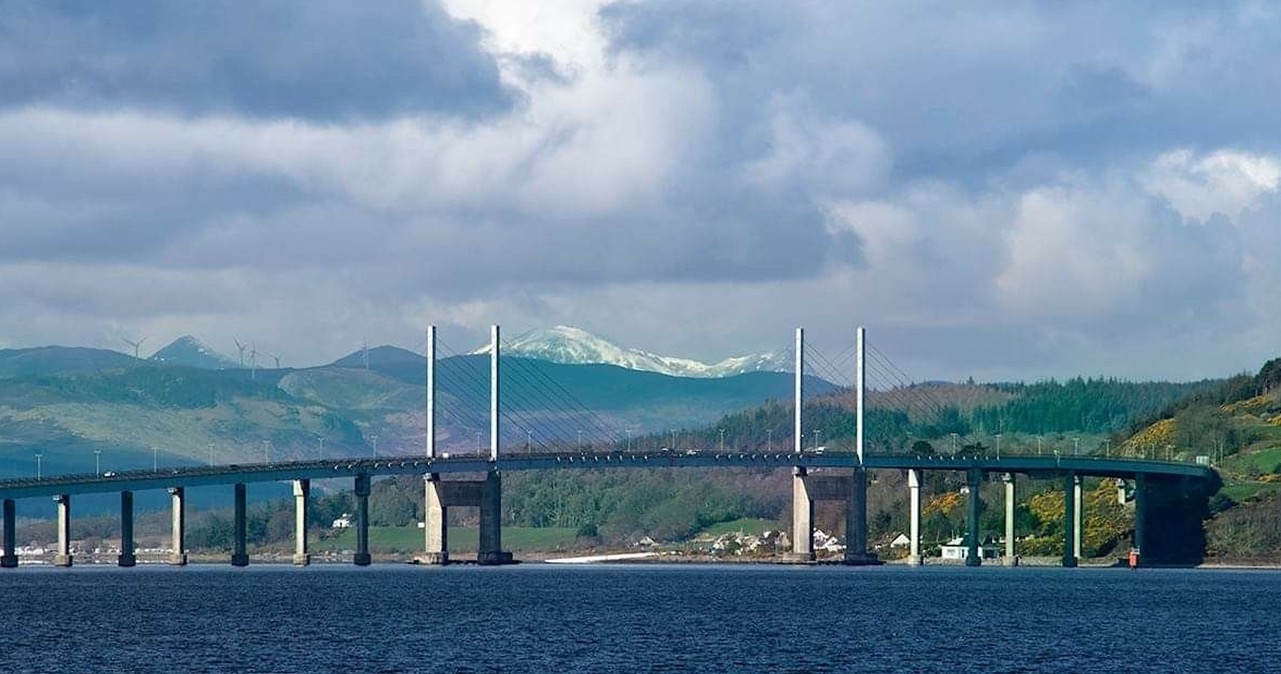 The Kessock Bridge over Moray Firth, heading into the Highlands.
Henning had been so taken with the history and architecture of Castle Fraser earlier in the trip, that another castle was in order. This time it would be one of the grandest in all of Scotland: Dunrobin, the ancestral home of the powerful Earls and Dukes of Sutherland—ennobled holders of over 800,000 acres of Ross and Cromarty.
Imposing Dunrobin Castle and its magnificent formal gardens.
Located on a hilltop on 1,379 landscaped acres on the shore of Dornoch Firth, Dunrobin's origins lie in 1500s, but most of the present building and the gardens were added between 1835 and 1850 by Sir Charles Barry, architect of the rebuilt Houses of Parliament. Quite imposing with its white stone façade and many towers and turrets, it is the largest house in northern Scotland, with 189 rooms.
We arrived after about an hour's drive on a beautiful winding route along the west shore of Moray and Dornoch Firths, turned off the highway onto a long, tree-lined gravel driveway, and were met with the sounds of bagpipes from a sole piper in front of this fairytale castle. The parking lot was quite full of tourists, and since the caste is full of stairs and has no elevator, we all agreed that we would tour the large gardens which were modeled after those at Versailles. Armed with our disability parking plaque and special garden gate key, we got permission to drive behind the castle to the gardens where the disabled parking was located. This proved to be easier said than done. The auto path was narrow and signs non-existent, but the scenery was spectacular.
Henning
Driving around with native woodlands on one side and the garden walls on the other, the land suddenly opened up and we had the sea in front of us. Turning 90 degrees to the left, we started looking for disabled parking. That turned out to be a more daunting quest than initially anticipated. We had to ask a gentleman who was walking a pack of impressive chocolate Labrador retrievers. He pointed us in the right direction. After some more driving along the edge of the garden, we found a sign for disabled parking in the middle of a flower bed nearly covered completely by blooms. But, there was no place to park except in the middle of the road. It turned out we had to drive even farther up some nearly hidden tracks around the corner of the garden. When we finally found the right spot, it was perfect. We used the key for the disabled gate, after mistakenly trying it on an imposing wrought iron gate from the 19th Century.
Linda with Henning at Dunrobin, cold but happy.
The view from the garden up towards the castle was duly impressive. The entire grounds were close to sea level and the castle was maybe 100 feet above it. The garden was divided into several sectors with fountains here and there, like the Lily Fountain Parterre, the Pyramid Garden and the Coronation Border, to name a few. There was even—or should I say, naturally—an area set aside for a falconry display with not only falcons, but also several different birds of prey exhibited.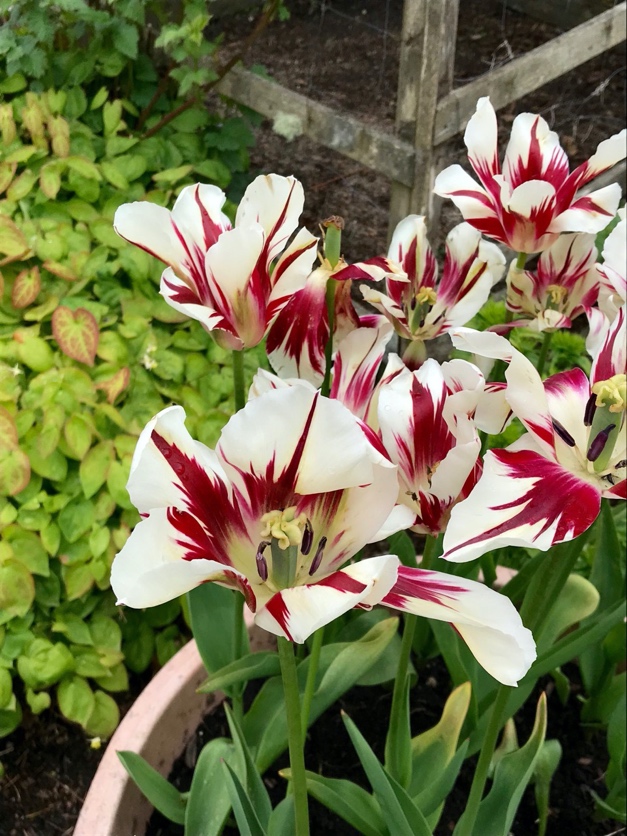 Tulips in bloom.
In spite of the cold wind coming off the firth, we wandered the gardens for a good time, taking pictures of all the amazing arrangements of flowers, bushes and trees. Finding such manmade beauty in the middle of the Scottish Highlands was quite a surprise. I had always known there were magnificent castles in Scotland, but this one was something else. The setting in such beautiful nature, the sheer impressiveness of the castle itself, and the garden was hidden away between the castle and the sea so nobody could see it unless they passed behind the building and looked down at it.
Like so many places we went to in Scotland, Dunrobin had its own set of pleasant surprises.
---
Linda
My love of the open road started early, long before I could drive. Because my father's business was seasonal, summer, when I was out of school, was his busy time. I took long—usually two weeks—car trips with my grandparents across the U.S. This was in the 1950s. I'm forever grateful for these trips because I really got to see the America before the Interstate Highways passed by many small towns.
Driving through Scotland, especially in the Highlands, was like my childhood experiences. The route to Dunrobin and back was breathtaking, and reminded me of our first Scottish trip. In Glencoe, a layer of dark clouds reminded us of the infamous massacre that took place there in the 1600s. In Glen Orchy, the sun glinted off the rushing river and fishermen hoping for trout.
My education in Scotland's history came on that first visit, where I joined David who was on a business trip (lucky us!) in the UK. I had time to myself and did some reading, while he had business meetings. If you are a Game of Thrones fan and feeling bereft, I imagine you might be consoled by J.D. Mackie's A History of Scotland. No shortage of battles, rivalries, revenge, usurpations. Whew! I had to get outdoors.
Driving through Fife with BBC3 on the radio, I ended up at Falkland Palace where Mary Queen of Scots spent time in more carefree days hunting and partying. I also drove into St. Andrews, the home of golf, and walked on the edge of the Old Course. When David and I were in Edinburgh, we'd seen one of the early golf balls, made of feathers encased in leather. It was, I think, from the 1300s, and its label said that golf had to be restricted in certain areas because it was interfering with archery practice, necessary for the defense of the country. (More about the game the Scots invented in the next blog.)
After our chilly exploration of the Dunrobin gardens, we decided to stop at the Glenmorangie distillery that we had passed on the way to the castle. A busload of tourists had just arrived, so the sales room was crowded. The whisky—fine as it was, and one of my favorites—did not interest me as much as the non-alcoholic items in display cases. A gold pin of what is called the Glenmorangie signet, which appears on the distillery's label, caught my eye and I snapped it up.
The pattern on the label is one of many symbols of the Picts covering a monumental carved stone from 800 A.D. The Hilton of Cadboll Stone stood outside the village of Hilton in northern Scotland, not far from Dunrobin. The sandstone slab is mysterious and mesmerizing, making you pause to ponder the culture that created it.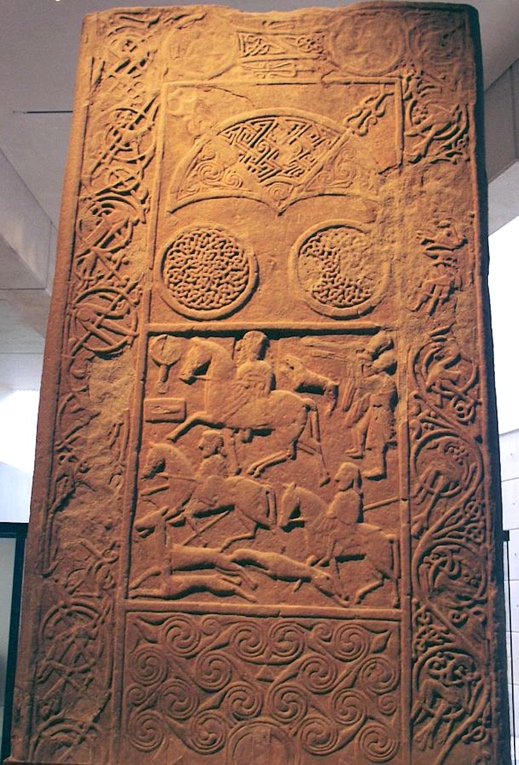 Glenmorangie signet and Hilton Cadboll Stone.
For David and me, planning a trip is as enjoyable as taking it. We do some advance research: talking to friends, reading books (not just guidebooks), Googling names and places, calling up scraps of information from college courses and museum exhibits. David has meticulously planned trips we've never taken and may never take, like a month in Italy. This labor is not a waste. It is a pleasure, as it goes beyond daydreaming into the realm of possibility. David is fond of saying, "We are becoming," always growing—not allowing illness and age to dictate our enjoyment of life.
Linda Chiavaroli, an editor and occasional co-writer of "Taking Chances," is married to David Rosenbloom and learned about living with kidney disease as David's care partner. Before retiring in 2012, she was communications director for the Los Angeles County Arts Commission; a journalist writing for USA Today and the Rochester (NY) Democrat & Chronicle, among other publications; and owner of a public relations and marketing firm specializing in the performing arts. Her volunteer work includes social media for several non-profit organizations and blogging for The Huntington Library, Art Museum, and Botanical Gardens.