Golf in Scotland - A Game Where a Handicap is Normal
This blog post was co-authored by

December 23, 2020.

on
Authors' note:This is the 8th of a series of blogs about our adventures traveling in Europe together in 2019. They will appear here on the fourth Thursday every month, and will eventually be compiled into a book entitled:Taking Chances, or How to See the World Living with Chronic Illness.
David
One cannot go to Scotland without hearing about or seeing a golf course. After all, the Scots invented the game, and it is the dream of many weekend golfers to play on one of their famous courses, especially those that have hosted The Open: the most prestigious golf tournament in the world. Courses with names like the Old Course at St. Andrews, Muirfield, Royal Troon or Carnoustie, where nature has dropped links into the sandy, wind swept headlands along the Scottish coasts.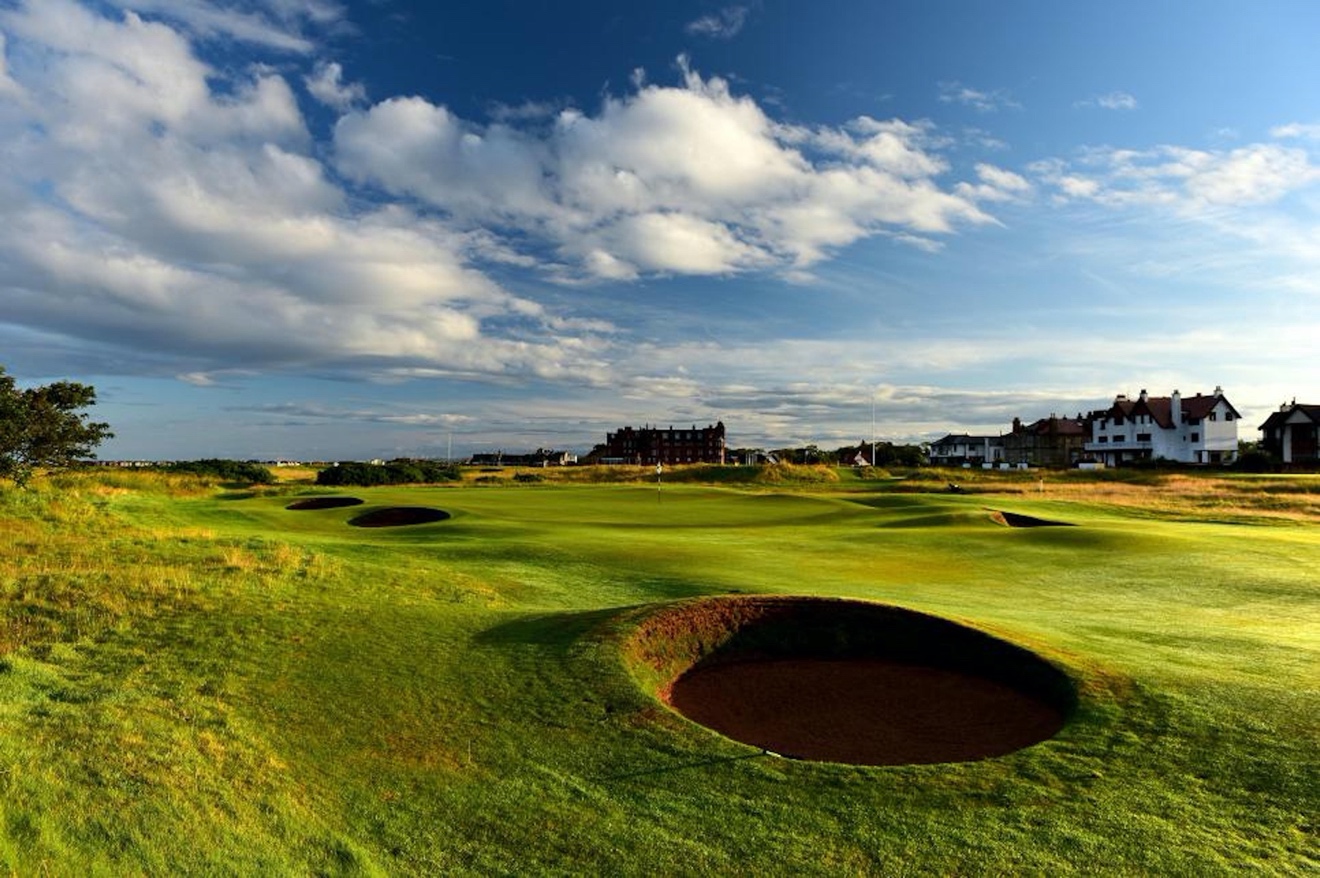 16th fairway at Royal Troon with our hotel on the far right, the large white cottage.
I love this diabolical game, and played for nearly a decade, part of the time while on dialysis, handicapped with limited strength between treatments. I was never that good, but flailed away at the little white ball ever so diligently, usually breaking 100. Par, normally 70-72 strokes per a round of 18 holes, means expert play under ordinary weather conditions. But, as I've mentioned in earlier blogs, there is no such thing as normal weather in Scotland. It's always variable.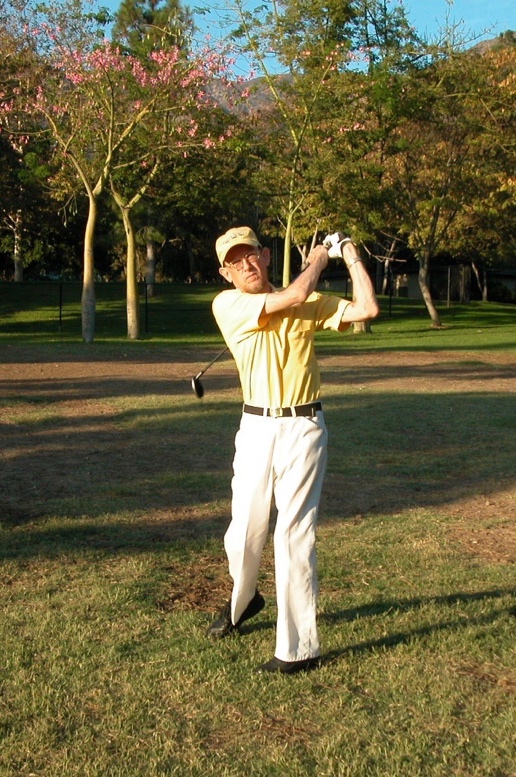 Unlike many sports, in golf you compete against your own temperament. Your opponent is the course. Many a golfer has ruined a potentially wonderful round with one bad hole. It is not a game for the faint of heart or those with little patience. On the surface, it appears elementary: the fewer the strokes, the better the score. But when you're standing on the tee of a par four, 300-yard fairway with a driver in your hands, can't see the green and the wind is blowing crosswise at 20 mph, your life at that moment becomes highly problematical. And hitting the ball long and straight is an art, possibly acquired only after years of playing many rounds and spending thousands on lessons and equipment.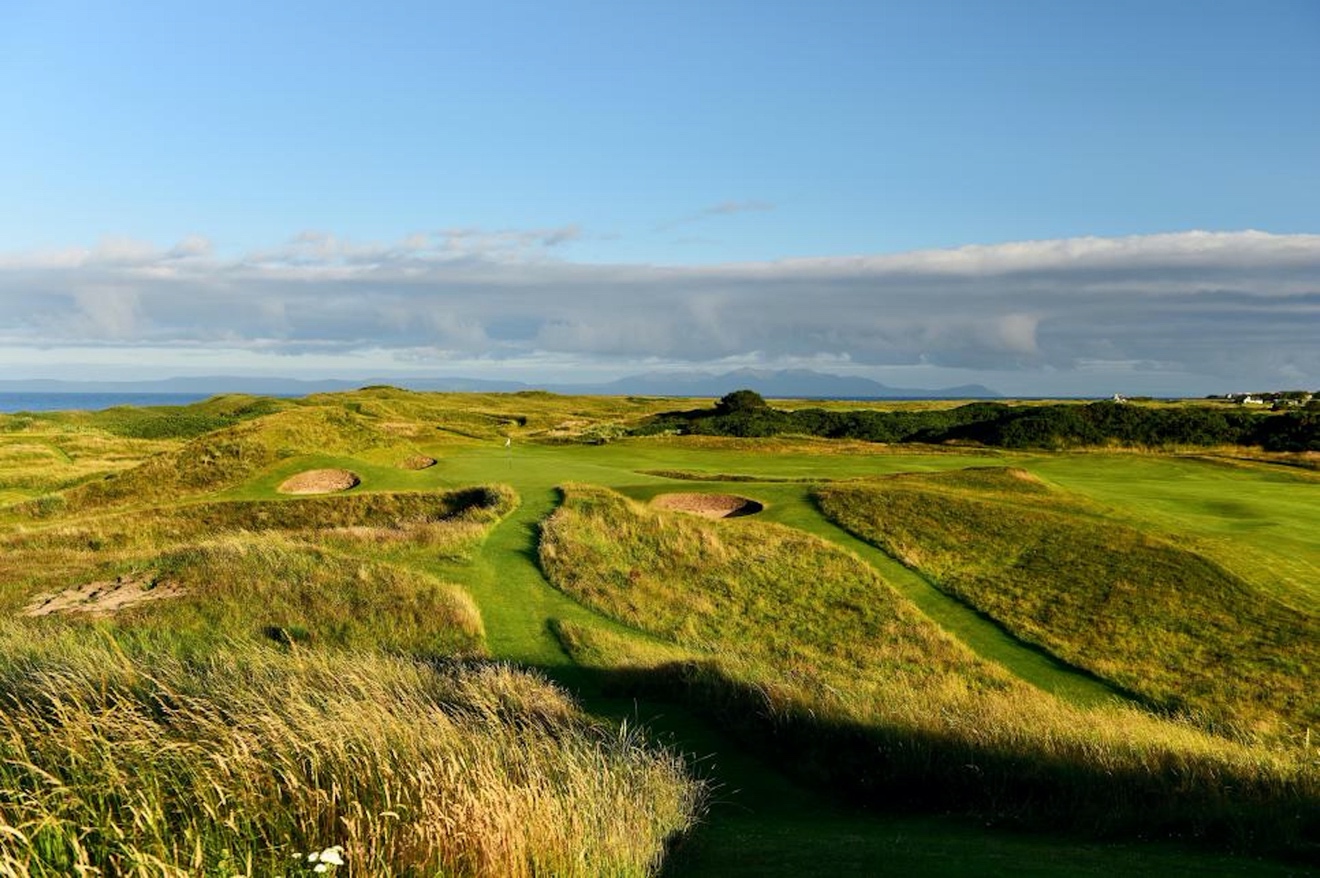 The 8th green at Royal Troon, looking west toward the Firth of Clyde and the mountains of the Isle of Arran.
On the other hand, golf offers a chance to spend a pleasant morning or afternoon outdoors in a mostly sylvan setting. On an earlier trip to Scotland, I had the pleasure of walking one of these beautiful, wild courses, Royal Troon, on the west coast near Prestwick, south of Glasgow. We stayed overnight at a hotel just off the 16th fairway. That night, we had dinner in the hotel's fine restaurant with a view of the fairway. A table near us was occupied by four athletic-looking, middle-aged golfers from Texas on a golf holiday. They had played Troon earlier in the day, and were universally commiserating over their high scores. Visibly upset, they hardly knew what they were eating. They had been humbled by golf in Scotland.
On this trip in May 2019, we stopped in St. Andrews for a few hours on our way to pick up Henning at the Aberdeen airport. He was flying from Copenhagen. I had never been to St. Andrews. Linda had years earlier walked the Old Course on a beautiful sunny afternoon. (More about that later). Since it was only a little out of our way, we arranged to meet friends there, who now lived in Edinburgh. Unfortunately it was raining sideways—wind coming off the North Sea at 20-30 mph — not an uncommon occurrence in Scotland. However, the British Golf Museum, whose present building is just a few years old, has a very nice cafeteria with a 180-degree view of the Old Course, where we had a chance to lunch and visit while the heavens poured forth. Afterward, umbrellas open, we walked around the beautiful and historic campus of St. Andrews University, which is adjacent to the Old Course. The students were celebrating end of term and completion of exams, in some cases, by dousing those who had received honors with distilled spirits outside in the rain—no doubt a tradition going back hundreds of years. Even the rain, it appeared like good fun.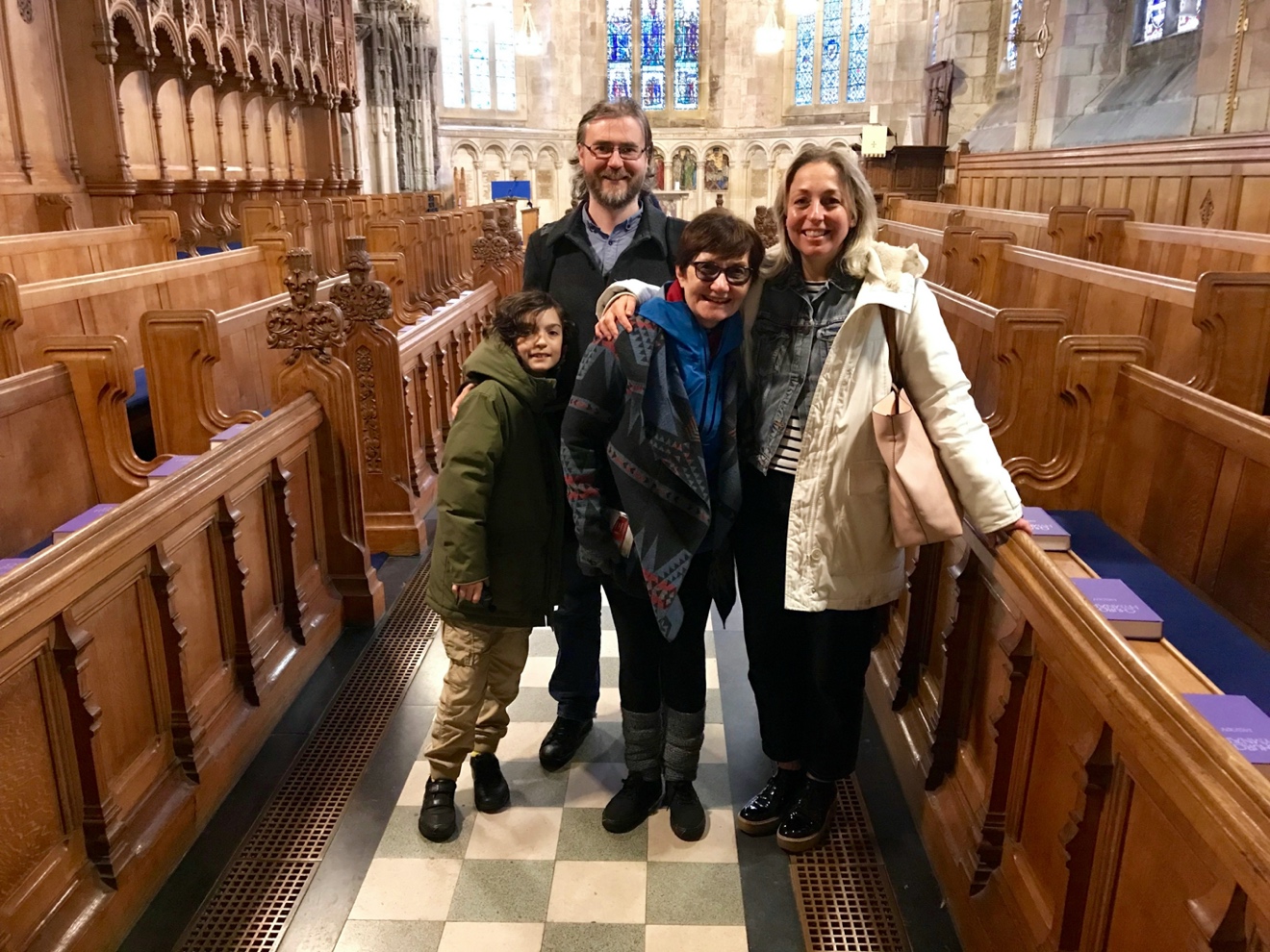 Linda and the Leith family in the chapel at St. Andrews University, Scotland's oldest and most prestigious institution of higher learning, rivaling Oxford and Cambridge.
In spite of the weather, The Old Course was a beautiful sight, and I had a momentary thought about taking up the game again. I never regretted playing it while I was on dialysis. I could only manage nine holes per day, but that in itself was an accomplishment of which I was proud. I had played three rounds in my twenties, but never continued due to time constraints. But in my sixties, I was retired and needed an activity which would get my mind off the routine of dialysis treatments and always feeling poorly. I continued to play after receiving a successful transplant, my game improving markedly. But I developed golf elbow and went back to swimming, my main physical activity most of my life.
Linda
I am not a golfer. I am what you might call a golf tourist. The appreciation probably began while watching golf tournaments on television with my dad, an avid sports fan. I was especially taken with courses with long histories and in unusual locations. When I walked the margins of the Old Course at St. Andrews and stood before the venerable Victorian pile that is the Royal and Ancient Clubhouse I had seen on TV so often, I was awestruck.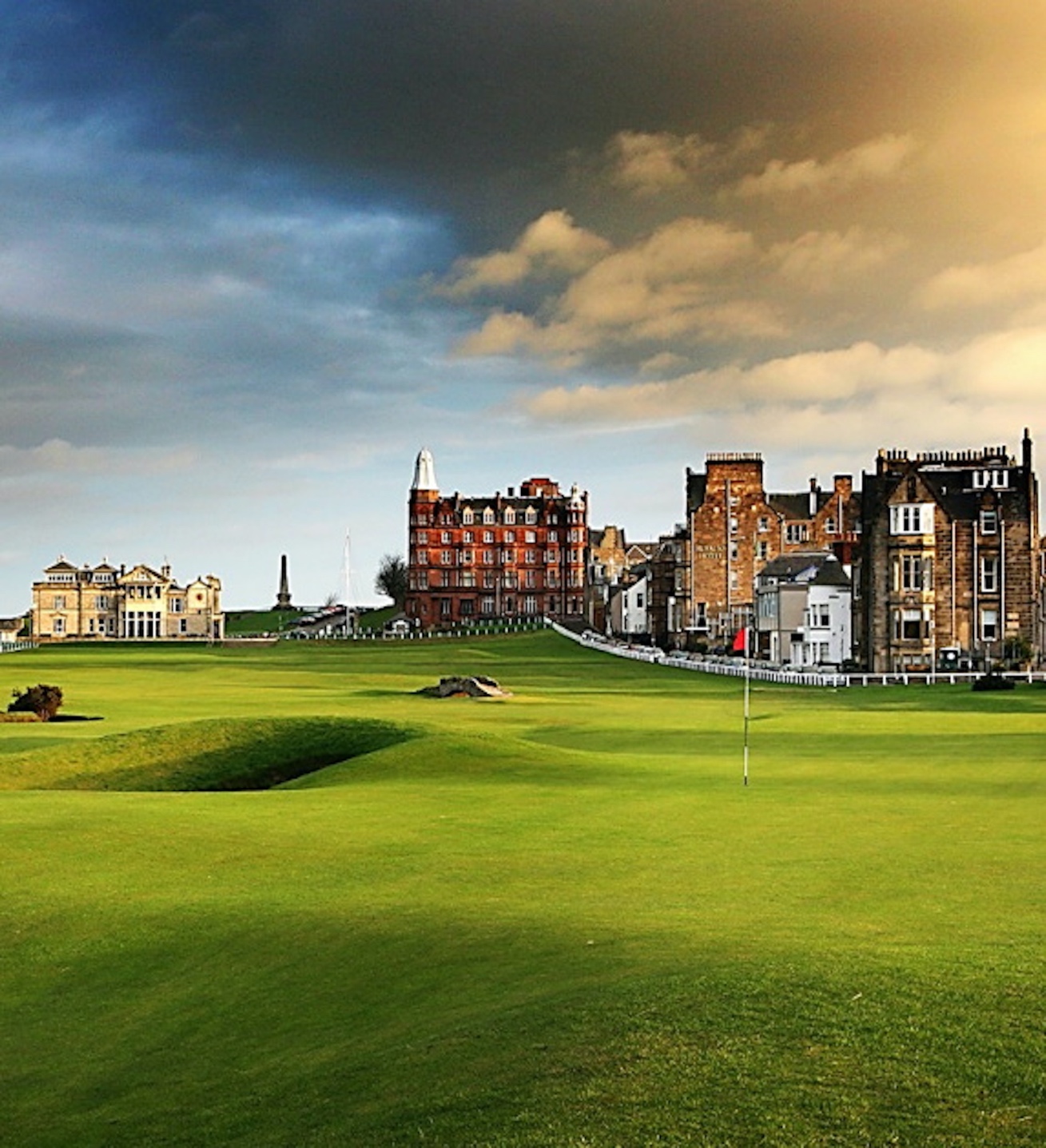 The famous Road Hole (17th green) on the Old Course at St. Andrews, with the Royal and Ancient in the background left.
Golf courses are an aesthetic as well as athletic experience. From our hotel on the edge of Royal Troon, I could see rough that looked like fields of waving grain. Could it be that the Scots just dropped putting greens into their natural landscape to create the game?
I was very much in favor of David taking up golf when he was on dialysis. Yes, I admire the game, but I knew he would find it absorbing. He had a talent for golf, had not pursued it earlier in life and would take his trademark focused and methodical approach to the challenge.
Golf and dialysis intertwined for us unexpectedly during a vacation in Hawaii, on the island of Kauai. During what promised to be a lovely stay, David was dialyzing in the island's small center, in fact a house near the hospital in Lihue, that looked like a modest local residence, not the usual concrete and glass structure. The staff was friendly and treated David like a celebrity from the mainland.
When not dialyzing or sightseeing with me he was golfing. He was playing Poipu Bay Golf Course, famous for its challenging winds off the Pacific and host to major tournaments, when an emergency occurred. He was enjoying his round with a couple from Milwaukee, when a rain squall drenched everything and everyone in sight. At the same moment, he was reacting to the blood thinner from dialysis and bleeding from sore hemorrhoids. He called me on his cell phone sounding totally miserable. I was a few miles away at the Lihue Airport waiting for friends from Oahu to arrive any minute.
In what I imagine to be a firm but helpful RN voice, I said, "You're at a first-class golf resort. They have a comfortable locker room, showers, fluffy towels. Buy yourself a change of clothes in the pro shop. You'll feel like a human being again by the time I get there."
He did. We had a great time with our friends, though we did stop at a drug store on the way to our condo to buy one of those pillows for people with rear end problems.
David had hemorrhoid surgery when we got home to L.A. While he was in the hospital, he met a simpatico nephrologist who played an important role in his pre- and post- transplant kidney journey. David still has the Tommy Bahama silk shirt he bought at the Poipu Bay pro shop and wears it proudly.