Exercise in Kidney Disease: Is the U.S. Slow in Acknowledging Its Value?
This blog post was made by

September 16, 2021.

on
MEI, Life Options, & Exercise
The Medical Education Institute (MEI) founded the Life Options Rehabilitation Program in 1993, with funding from Amgen. The goal of this unique program was to help people with chronic kidney disease to live long and live well. MEI recruited members of the renal community for the Life Options Rehabilitation Advisory Council (LORAC), and included dialysis and transplant patients, nurses, dietitians, social workers, nephrologists, researchers, and an exercise physiologist.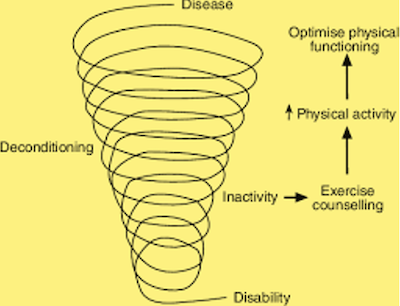 The exercise physiologist was Patricia Painter, PhD, who had conducted research and published more than 50 articles on exercise in people on dialysis and with transplants. She recognized that those with kidney disease experience a "cycle of deconditioning (see image)."1 As anyone becomes less active, they are less able to do things they want and need to do. When I worked in dialysis, I observed patients who walked into the clinic and later required a cane, then a walker, and finally a wheelchair. Less active patients are more likely to be depressed.2 Trish believed that this cycle could be reversed if patients increased their activity level, and that nephrologists and dialysis and transplant staff needed education on how to prescribe and encourage exercise to build strength, endurance and flexibility.
The LORAC began to develop and publish evidence-based materials to promote renal rehabilitation, including materials to help nephrologists understand the value of exercise and how to prescribe safe exercises, and to help patients do them.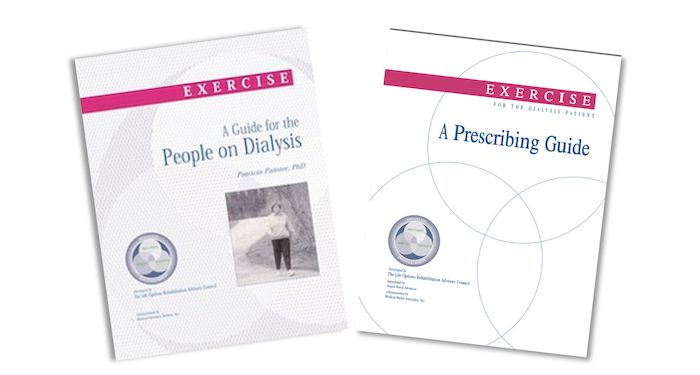 Exercise in Dialysis
The KDOQI Clinical Practices Guidelines on Cardiovascular Disease in Dialysis Patients stated in Guideline 14: "All dialysis patients should be counseled and regularly encouraged by nephrology and dialysis staff to increase their level of physical activity." 3 Among nephrologists and dialysis personnel, some early adopters recognized the problem and began to encourage patients to exercise to counter debilitation and depression and foster independence. Some started in-center exercise programs. Some dialysis staff became exercise "champions," using bikes, peddlers, weights, and resistance bands during dialysis.4,5 Others formed walking groups like the Nephro-Gliders.6
Research Has Identified Multiple Benefits of Exercise in Dialysis
When searching PubMed for studies using key words "dialysis," "exercise," and "benefits," published in the last 5 years, I found 102 results. When looking for clinical trials, some of which were randomized controlled clinical trials in that same period, I found these—NONE of which were done in the U.S.: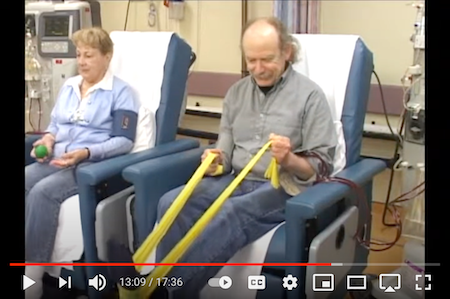 In addition to the clinical trials, a UK observational study of 757 patients with non-dialysis CKD, HD, PD, or transplant offered 12-weeks of supervised exercise and education twice weekly, and home exercise once weekly. Those who did not complete the intervention (57%) had a 1.6 times higher risk of a combined event (death, stroke, heart attack or hospital stay for heart failure) vs. completers. Those who were faster at a shuttle walk test had a 40% reduced risk of a combined event. Education in the study focused on healthy eating, medications, living with a chronic disease, exercise self-efficacy, and staying motivated to exercise.17
Motivators and Barriers to Exercise
The 24-item Dialysis-Patient Perceived Exercise Benefits and Barriers Scale (DPEBBS) has been found to be valid and reliable in testing patients' perceptions about exercise.18 Australian researchers used this survey with HD patients and found that at least half agreed or strongly agreed with statements about exercise benefits, such as: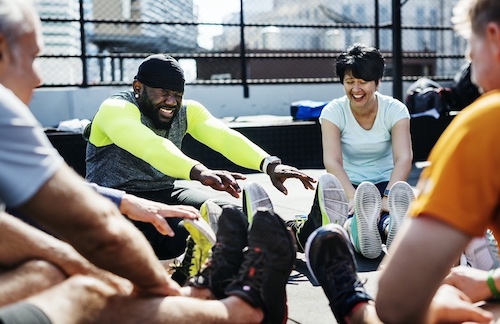 Postponing a decline in body function

Preventing muscle wasting

Improving mood

Helping to prevent bone disease

Improving quality of life

Improving appetite

Helping them lead an optimistic and active life

Keeping weight stable

Enhancing self-care abilities
The barrier more than 62% agreed or strongly agreed with was that frequent tiredness limited exercise. More than 40% said leg muscle weakness and pain limited exercise, while a fear of falling was expressed by almost 32%. The most common statements that 50% or more surveyed disagreed or strongly disagreed with were that exercise is not suitable for someone with kidney disease, is adverse to a dialysis patient's health, and that outdoor exercise burdens family who must go along. Few reported that they did not know the benefits of exercise or how to exercise, or expressed concerns about thirst or their vascular accesses. With open-ended questions, researchers found that patients who saw others exercising or who participated in an exercise program felt more positive about exercise.19
Australian researchers then studied PD patients using the same survey, and the respondents reported similar benefits and burdens as with those on HD. They saw exercise as preventing muscle wasting and improving physical functioning and general well-being. Similar to HD patients, PD patients' perceived barriers to exercise included feeling tired and having pain as well as fearing of falling and lack of education about exercise. Few PD patients worried about exercise affecting their catheter, and less than a quarter of those surveyed said fluid in their abdomen limited exercise.20 Here's the survey they used:
Dialysis Patient-perceived Exercise Benefits and Barriers Scale (BPEBBS)
| Questions | Strongly Agree | Agree | Neutral | Disagree | Strongly Disagree |
| --- | --- | --- | --- | --- | --- |
| 1 - Exercise helps reduce my total medical costs. | | | | | |
| 2 - Exercise helps reduce my body pain. | | | | | |
| 3 - Exercise can postpone a decline in body function. | | | | | |
| 4 - Exercise prevents muscular wasting. | | | | | |
| 5 - Frequent tiredness impedes my exercise participation. | | | | | |
| 6 - Exercise improves my mood. | | | | | |
| 7 - Exercise improves bone disease. | | | | | |
| 8 - Exercise is adverse to health of dialysis patients. | | | | | |
| 9 - I worry about a fall during exercise. | | | | | |
| 10 - Exercise improves my appetite. | | | | | |
| 11 - Frequent lower-extremity muscle fatigue impedes my exercise participation. | | | | | |
| 12 - I lack an understanding of the benefits of exercise. | | | | | |
| 13 - Exercise helps me to lead an optimistic and active life. | | | | | |
| 14 - Exercise is not suitable for me since I have other medical conditions. | | | | | |
| 15 - Body pain impedes my exercise participation. | | | | | |
| 16 - Exercise improves my quality of life. | | | | | |
| 17 - I lack an understanding of the knowledge on how to carry out exercise. | | | | | |
| 18 - I worry that exercise may make me feel thirsty. | | | | | |
| 19 - Exercise is not suitable for me since I have kidney disease. | | | | | |
| 20 - Exercise can keep my body weight at a steady level. | | | | | |
| 21 - I worry that exercise may affect my arteriovenous fistula | | | | | |
| 22 - Exercise helps enhance my self-care abilities. | | | | | |
| 23 - Exercise will keep me free from having other diseases (e.g., cold). | | | | | |
| 24 - Outdoor exercise adds burden to my family (since I need their company while I am out). | | | | | |
What if patients were routinely asked to complete this survey and staff and patients received educational materials about the benefits of exercise and patients were encouraged to exercise? Would patients felt better and live longer? If you want to test that hypothesis, you don't have to reinvent the wheel. A number of resources are available to help you do that including: