Reflections on Two Months of Home HD
This blog post was made by

October 14, 2021.

on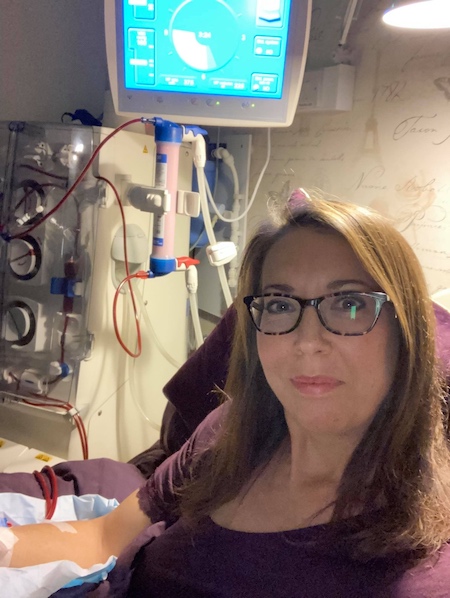 I have now been dialysing at home for around 2 months and am slowly getting used to things, getting quicker at setting everything up and connecting, and learning something new every time. It's great to "find my own way," and feel like I am in control of my own care. It's made such a difference. However, I have also realised that it's a pretty big responsibility, as no one is there reminding me to administer my Aranesp or iron on the right dates, and I need to be on "on the ball" with ordering supplies and medications, putting the medical bin out to be collected and having everything ready next to me when I connect…once I'm on and dialysing solo, I can't pop downstairs to pick something up!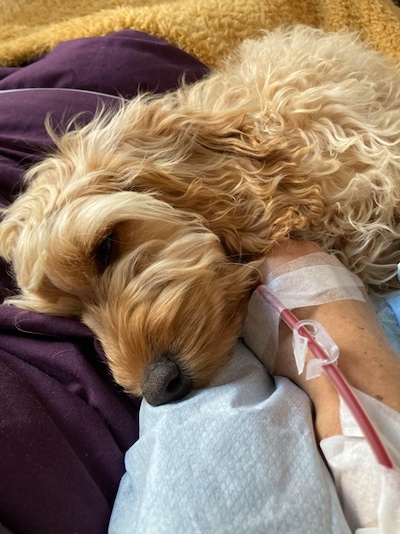 Wilbur, the 5-month-old cockapoo, is thoroughly enjoying being my dialysis buddy. He is very well behaved while I'm on dialysis; I will give him a chewy treat and he'll usually sleep throughout. I have to keep him away while I'm connecting and disconnecting, but as soon as I'm on, he can be a bit of a cheeky monkey and try to steal items off my trolley. I'll look away for a second and suddenly I'll see him running out of the door and down the stairs with a mouthful of gauze!
One of the greatest benefits has been the flexibility. As I have two school-age children and a new puppy, being able to plan treatment around them as opposed to plan their lives around trips to the hospital has made a huge difference to our lives. I can drop the children at school, take Wilbur for a walk and then dialyse, being off the machine in time to collect the children from school. Perfect! Ultimately I am hoping to be able to dialyse nocturnally as I am really keen to get back to work. On occasion, I have connected late in the evening with the intention of sleeping through treatment, but unfortunately, I find the noise of the machine really disturbs my sleep. I believe the Fresenuis machine I use is very different to the machine that most patients in the US are used to, as the equipment entails the dialysis machine, a water softener and a reverse osmosis machine, all of which make quite a lot of noise! Another patient has recommended a noise-absorbing mat for under the equipment, and this is something I'm going to try.
One thing I have learnt is that nothing related to the machine and equipment has a logical name! The one that stands out is the "flap" cover that covers the couplings that attach to the dialyser. One might think it would be called something logical like "coupling cover," so that when the machine flashes an error message it is easy to know what the problem relates to. But no, it's called the "shunt interlock." So when the machine alarmed recently and stopped working because the "shunt interlock" was open it took a lot of time to figure out what the problem was! I think Fresenius could perhaps give elements of the machine more user-friendly names!
I made a wonderful memory with my dad (and kidney donor in 2010) just last Saturday. We had booked a charity skydive in aid of Kidney Research UK back in 2019, and it had been postponed due to Covid a couple of times. On Saturday, on a bright, crisp Autumnal morning, we finally took the leap! It was an absolutely incredible experience. I was nervous in the plane on the way up, but the instructors and tandem divers were so relaxed it was easy in the end. They don't give you chance to have second thoughts! The 30 second freefall was exhilarating and the 5 minute fall under the canopy offered absolutely stunning views of the countryside. I'd recommend it to everyone! Our current total for Kidney Research UK is £1,350—we are so proud and so grateful to all of our supporters. We hope our fundraising makes a real difference to kidney patients and their families.