Dialysis RV Tour - Part 1
This blog post was made by

October 21, 2021.

on
I started a dialysis journey when I reconnected with Jimmie in 2009. We grew up together and even dated for a short time in high school. He was already on in-center dialysis, and after a whirlwind romance, we were married. He asked me if I knew what I was getting myself into, and I said, "Of course." After all, I had worked as a CNA, Med Aide, and Restorative Aide. Truth be told, I didn't have a clue about dialysis.
Shortly after we were married, Jimmie was approached by the home dialysis nurse about doing home hemodialysis, and he did not want anything to do with it. I am a bit of a pushy wife, and said, "Just try the Experience the Difference. If you don't like it, you can go back to what you're doing now." We never looked back after that. I have been a patient advocate for NxStage for the last 3 ½ years. I am very passionate about home dialysis and very involved with many aspects of the kidney community, and learning new things every day.
We always wanted to travel full time, and feel like this dream is becoming a reality for us. We have 5 grown children and 13 grandkids. We love to go to motorcycle rallies, fish, camp, go to concerts, and spend time with our grandkids. This is Part 1 of the story of our 2-week RV tour.
Day 1: The Adventures Begin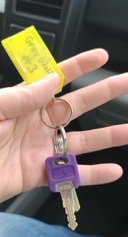 My husband, Jimmie, and I have been preparing for this for months, getting a travel order in place for Jimmie's NxStage home HD supplies, making reservations, packing, checking and rechecking to make sure we have everything we need, knowing we will be living in a camper for the next 2 weeks. Our excitement has been nearly uncontrollable for the new experience, meeting new people, and connecting with old friends and new friends!
We took our granddaughter Summer to school and headed out to pick up the camper from TriState RV Rentals. They gave us a walk through and let us know how everything works. I will say the thought of pulling a 30 foot travel trailer had us both a little nervous, but we knew once we did it, it would be fine. So we are all hooked up and ready to head down the road.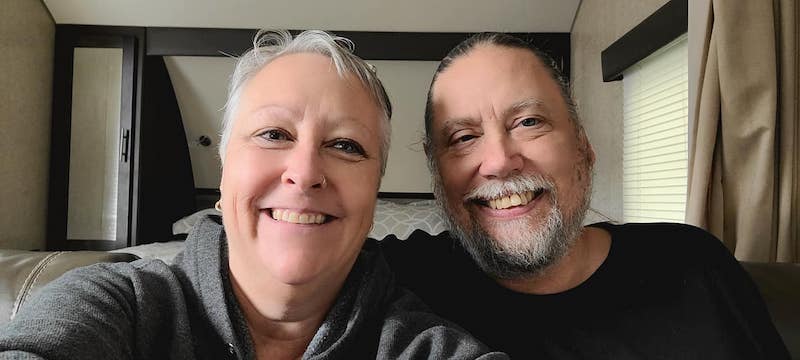 Wait! What is that smell? Why is this trailer so hard to pull? Turns out that the trailer brake module in our truck was faulty. So, they gave us a four-prong plug to get us to the service center. A few hours later we are heading back to the house to load up. It has been a day, and we still need to do dialysis before we can go, as we had one last treatment left of dialysate in the Pureflow. We really wanted to be on the road but God had other plans. So, we ordered dinner, and got started doing treatment and relaxed for the night.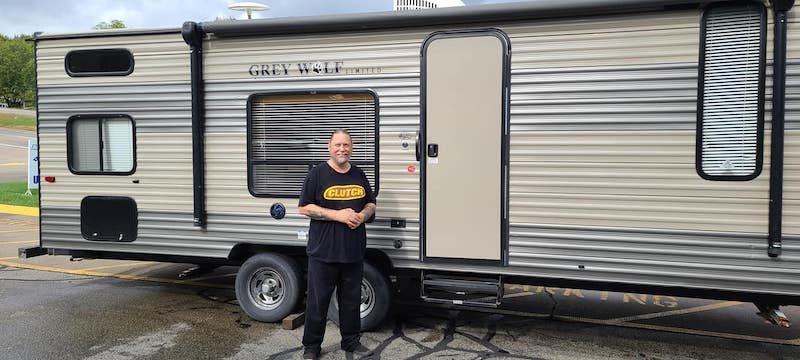 As anyone that does home dialysis knows, it is not always perfect, and sometimes there are road bumps along the way when we travel. So, preparation is key, not just with the supplies and packing but mentally as well. Thank you #NxStage for this opportunity!
Day 2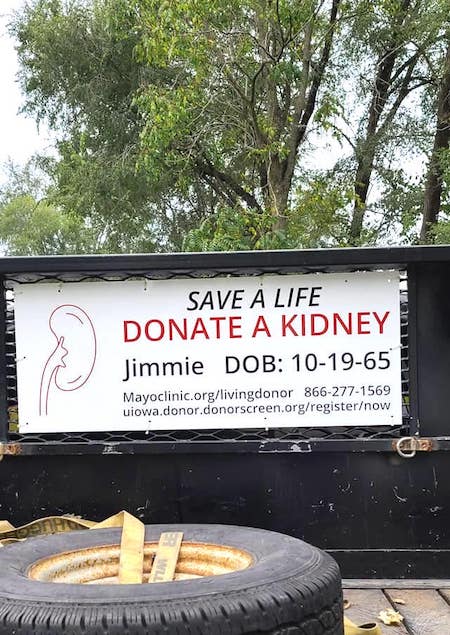 We made it to our first destination and we were so surprised to see our friend had a sign made for the back of his truck to help Jimmie. We got unpacked, settled, and were fed an amazing dinner. We relaxed by the campfire, laughing, and sharing stories with great friends. Tomorrow is the day to get all the details taken care of before we head to our first dialysis center Monday morning. (What for?)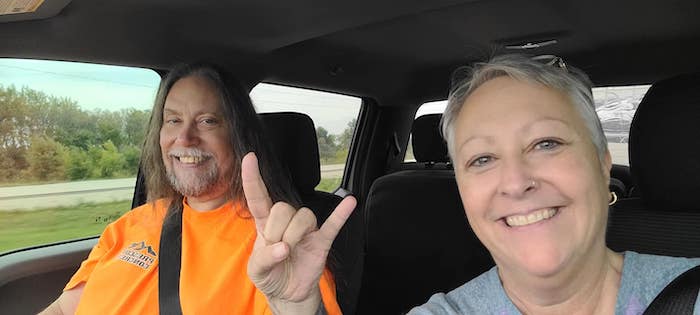 Day 3
Taking a lemon and turning it into lemonade!

https://www.facebook.com/dawn.s.bates/videos/905644063668749
NOTE: You have to be a member of the Home Dialysis Central Facebook Discussion Group to see the video. But, here's what it says: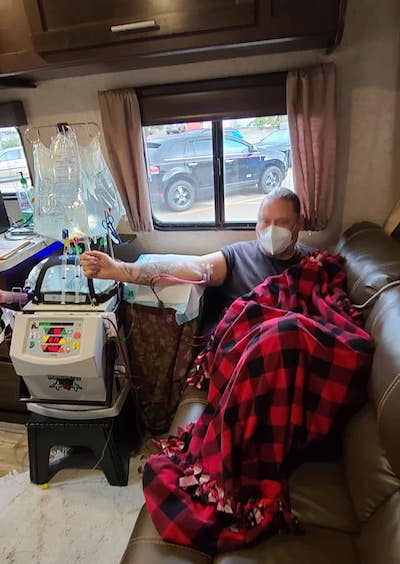 "Getting told that your kidneys have failed and you need dialysis is devastating. However, it is not a death sentence. One thing that we've learned along the way is that we can live our life on our terms. And, I say 'our,' because I'm a care partner for my husband—who does home hemodialysis. And, right now, we're doing it 7 days a week, in an RV, traveling. And, enjoying every minute of it!"
Day 4
While traveling, we have been able to reconnect with old friends and finally meet new friends that we have only been able to see virtually! We spent time laughing, making memories, and even shedding a few happy tears. We also brought mementos from friends we have made during this whole dialysis journey over the years.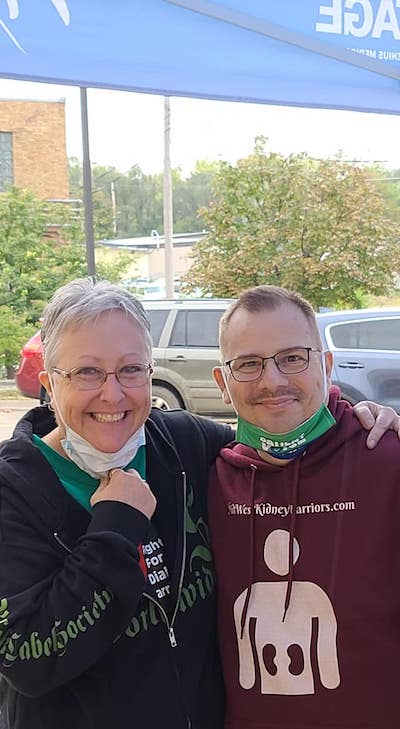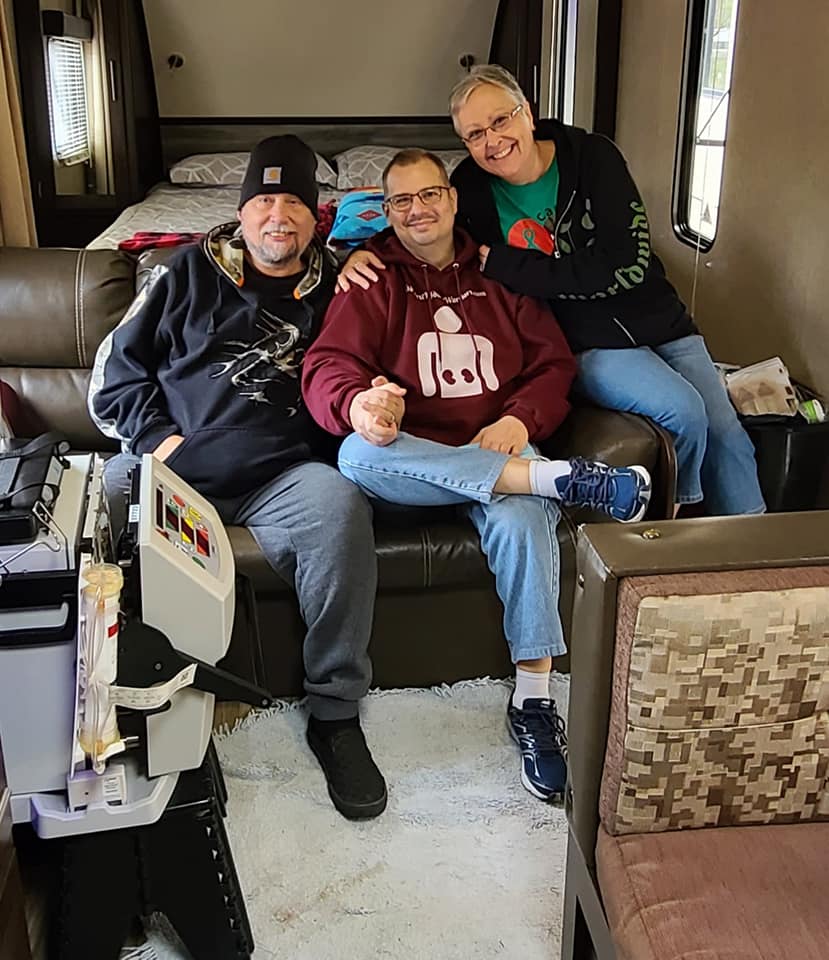 Day 5
Bumps in the road! We got this, thanks to being well-trained and all the support we have from nurses, tech support, and great friends around us.
https://www.facebook.com/1551486309/videos/pcb.10226481353010717/880360905927776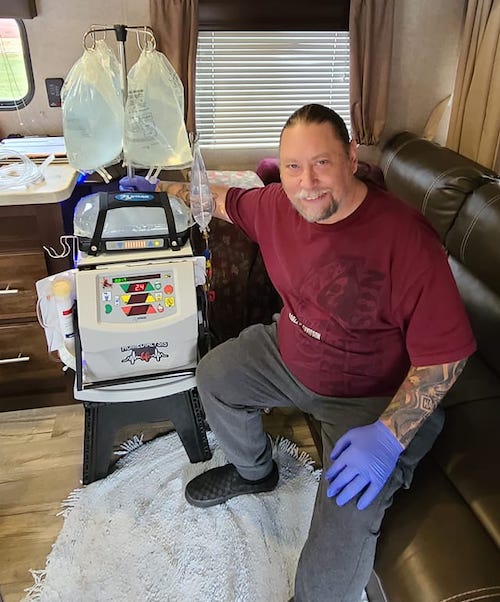 "One thing that we've learned is that you have to be prepared when we are traveling, and there is always going to be bumps in the road. And, thank God for the training that we've had, that we've been able to handle every situation without panic, without any issues, along with the support of really good friends around us. So, thank you!"
DAY 6
What are the small adjustments when traveling while doing HHD? https://www.facebook.com/1551486309/videos/pcb.10226490448198091/3006685839586953
"What I say about doing dialysis when you're traveling is that it's really no different than doing it at home. The stand's a little shorter, but we adapt, and we make things work."
https://www.facebook.com/1551486309/videos/pcb.10226490448198091/173783468250288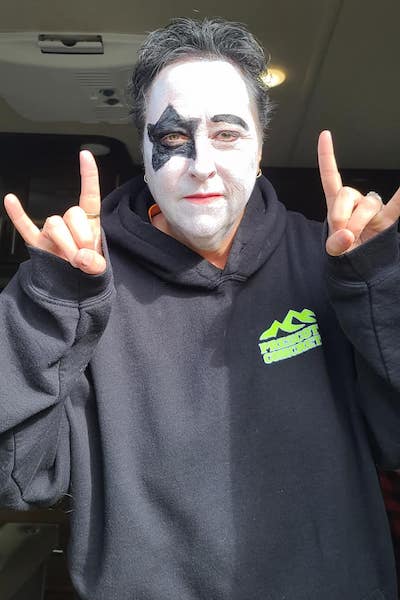 "And, of course, when we're traveling, we hang bags instead of using the PureFlow, because we're not in one place for an extended period of time to have our water tested. So, it's just more convenient to have the bags. And, when you're also traveling, it's nice to have your bags—your supplies, actually—delivered to your locations that you'll be going to, so you don't have to haul quite as much, which is also a plus."
Day 7
Today is a fun day of Halloween festivities. Living in the camper has been a great experience so far, we have learned so much this week. We have met so many amazing people on this journey and feel extremely blessed. We are so excited to see what next week will bring! Tomorrow, we are heading to Missouri.