CathPal and Stonewell Industries: By a PD Patient for PD Patients
This blog post was made by

February 3, 2022.

on
I wrote this post five years after a point in my life when some of the happiest moments turned into the worst moments in an instant. Five years ago, I was working as a Manager of Pricing and Project Management, when I became pregnant with my first child. Like all expecting parents, my husband and I were ecstatic.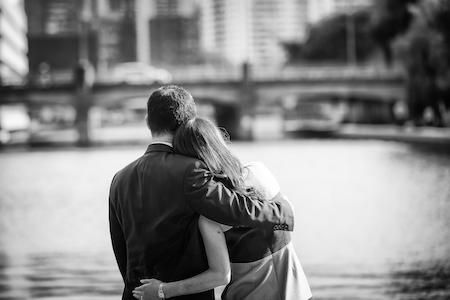 Four months into the pregnancy, I felt a pit in my stomach one day and went in to see the doctor. At the appointment, the doctors noticed that my blood pressure was extremely high. They tried various ways to lower my blood pressure, but nothing worked, and they ultimately diagnosed me with Lupus. The doctors told me that my kidneys were functioning at a mere 12%. At the same time, they told me that I had to abort the pregnancy or my life would be in danger. The next morning, I was rushed to the OR, the procedure was done, and it was the worst day of my life.
Saddened with grief, life as I knew it was turned upside down. The next few months were tough. I needed a new kidney, and several of my family members offered to donate. One by one they got tested, however, none of them were a match. Five months passed, and I was forced to start dialysis. I chose to do Peritoneal Dialysis (PD) as it would give me the flexibility to perform dialysis in the comfort of my own home. When I started PD, I did five exchanges a day, which meant that I needed access to my catheter at least five times a day.
After a week of starting PD, I experienced painful rashes from the use of tape to secure my PD catheter, as I was constantly ripping off and re-taping the catheter at the same spot on my stomach. To ease the pain, I started exploring alternative ways to secure my catheter instead of using tape. I searched online for other methods to secure my catheter, but the only thing I found was a belt. I didn't like the idea of a belt because it would be uncomfortable to wear. Furthermore, I didn't think that it would be practical to wear the belt in the shower, as the cloth material would get wet and take time to dry.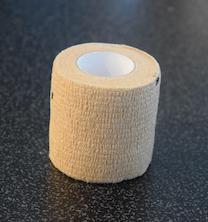 Then one day, I had an appointment to see my nephrologist to get blood work done. Afterward, the nurse wrapped my arm with Coban over the area where the needle was used to draw blood instead of using a BandAid. The nurse instructed me to keep the Coban wrap on for at least 15 minutes before taking it off. Coban is a stretchy material that sticks to itself. When I got home, I unwrapped my arm and removed the Coban. I remember thinking how nice it was that I didn't have to tear a Bandaid® off of my arm. That's when I thought of the idea of using the Coban material to secure my catheter. I added an adhesive to the Coban, then used it to secure the transfer set of my PD catheter. The Coban neatly secured my catheter, without sticking to it so it was much easier to remove and left my catheter cleaner because there was no sticky glue residue left behind. The Coban also allowed me to easily access my catheter multiple times a day without irritating my skin by ripping the adhesive off. It was a great alternative to tape, and saved my skin from the pain I was previously experiencing from tape. I could also wear it in the shower, then just replace it after it got wet.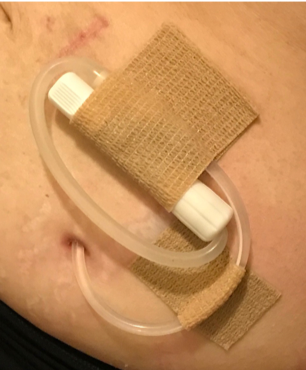 At the next PD appointment with my nephrologist, I showed the PD nurses and my nephrologist my new way to secure the PD catheter, and they all loved the idea. I spent the next few months refining the product, cutting the Coban to various lengths to determine the best fit for securing my catheter. At the same time, I tried adhesives of varying strengths to see what worked best for my skin. Once I had the perfect combination, I researched patent lawyers and made an appointment to meet with a patent attorney.
My first meeting with the patent attorney was nerve racking, as I didn't know what to expect. I wasn't sure if the attorney would see value in my product, and I wasn't even sure if the invention was patentable. Luckily the attorney I met with was really down to earth and easy to talk to. I showed him samples of my invention, demonstrated how it worked, and explained how it saved my skin from the harsh impact of using tape while on PD. He understood the product immediately, and discussed with me the steps needed to obtain a patent.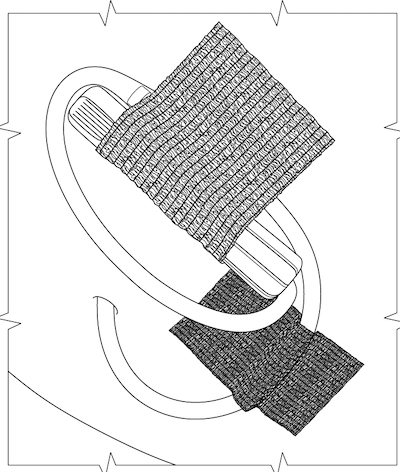 The first step was to do a patent search for the product to make sure that there wasn't a patent already on the same or similar product. Once we discovered that there wasn't another catheter securement wrap that was similar to mine, I had to get engineering design drawings for my product. I also started working on the description of the product. The lawyer advised me to write the description as broadly as possible so that it would be hard to copy. After we finalized the design drawings and the description, we filed for design and utility patents. Then, we waited.
Two years passed, then one early May morning, I got an email from the U.S. Patent and Trademark Office, as well as my attorney. My design patent was approved and issued. A few days later, I received the patent in the mail. It was an unbelievable feeling. After all the hard work and the 2 year wait, I finally got the patent. I really believed that this invention was the silver lining to my illness.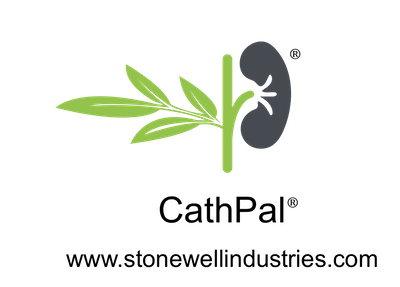 I then set out to build a website in order to share my product with other PD patients. I named the product CathPal, and my hope is that it will help ease the pain of using tape for other PD patients, just as it had for me. Building the website was a lot of trial and error as I had no previous experience building websites. The project took up all of my time, which was okay, since I had lost my corporate job after starting dialysis. It kept my mind off of my illness, and gave me something to look forward to every day. Helping others on PD gave me drive and I felt a renewed sense of hope. I stayed up late nights for a few months, working hard to launch my new company, selling CathPal. Four months after getting the patent, I launched my company Stonewell Industries, and the website.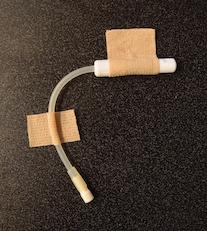 The Stonewell Industries website has been active for more than 3 years now. Most of my customers found our website through website searches and social media, and I have shipped CathPal all over the country. I have also had interest from Canada, the United Kingdom, New Zealand, and Australia, but we currently do not ship outside the United States. Having sales gave me validation that there is demand for the product, and there are other PD patients who experienced the same skin pain that I used to have, and are searching for solutions just as I was. Currently, I work hard every day to keep up with my new business and constantly improve the product. I rely mostly on word of mouth and online searches to reach PD patients. Growth has been slow, but it's good for me because keeping myself healthy and dealing with this illness is still my priority.
For the longest time, I couldn't talk about how my kidneys failed without breaking down. Outside of my immediate family and a couple of my closest friends, I would never talk about my illness. Then about 2 years ago, I finally gathered the courage to speak openly about my experience, how I became ill, and my need for a kidney transplant. I posted on social media, sharing details about my pregnancy and how it destroyed my kidneys, prompted me to start dialysis, and left me needing a kidney transplant. I received an outpour of love and support from my friends and family, near and far. Most surprisingly, a friend who saw the post offered to donate a kidney to me. It was a miracle! Of course, I didn't expect this outcome and words could not describe how grateful I felt for this person and her compassion for my situation.
Months later, my friend that offered to donate her kidney to me got tested and we found out that she was a match. I scheduled an appointment to meet with the transplant team, but they said I needed to gain 15 pounds to be at a safe Body Mass Index to undergo a kidney transplant. I tried everything to try gaining weight while still on PD, but it was difficult and I didn't gain enough weight, since I constantly felt full because of the PD fluid in my stomach. So after almost a year of trying to gain weight on PD, I decided to switch to hemodialysis. I hoped that without the fluid in my stomach it would be easier to eat more and gain weight. However, I discovered that being on hemodialysis didn't make it much easier to gain weight because it depletes protein in the body at every dialysis session. Furthermore, accurately determining my dry weight was difficult so sometimes the nurses would take off more fluid than necessary at my dialysis sessions. Being on hemodialysis had its own challenges for gaining weight.
Another year passed, and my doctors placed a feeding tube in my stomach. To supplement my diet, I do tube feedings of Nepro (a liquid dietary supplement for renal patients) every day to get the nutrients and protein needed to gain weight. Finally, my weight is starting to go up and I am feeling much more energetic. At the same time, I started going to physical therapy two days a week to keep building muscle mass and physical strength. The illness and medications have made me very weak over the last 5 years. I don't have the stamina to walk long distances and have been getting around in a wheelchair, pushed by either my husband or my mom, since being diagnosed with Lupus.
I am extremely grateful for my family and their love and support through this tough period of my life, especially my husband and my mom, who have been and still are always by my side through everything: from the numerous doctors appointments, to the extended hospital stays, and many trips to the emergency room. They have been a solid support system and unwavering cheerleaders at every step. Without them, I am not sure that I would have made it through this tough period, let alone launched a business. My priority now is to gain the last few pounds to be ready for transplant. Once I get transplanted, I will turn my focus back to Stonewell Industries and work harder to reach and help more PD patients.