View from the Chair: Dialyzors' Experiences of Options Education
This blog post was made by

June 23, 2022.

on
In 2007, the non-profit Medical Education Institute (MEI) successfully advocated with Medicare (CMS) to give patients the right in the 2008 Conditions for Coverage of Dialysis Facilities to be told about all of their treatment options—and where to get them. This was a substantial upgrade from the previous Conditions, from 1980, which allowed clinics to only tell people about the options they offered.
Is comprehensive options education—and referral—reliably happening 14 years later? Sometimes seems to be the answer, when this question was asked in one of the dialysis-specific Facebook groups: Has your nephrologist or anyone at your clinic adequately educated you on all your options, home dialysis, nocturnal, in center or transplant? Were these options casually mentioned or seriously discussed?
The responses of 33 people were all over the spectrum. Some reported having had no education from their nephrologist or care team about treatment options:
"No."

"Never."

"No not really and I've been on dialysis for almost 10 years they push transplant but I'm not a fan and I have personal reasons why. Every chance they got they brought up are you on the transplant list? Why don't you want to be on the transplant list? A few weeks later, Are you on the transplant list? Why don't you wanna be on the transplant list? Lol, that was the basis of the conversation. Now a nurse did come in once from a hospital and explained the process but that was one time in almost 10 years. I take that as a casual mention without substance.

We had educational classes but not about the types of dialysis. I went to hospital library and studied and found that nocturnal in center was best for us.

No, not at all. They asked me twice in 4 months if I was interested. But not discussed beyond that. I think I am interested in home Hemo, but know nothing about it.
Comment: How many people are we missing with PD or home HD because they are "interested," but "know nothing about it"? We can fix this, people! There are tons of free resources to help, right on this website!
I learned everything watching family members travel this road. My dad and two uncles were on dialysis. Four family members received kidneys without dialysis. My cousin and I had done dialysis; he got transplant five years ago. I'm still waiting. One cousin was called home while at clinic. Two more are sick with disease; taking pill approved by FDA. My nephew just found he had PKD.
Comment: "Learned everything"? This person learned a lot from his or her own loved ones. But, is s/he fully aware of ALL of the options—or just the ones those family members chose? People do not necessarily know where they have gaps in their education.
I was in the hosp when diagnosed with kidney failure. The Nephrologist did not discuss any options and just referred me to PD. Cath placement was done and I really didn't understand what was happening or why. Do I regret this? I only wish things were explained more. But not knowing also meant I wasn't scared of what was happening because I didn't know.
Comment: PD may well be a better default treatment option than standard in-center HD for those who are physically able to do it. But, patients deserve to make an educated, values-based choice—not receive a default, however well-meaning. My Life, My Dialysis Choice, MEI's free, evidence-based, values-centered decision aid helps them do just that.
No one talked to me about anything. I had to ask (I wasn't very informed) and got answers mainly off the web.
Comment: Were those web-based answers accurate? I hope so…
Casually discussed. I did my own research and started Home Hemo Dialysis in November.
Happily, others did report having more thorough education:
Yes.

Everything about all forms of dialysis was discussed with me through my (LDO) Clinic.

My center seriously discussed and explained my options.

Learned everything I could before I started dialysis, through nephrologist, class, nurses. Drove them nuts with questions. After starting dialysis, had even more questions.

Every modality was discussed with my nephrologist before I was on dialysis, he was really interested in Nxstage.

My Dad's nephrologist talked to him about the various options before he ever started dialysis. When the topic of transplant came up, my Dad is the one who immediately said he was not interested due to his age (he was in his 80s.)

They did where I went. My first week my doctor talked to me about transplant. Later on he mentioned home hemodialysis. 15 months after starting dialysis, I was doing home hemodialysis. It was the best thing. Then I got my transplant, all within 5 years.

My treating hospital conducts seminars for patients and their carers on a regular basis. All patients are sent an invitation regularly. The seminars are conducted by a healthcare professionals and patients mentors concluding with a question and answer session. There is also ongoing patient education with those looking after us.

Oh yes. My clinic is wonderful. I had to start dialsys after 6 months in rejection so I had plenty of time to discuss my options. They learned via my small veins that's grafts and fistula's might not work and that I was perfect for pd. i still worked at that point.

About 6 months before dialysis I had a meeting to be presented with the option of hemodialysis or peritoneal dialysis. It was a lengthy discussion with lots of info, but in all honesty all I heard was "needle" and "no needle." No needle please! 12 years of PD this year.

I had to start on an emergency basis. I had been resistant to the topic, so in the beginning I got a lot of my information from my dialysis nurses and techs. So, I've never really gone to my doctor with questions. I usually go to my favorite tech with my questions. She explains everything in great detail and provides information about things I hadn't thought of.

Great question. Blessed that his nephrologist in Virginia set down with computer and slide show showing options and discussed pros and cons of each. Also, the nurses did an educational program where persons using different modalities discussed their own personal experiences. There were representatives of transplant centers in area present as well as one nephrologist to field questions. Could not have asked for better introduction.

My two clinics both made sure we were educated about PD, Home HD, nocturnal HD, as well as transplant via formal class, educator visits and nursing staff. Now in another state at (LDO), Educator and Social Worker periodically re-assess our "thoughts" on all of these. I have been listed for transplant at two hospitals. Since moving out of that area, I am in the process of evaluating at a new hospital.

All were presented. My clinic initially pushed in home pretty hard, but I don't want that so they laid off.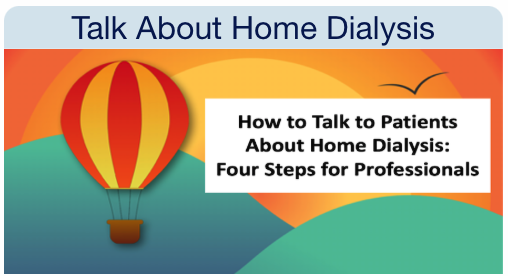 Comment: We do not recommend a "modality-first" approach that pushes a certain option. To learn what we do suggest, check out our newest professional tool, How to Talk to Patients About Home Dialysis. This free PDF download will help you improve your options education practices in four easy steps.
For me, it was seriously discussed. I was admitted when they did the biopsy & the nephrologist came in that night & talked to me. But he knew I was in shock about everything so his NP came in the next day to discuss everything again & answer more questions. Then I was set up with an appointment about 10 days after discharge to discuss it all again. I will say that I did feel like they were pushing PD a little heavy. & I felt like they were a little disappointed I chose hemo, BUT I still feel supported & fully informed.
Some patients reported that certain options—typically conservative management without dialysis or nocturnal hemodialysis—were not mentioned by their doctors:
One more option - no dialysis. That's also a option that really needs to be looked into by the patient. Patients can refuse treatment if they so choose.

My docs don't even know there is a nocturnal at home option. That the settings are way different than regular home hemo. I mentioned it because I'm interested, and he said well you can hook up anytime you choose. I'm like nah I'm talking about the one you do for like 6-7hours and sleep through it. Then he was like oh, I haven't heard of that.
While progress may have been made in enforcing patients' rights to be told about ALL treatment options and where to get them, this discussion suggests that there may also be more room for improvement.