Touch Cannulation: The Genius of Stuart Mott
This blog post was made by

February 2, 2023.

on

Reposted with permission from HemoDoc, From Doctor to Patient, 2012

Many aspects of dialysis care that is beneficial for patients came about by serendipitous application of chance observations. The buttonhole technique came into practice when Dr. Twardowski had little option on some patients with only short areas on fistulas for cannulation. He began using a single site cannulation that developed scar tissue and a track. In the days before highly available access to disposable needles was the rule, multiple reuse of needles created dull points. After successfully establishing buttonhole or constant site cannulation, the observation that new sharp needles caused more difficulties than the old dull needles when accessing established buttonholes.

The battle between the use of sharp and dull needles became part of the usual difficulties associated with buttonhole cannulation. I have now utilized this proven technique for nearly five years. In that time, I have been able to establish reliable tracks that worked well for weeks or months, but inevitably, I would have to every once in a while use a sharp needle even on the best buttonholes. Over the last six months, my arterial site needed more frequent cannulation with sharps.

I had heard of "Touch Cannnulation" in the last two years, but had done well learning how to place my dull buttonhole needles following the same exact angle each time. Initially, I had no reason to try to refine my technique any further, it had worked well the overwhelming percentage of attempts. The last few months changed my attitude and I reconsidered the Touch Cannulation method when I needed to use sharp needles more and more frequently. I was skeptical it would work but decided to try it out of frustration of frequent sharps cannulations. (Please review the detailed directions by Stuart Mott on how to perform Touch Cannulation in the link above.)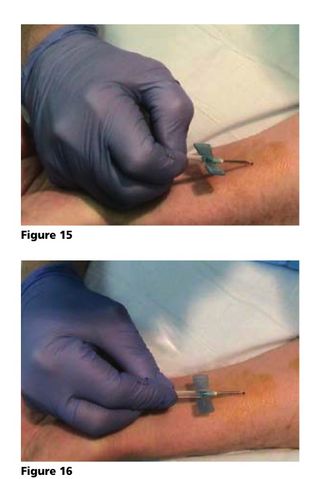 To my greatest surprise, not only did holding the tubing behind the "wings" of the dialysis needle work but it worked well. I have now been using Stuart Motts' Touch Cannulation for over three weeks and the method has worked each and every time. All it takes is to place your thumb and index finger behind the wings on the tubing and line up the right angles and then let the needle find its own path. For those of us who are parents, there may be an object lesson for us to learn as well about guiding but letting them when at the right age seek their own ways in life.
My skepticism has now come full circle to enthusiastic support of this little known method. Stuart Mott continues to be the most sought after expert on cannulation and with good reason. I wish to personally thank Stuart for helping me overcome one of my own difficulties that added to the stress and discomfort of dialysis. My wife also appreciates the ease of cannulation and being able to avoid sharp needles once you have an established buttonhole track.
This may also prove to be one of the solutions to the difficult problems of utilizing buttonhole cannulation in an in-center dialysis unit where multiple techs over time will cannulate the patient. Many units disparage the buttonhole method because it is operator dependent. I suspect that if the Touch Cannulation method were applied widely, the disparity between different cannulators may disappear if everyone involved learns how to let the needle find its own way. With the Touch Cannulation method, that is exactly what the needle does each and every time. The only complaint I have is that I did not try it sooner.