Finding the Home Dialysis Needle (Resource) in the Internet Haystack
This blog post was made by

June 1, 2023.

on
Dori Schatell, Executive Director of Medical Education Institute, asked me to write a blog on how I search the internet for answers to questions I have, or she asks. She said she'd never known anyone who could find things on the internet as easily I seem to be able to do it. She calls me a Google Guru. She asked me to target the blog to social workers to help them find resources for their home dialysis patients and care partners. I hope what I write here will help social workers and those patients and care partners who read it.
US Internet Usage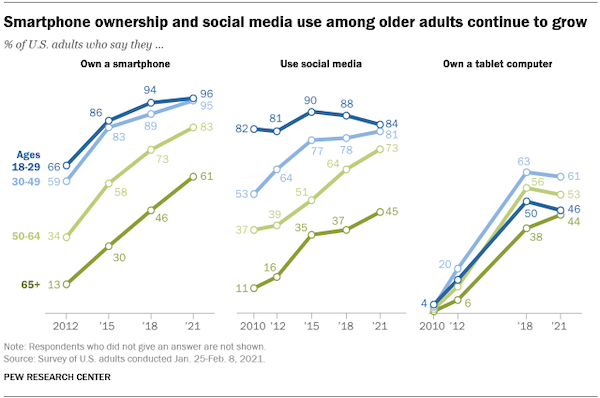 In 2000, 48% of Americans did not use the internet. In 2021 when the Pew Research Center asked about this, that had dropped to 7%. Those who don't use the internet are more likely to be 65+, to have less than a high school diploma, and to make less than $30,000 a year. Use of the internet has grown across all age groups as more government programs encourage it. Today, people can access the internet on a computer, tablet, or smartphone. This interesting graphic from the Pew Research Center shows usage among those 65 and older. Many of our dialysis patients are in that age group.
Choose an Internet Browser (AKA Search Engine)
To access the internet, you need to use a browser or search engine. In April 2023, PC Magazine listed the five most widely used browsers. I have used the first four:
Google Chrome

Apple Safari

Microsoft Edge or Bing

Mozilla Firefox

Opera
I use both a PC and an iPhone to access the internet. For years, I used Microsoft's Internet Explorer (IE) when I did internet searches on my Windows PC. It used to be the leading browser, but Microsoft stopped supporting it in 2022. When I'm using my tablet PC, most of the time I use Microsoft Edge (which uses Bing) and I use Safari for searches on my iPhone when I'm away from my tablet. You can read more about each browser and how they compare on compatibility, speed, privacy, and user tools in the PC Magazine article, Chrome, Edge, Firefox, Opera, or Safari: Which Browser Is Best for 2023?
Choose a Search Term or Phrase
Want to find an answer online? On an iPhone, you can ask Siri to find it for you. Sometimes this works, but Siri may not give you what you need. To avoid wasting time looking at links to pages that don't give you the answer, carefully choose the word(s) or what phrase you want to use. Enter them into the browser's search field. Ask your question in a word or two or a brief phrase. It can help to put quotes around your search term to limit pages that aren't relevant or that include sites that have any word in your phrase.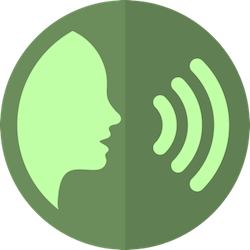 How to Find Reliable Health (and Other) Information on the Internet
The National Institute on Aging suggests these things to look for to ensure accuracy:
Who owns the site and what's its purpose? You can tell this by the "extension" on sites.
.com means the site is a commercial business, including most dialysis providers, device manufacturers, pharmaceutical companies and others selling products or services.
.edu is for educational institution sites, like universities, including those with medical centers and transplant programs.
.gov is for use only by U.S. government agency sites.
.org is used by nonprofits, such as advocacy groups, professional organizations, and a few nonprofit dialysis providers.
Search the internet long enough and you'll see other extensions. Before you enter personal information into a website, be sure that the address (URL) starts with "https." That indicates that the site has security.
Who wrote and reviewed the information? Are there citations? Is the author is an expert in that area? Does the site have About Us or Contact Us on the bottom of the page? Most reliable sites do.
Was the information on the site written or revised recently? Look for this at the top or bottom of the page. Older information may be OK, or could be out of date. You might try inserting the current year with your search term(s) in your browser. (e.g., Percent of U.S. patients using peritoneal dialysis in 2022). Some websites let you filter results. Look for how to narrow the search by timeframe or date.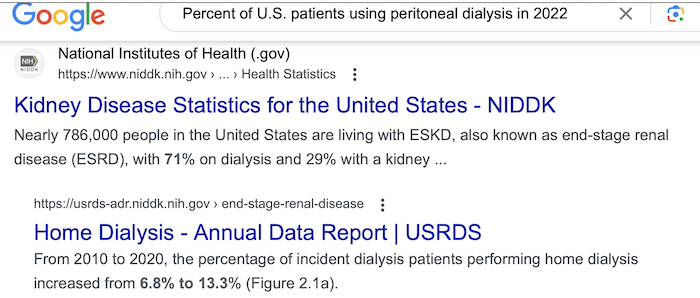 Does the site share its privacy policy and tell you how it protects you? Know how your data will be used. Accepting a site's "cookie" lets it identify and track your session. The s on https means a site has security. You may need to enter an ID and password. Using two-factor authentication makes sure it's you by sending you a code you must enter by email, text, or calling your phone. The NIA site has a link to read more about health care scams, how to use public Wi-Fi, and advises against sharing where you live on a public social media site. Home Dialysis Central's Facebook group is a private, members-only group where patients and care partners can ask questions and get support.
Is the site advertising a quick fix for a health problem or sharing anything that sounds too good to be true? If it sounds too good to be true, it probably is a scam.
The NIA site also includes "Checklist: Finding Reliable Health Information Online," information about medical applications, warnings about health news and health books on social media, and encourages using fact-checking sites. Finally, it suggests talking to a doctor for health questions or confirmation of what you read online. Share this with your patients and their care partners.
A Few of My Favorite Helpful Resources
For Data & Research

For Drug Information/Financial Help

Kidney Organizations for Patients and Professionals

Medicare Policies & Coverage

Rehabilitation

Social Security Policies

Social Work

Support Groups
Conclusion
As a new social worker, when I wanted to read a journal article on some psychosocial topic, I had to go to the medical library and ask the librarian for the issue of the journal that had the article. If I wanted it for my "library," I had to take it to the copier and pay to copy it.
Today, I can go to PubMed, enter search terms, and find abstracts and in some cases, free full-text articles. I can read any that I'd like to read and download ones I want to save to my computer for future reference.
When someone asks a question, my friends are not surprised to see me pull out my iPhone and start using Safari to find the answer to whatever obscure question was asked. I use many of the websites I've listed to regularly respond to questions from social workers on the CNSW Listserv and from patients, family members and care partners on Home Dialysis Central's Forum (message boards) and Home Dialysis Central Facebook group.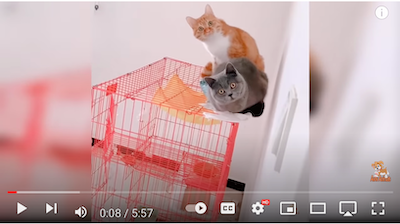 The internet is a wonderful and time saving (sometimes time wasting) tool (I'm talking about you, videos of cute animals), but it's important to be aware that some websites and social media channels spread misinformation—sometimes by mistake and other times purposefully. Accepting what you read on the internet without fact checking can be dangerous.
I hope this blog gives you information about how and where to find accurate information that answers questions you may have and how to separate fact from fiction.