Another Nephrology Legend Leaves Us: Farewell, Todd Ing
This blog post was made by

November 2, 2023.

on
Twenty years ago at an NKF meeting, I was fortunate to attend a session in which Todd Ing explained why daily (4+ days a week) hemodialysis made more physiological sense, using graphs like these (which he freely shared and we have been using ever since) to explain that the benefits of more frequent HD derived from having more first hours of treatment, when the urea gradient was highest: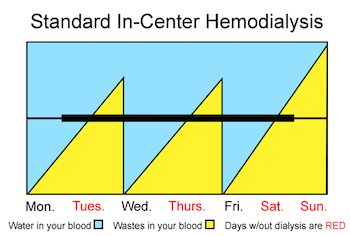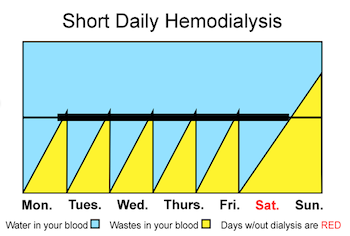 A professor at Loyola University's Stritch School of Medicine, Todd was a natural teacher who could explain complex concepts in such a way that even laypeople could understand them—a rare gift. He was also kind, funny, opinionated—always to the benefit of patients—and very generous with his extensive knowledge. The conversation we had after his talk sparked a long-term friendship I valued very highly, and I miss him already, since learning that he passed away last week, having thought of him that very morning.
The next year, he invited me to speak in Chicago at a local NKF meeting he planned about use of the Internet for patient education, where I was thrilled to be in his company and that of such other luminaries as Bob Lockridge and Zyblut Twardowski. Todd asked me to help spread the word about events held by the International Society for Hemodialysis (ISHD), which he cofounded to improve nephrologist education—and kidney patient outcomes—an organization I now serve as a member of the Board of Directors.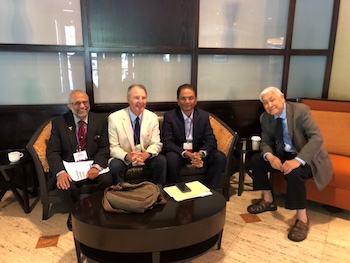 Todd Ing, far right
Todd explained some of the background of nephrology to me—such as that dialysis was the "orphan stepchild," once nephrologists largely turned it over to nurses in the early 1980s. Here is part of an email he sent me in 2012 (the bold emphasis is mine):
"We all know that dialysis training is very poor in the US (I know because I go around training programs teaching dialysis). Dialysis and CKD activities occupy, say, at least 30% of a practicing nephrologist's time. Yet if you look at a major textbook of nephrology, dialysis and CKD will occupy only, may be, 5% of the book (at the same or at a slightly higher level as, e.g., nephritis). Furthermore, US nephrologists make their living through looking after dialysis and CKD patients. Yet, if trainees are not taught dialysis properly, how can they do a good job when they become full-fledged nephrologists? Also, the number of questions in the US nephrology special board examinations are deficient in dialysis and CKD questions (one can pass the examination by not knowing anything about dialysis). There are about 120 medical schools in the US. We will find out exactly how many directors of nephrology are dialysis-centric. You can count them on the fingers of your hands because we happen to know all the dialysis-centric people in the US. Dr. Nissenson wrote something about this sorry state of affairs 10 or more years ago and things have not changed much. That is why the ISHD was formed 7-8 years ago in an attempt to improve the situation and to promote dialysis education.
I was a member of the ASN dialysis committee about 7-8 years ago. They were talking about fashioning a training protocol at that time. Such training protocols may be available now. However, if the directors of nephrology are not interested in dialysis, trainees will not be taught dialysis properly. Also there are not enough faculty members knowledgeable in dialysis to teach the trainees in the first place."
In response, MEI undertook—and published—the largest survey of U.S. nephrologists to date on this topic, which revealed that a large minority (38%) of fellows did not feel comfortable with their dialysis expertise at the point where they passed the certification exam, and most did not seek out any further training.
A prolific author with 289 publications to his credit, Todd wrote on a wide array of topics ranging from pseudohyponatremia (in 2023!) to use of medicinal herbs, bicarbonate dialysate, venous air embolism from central venous catheters, phosphorus dynamics, Fanconi syndrome, isolated ultrafiltration, citrate anticoagulation, lithium poisoning, and more. He co-edited several editions of the iconic Handbook of Dialysis with John Daugirdas, wrote a book about the scientific and literary accomplishments of people of Chinese descent, and developed his tour de force: a beautiful, extensive history of dialysis for which I was incredibly honored to submit a chapter about patient education.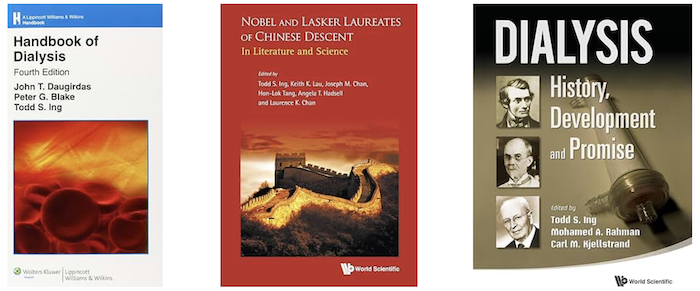 Todd challenged and changed my thinking about things like dialysis options education. We were on a patient education panel together at a Renal Support Network meeting in Chicago when a patient asked the question, "I feel fine doing in-center hemo. Is there any reason I can't just keep doing that?" My own response to her was, "What matters most is that you feel well."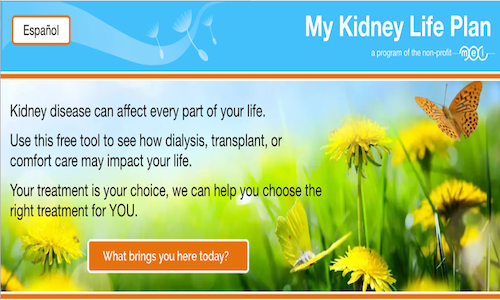 His answer was quite different, and I have never forgotten it. "You may feel well now," he acknowledged to the woman. "But your treatments, just three times a week, are doing damage to your heart and blood vessels you cannot feel, and this damage can build up over the long term. And, your hands will likely be affected by a buildup of amyloid protein." This explanation fired a longstanding passion in me to help patients understand the physiological impact of their treatment choices so they could live their best lives. Every educational piece about treatment options we have done since, including our treatment matcher, My Kidney Life Plan, reflects what I learned from Todd that day.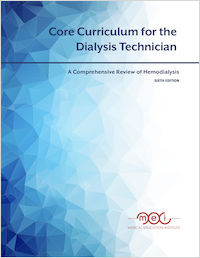 Todd did not just affect nephrologist and patient education—he also contributed hugely to MEI's Core Curriculum for the Dialysis Technician during his thorough review of the 5th edition. He helped us to increase the precision with which we explained dialysis principles, noting in particular that we should entirely separate water and wastes, vs. talking about "fluid," which contained both. That change persisted through the 6th edition and the 7th, which we are currently developing.
And, interpersonally, Todd was a gem. He sent encouraging little emails any time one of his many friends had an accomplishment to be celebrated. Here are a few examples that he sent to me or copied me on:
"Dear Dori and John (Agar), Hi. You have done a lot for the world's dialysis community, including your most exemplary book on dialysis, a book that helps myriads of patients. We all are very proud of you! All the best! Sincerely, Todd"
"Dear Chris (Blagg), Please see attached! Please help! We are deeply impressed by your stellar and earth-shaking article! Warmest regards! Sincerely, Todd"
"Dear Dori, Hi. How are you? We all are very proud of your crafting another new and prestigious version of your most distinguished Core Curriculum again! Warmest wishes. Todd."
"Dear Allen (Nissenson), Hi! I heard from Madhukar (Misra) that you will be the Chief Medical Officer of DaVita! Heartiest congratulations! All of us at the ISHD will miss your exemplary editorship at the Hemodialysis International. You and Zbylut (Twardowski) have done a yeomanly and outstanding job of getting the HI on the map so much so that it is now listed by the Medline and the Citation Index! For all your stellar and tireless efforts at a most critical period of the journal, we all are forever grateful! We all wish you an unqualified success with your new and exciting endeavor! Warmest wishes! Sincerely, Todd"
"Dear Dori, Hi. How are you? A belated congratulations to you and your august organization for the myriad awards that have been elegantly earned over the years! Warmest wishes. Todd."
A memorial service will be held Saturday, November 11, 2023 from 11:00 AM to 12:00 PM
at Wm. H. Scott Funeral Home, 1100 Greenleaf Ave, Wilmette, IL 60091,
followed by a reception from 12:00 PM to 2:00 PM.
Fond memories and expressions of sympathy may be shared here in the comments below, and at www.WmScottFuneralHome.com for the Ing family.