How to Find a Home Dialysis Center
In the U.S., all home dialysis is done through a dialysis center. The center will train you and a partner. It will also provide your machine and supplies. So, you don't have to buy a machine—you just have to find a center to support you.
Location, Location, Location
When you have to go to a center three times a week, having it close to your home can save you time. But after you finish training for a home treatment, you only need to go to the center once a month to meet with your care team. (You will also have to go in to get IV iron, if you need it.) This means a home center can be as far away as you are willing to drive once a month. Not all centers offer home treatments. About one in eight centers offer home hemodialysis (HD). And, about 45% of centers have peritoneal dialysis (PD). So, if a center has to be around the corner or in your town, you may not be able to get the treatment you want.
"Find a Center" Database
To help you get the treatment you want, Home Dialysis Central built a unique list of each center in the U.S. that does home training. You can see it at: homedialysis.org/clinics/. You can use this listing in one of two ways:
(click the image to enlarge) Find all the centers near you that offer a certain treatment. Choose your state from the drop-down menu. Choose your city and check the boxes for the option(s) you are looking for. Then, click SUBMIT. So, if you want PD in Galveston, Texas, fill out the form like this: If there are no centers—or your city is not listed—do your search by state only. Leave the city blank and see what comes up. The closest clinic may be in the next state, if you live close to a border.
Coverage Maps
We also created coverage maps for Home Dialysis Central. You may find these maps helpful if you live near a border. The maps can give you ideas for where to look. There are maps for PD, conventional home HD, daily home HD, extended (nocturnal) home HD, and all home HD. Each dot on the map stands for a 120-mile radius around a program site—about a 2-hour drive. Below are the maps (you can see them larger or download them, at: homedialysis.org/clinics/maps.)
PD coverage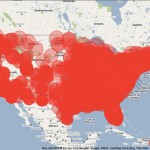 (click the image to enlarge)
Daily home HD coverage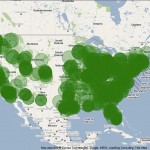 (click the image to enlarge)
In-center extended (nocturnal) coverage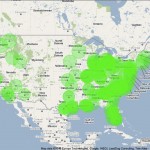 (click the image to enlarge)
No Luck Yet? Don't Give Up!
As you can see from the maps, some parts of the U.S.— like the East coast—have home centers of all types. Others, like the West, do not. If you live in a spot with poor coverage, you may need to get creative:
Do you want daily or extended (nocturnal) home HD? Try calling a center near you that offers PD or conventional (3 times per week) home HD. See if they might expand their program to add the option you want. Keep trying. You may have to follow up for a while to convince the center of your interest.
If you are not tied to where you live now, you might think about moving to a place that will let you do the treatment you want.
Check around to see if others in your town also want home treatments. Go to your center or nephrologist as a group. We know of home programs that started because patients asked for them—why not you?
Call a center that is farther away from your home to see if they can train you. The non-profit Northwest Kidney Centers in Seattle, trains and follows home patients as far away as Alaska. Once you are trained, your local center or doctor may be able to do your monthly checks. Some centers want you to live close by so their techs can maintain your machine. But, some machines can be shipped back to the company if there are problems.
Call DaVita at Home (1-800-244-0582) or Fresenius Medical Care (866-434-2597) to see if they may be starting a new program in your area.
Write a letter to the editor of your local paper about the pluses of home dialysis—and the trouble you are having finding it near you. Sometimes public attention can help bring about a solution.