Baxter International Inc.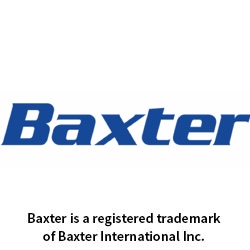 Baxter is a leading provider of Peritoneal Dialysis (PD) products and services, designed to improve outcomes for renal patients around the globe. In addition to PD, Baxter offers a full range of therapies including Hemodialysis (HD) and Continuous Renal Replacement Therapy (CRRT). By advancing the boundaries of health care through science, leadership, and innovation, we continue to be connected by one purpose—saving and sustaining the lives of patients.
For Baxter, taking care of business means we're taking care of patients' needs, whether it be through patient education resources like our video Life Choices: Treatment Options, through clinician education and support of programs, or through quality products and our caring HomeCare Services representatives and service specialists.
Knowing we can be a resource, as well as a partner in maintaining our patients' health, is what makes our work so meaningful. We realize that End-Stage Renal Disease (ESRD) can be a challenging journey, and our employees—from product development to manufacturing, to customer service and sales—are committed to providing our patients with quality products, education, support, and hope.
Contact Info
Baxter International Inc. has been a sponsor of Home Dialysis Central since 2004–2005, 2009–2011, and again from 2013 to present. Thanks Baxter!
Spotlight Archive