Dialysis RV Tour: Week 2
This blog post was made by

November 18, 2021.

on
Week 2, Day 1
What an amazing day we had! We spoke to some awesome people in Westwood, Kansas. They had an awesome tailgating party with games, prizes and food. Who doesn't love food? We got a big surprise when our good friends Mike and Dawn showed up right after an amazing surprise from DeeDee V-Peralta, a friend we had met virtually through the ESRD Network. It was so great to finally meet in person. We followed up our night with some amazing BBQ to celebrate Dawn's birthday. We can't wait to see what tomorrow will bring.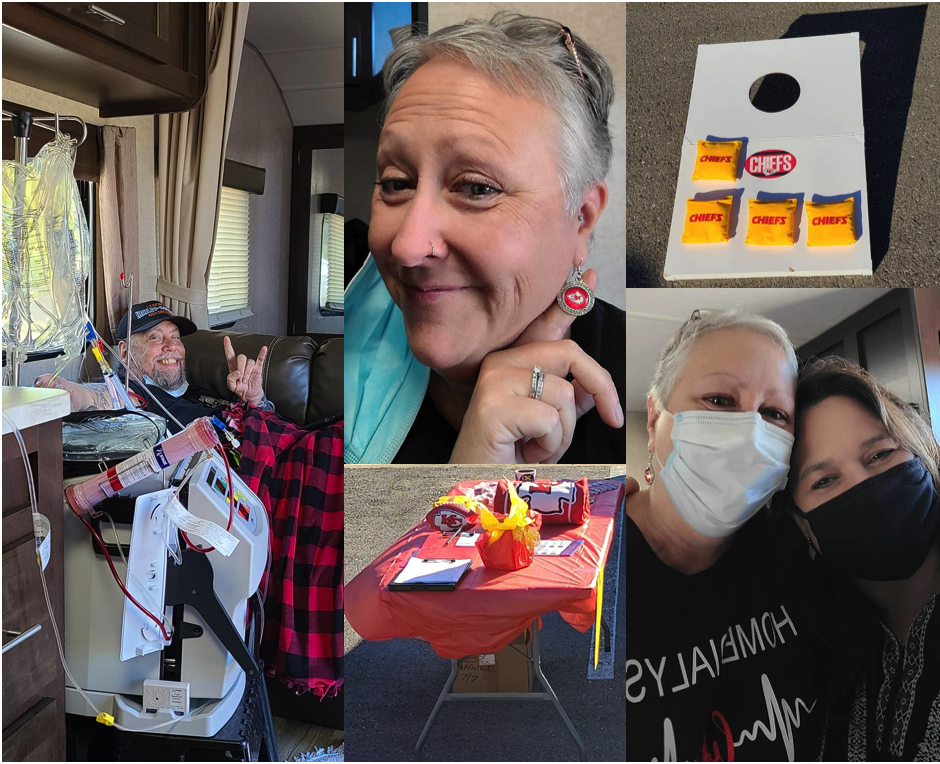 Week 2, Day 2
We met so many amazing people today, the people who were working with us have done such an amazing job with the tailgating party theme. With it being Jimmie's birthday, it truly was a party all day. People singing to him, wishing him a happy birthday. An awesome gift from our friends Mike and Dawn: we got back to our camp grounds and out of nowhere monster trucks come by our campsite. Omg!! It is the Grave Digger!! We ended the evening at a concert seeing one of Jimmie's favorite bands, Black Label Society, fully masked and sitting away from everyone to be safe. I think he had an amazing birthday!! Life is so good, and we are so blessed to be able to live it on our terms!!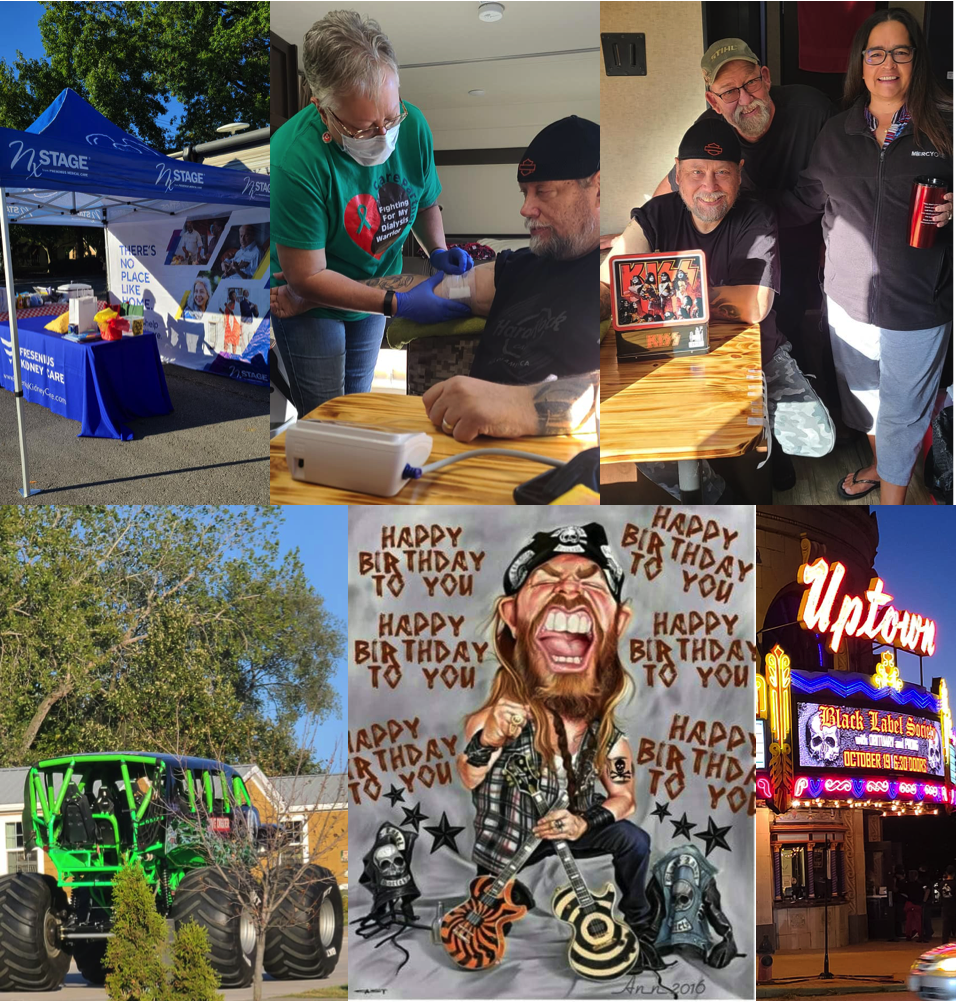 Week 2, Day 4
We had another great day at the dialysis center in Independence, Missouri today. We were greeted by Lester, a friend from Jimmie's support group (Kidney Warriors Men's Support). While Jimmie was doing his dialysis treatment in the RV, the guys video called another member from their group who lives in England. We are making plans to all get together some time in the spring.
We spoke to some great patients and amazing staff today. It is amazing how much a visual demonstration can impact a patient. So many people from Fresenius came out to support us and check out our set up today. Even Roma Amor Heater from the ESRD Network stopped by with some fresh donuts for us. When we finished for the day we went with Lester to the Shoal Creek Living History Museum. Jimmie is a huge history buff so this was so amazing to see. Then, out to dinner for some delicious barbecue. They really like barbecue in this area. It was such an awesome day!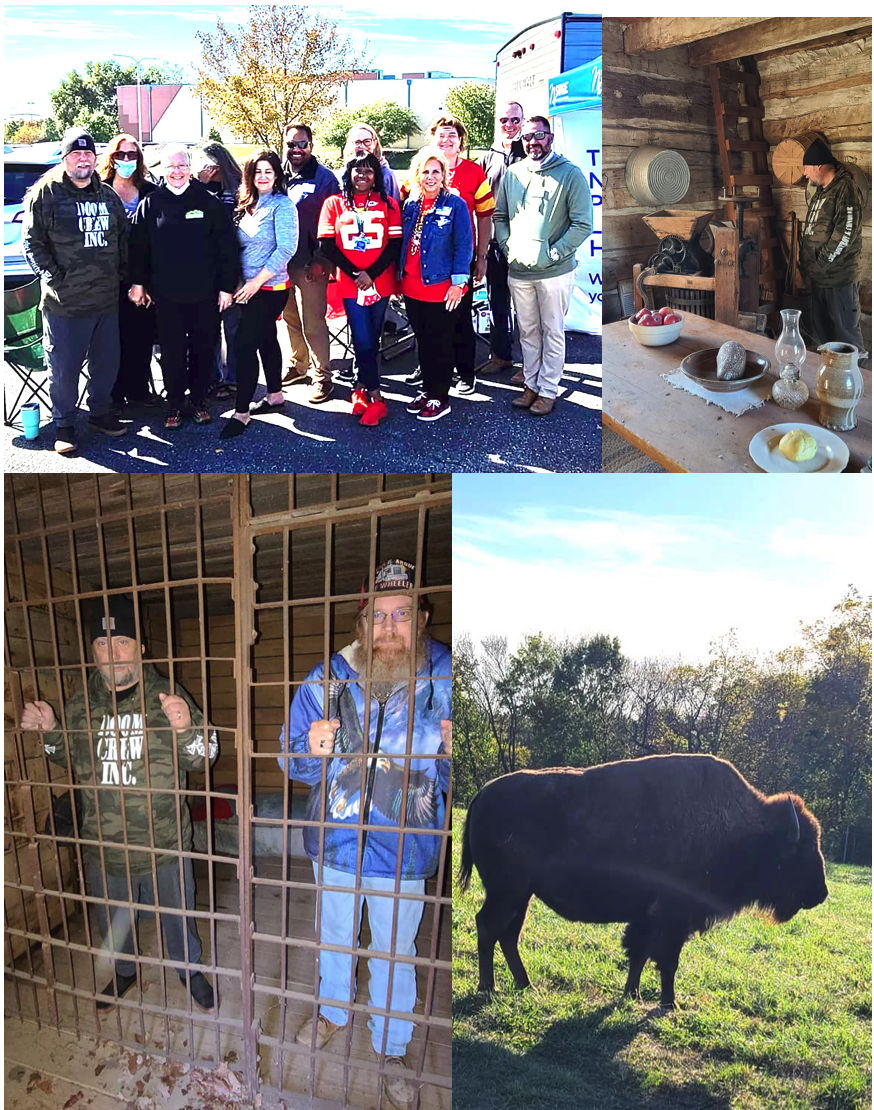 Week 2, Day 5
Everything happens for a reason. God has truly opened doors for us that we never thought would be possible. We have been blessed with the ability to travel for the last 2 weeks in a travel trailer with 7 days of supplies, and a travel order of another 7 days of supplies we picked up at one of our destinations. We lived comfortably doing dialysis every day, and shared our experiences with so many amazing people. We were able to see sights we would have missed out on. Celebrated Jimmie's birthday by seeing one of his favorite bands in concert. We connected with friends we had only met through virtual meetings.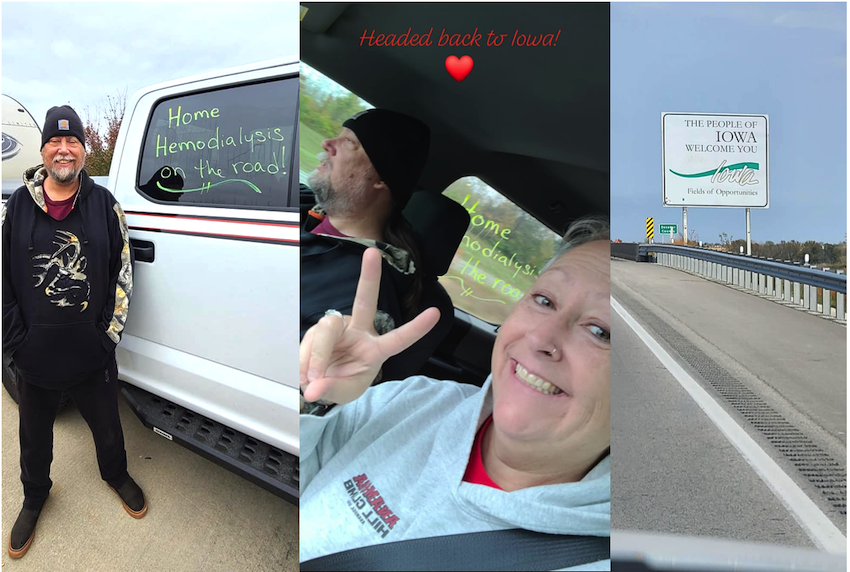 For those who are feeling stuck in a center or even at home we are here to tell you, it doesn't have to be that way. We lived so freely the last 2 weeks, and it would not have been possible without those doors being opened. We thank God and NxStage for this experience. We have made it back to Iowa and are eager to do it again. Thank you to everyone who joined us on this journey. All of your wonderful words of support and encouragement were appreciated greatly. God bless each and every one of you!