March 12th, 2019

Vol. 16, No. 3, March 2019
Feds See Cost Benefits of Home Dialysis
The Trump administration is seeing $$$ for home dialysis vs. in-center HD (not surprisingly, when every economic analysis has found this). What IS new is a CMS payment model initiative to boost use of home treatments. Fresenius and DaVita stock dropped on this news, but will—we think—recover when analysts see that home treatments are more profitable than in-center, because they can help working-age people keep their jobs and health plans and boost payer mix. At MEI, we care that home treatments give people back their lives, so we built this treatment matcher to help folks choose wisely.
KidneyViews Blog Topics:
Join us for our weekly home dialysis blog. Click here to subscribe to new post alerts. Tell us what YOU think—we welcome guest posts!
Each month, we gather recent research abstracts about home dialysis. Visit our Journal Watch to learn more: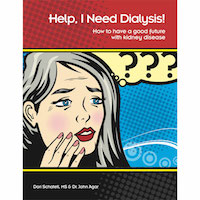 Featured Link: Free shipping in March for Help, I Need Dialysis!
Get the award-winning dialysis lifestyle "bible" for a terrific price. In honor of National Kidney Month, MEI is offering FREE shipping. https://www.lifeoptions.org/help_book.