Quality Insights Renal Network 4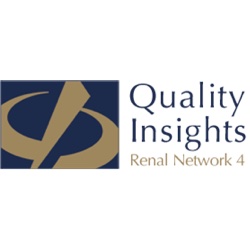 Quality Insights Renal Network 4 brings extensive experience in working with kidney care partners and quality improvement. We are part of WVMI & Quality Insights with a mission of "improving the health of the people we serve."
WVMI & Quality Insights also serves as ESRD Network 3 through its Quality Insights Renal Network division and ESRD Network 5 (through its Mid-Atlantic Renal Coalition division). Adding to its renal network experience, WVMI & Quality Insights holds Quality Innovation Network - Quality Improvement Organization designation in the states of Delaware, Louisiana, New Jersey, Pennsylvania and West Virginia.
Here at QIRN 4, we:
Develop standards to improve patient care.
Provide educational resources for patients, families and renal professionals.
Promote vocational rehabilitation to help patients remain working or return to the work force.
Support facilities and staff in resolving patient issues.
Assist in resolving patient grievances.
Collect and report ESRD statistics.
Are committed to making sure people with Medicare who have been diagnosed with end-stage renal disease receive the care they need.
Our foremost goal is to provide patient-focused services to the almost 18,000 beneficiaries in our Network, helping them navigate the system and take an active role in their care."
Contact Info
Quality Insights Renal Network 4
610 Freedom Business Center, Suite 102
King of Prussia, 19406
Phone: (610) 265-2418
Fax: 610-783-0374
Website: www.qirn4.org/
Twitter: ESRDNetwork4
Quality Insights Renal Network 4 has been a sponsor of Home Dialysis Central since 2016