Fresenius Kidney Care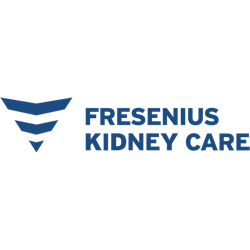 Fresenius Kidney Care, a division of Fresenius Medical Care North America, has individualized patient care services to help dialysis patients like you chose from a range of treatment options. We understand that no two patients are alike when it comes to their healthcare and social needs. Our Home Programs include peritoneal dialysis, home hemodialysis and nocturnal home hemodialysis.
Deciding which treatment option is right for you is important. We are committed to working with you and your physician to help you make the best choice.
To locate a Fresenius Kidney Care Home Dialysis Program near you, visit our website; send us an email; speak with your physician; or call 1-800-377-4607 to speak with a Fresenius Kidney Care representative.
Fresenius clinics:
See all Fresenius clinics that offer home dialysis therapies
.
Contact Info
Fresenius Kidney Care has been a sponsor of Home Dialysis Central since 2004
News and Info
Do you have a question for Fresenius Kidney Care? Fill out the form below completely. Be sure to include important information like your name, your phone number, relevant contact information, and a detailed description of the reason for which you are making contact.