Merit Medical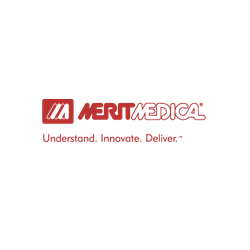 Founded in 1987, Merit Medical set out to build the world's most customer-focused healthcare company by understanding customers' needs, and innovating and delivering a diverse range of products that improve the lives of people, families, and communities throughout the world.
Merit's primary products consist of inflation devices used in angioplasty and stent placement; diagnostic and therapeutic catheters used for various procedures in cardiology and radiology; diagnostic and hydrophilic products used to manage and monitor the administration of contrast media and other fluid solutions; thrombolytic catheters and fluid dispensing systems; and embolotherapeutic products for the treatment of uterine fibroids, hypervascularised tumours, and arteriovenous malformations; and procedural trays, packs, and kits.
Merit maintains a diverse, multi-campus manufacturing footprint in North America and Europe with a true global distribution network focused on delivering our products and technologies to our customers.
Contact Info
Merit Medical has been a sponsor of Home Dialysis Central since December 2017
News and Info
Spotlight Archive
Do you have a question for Merit Medical? Fill out the form below completely. Be sure to include important information like your name, your phone number, relevant contact information, and a detailed description of the reason for which you are making contact.