Redsense Medical,Inc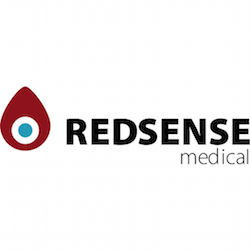 At Redsense, our main objective within the field of hemodialysis is to save lives by improving the safety for the patients and caregivers, by raising awareness about the issue of unnoticed blood loss and to provide Redsense as a solution - a blood loss detection device that is designed to alarm on blood leakage from the venous blood access.
The Redsense alarm system monitors the blood access during hemodialysis. It consists of an alarm unit, an extension fiber and a non-invasive sensor patch. When the sensor patch is placed over the blood access, it detects any blood coming in contact with the sensor. This can occur if the needle is accidentally dislodged or if blood is leaking during dialysis.
Home Hemodialysis
The Redsense Blood Loss Alarm provides individuals dialyzing at home with the security and peace of mind knowing that their access is being continuously monitored.
Above and beyond saving money, the advantages of home hemodialysis are many. Blood pressure fluctuations become more manageable, sleep patterns improve along with energy levels, diet becomes less restricted and, above all, patients live better and longer lives. Despite this, 97% of hemodialysis is carried out in the clinic. And while home treatment is not for everyone, learning to manage a hemodialysis machine in the bedroom can improve the quality of life for a vast number of patients.
Nocturnal Home Hemodialysis
Nocturnal dialysis has special considerations. The patients are sleeping and moving around in their sleep. They are not alert, oriented, and aware of their blood access. The Redsense Alarm silently monitors the blood access and alarms in response to blood.
Contact Info
Redsense Medical,Inc has been a sponsor of Home Dialysis Central since 2015
Spotlight Archive